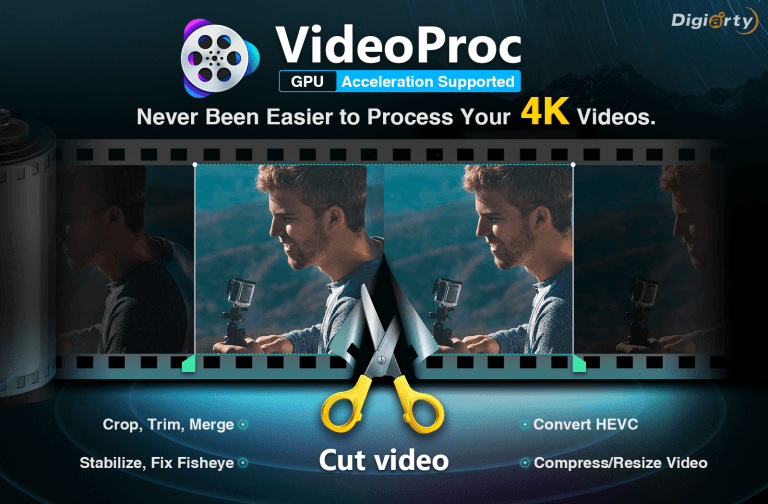 So, you love shooting high-quality videos on your GoPro, iPhone, and DJI drones. In 4K resolution. Feels great, doesn't it? But when it's time to edit those videos before sharing them with friends, family, and followers on social media, it feels like a mountain of a task. Editing 4K UHD videos without losing quality puts a lot of stress on your computer. So much so that your computer freezes. VideoProc comes to your rescue!
Who is VideoProc for?
Let's be realistic, decoding and rendering 4K videos is almost synonymous with lagging, choppy playback, glitches, freezes, and overheating. Many of us who love shooting and editing 4K videos switch to a lower 1080p or even 720p just to avoid the pain that comes with editing 4K footage. Popular DVD video software company Digiarty Software have introduced a new product called VideoProc to take the pain out of 4K video editing – no lagging, freezing, overheating, or choppy playback. And it does much more than just video editing.
So, who is VideoProc for? Digiarty has developed the software exclusively for people who shoot high-quality videos using GoPro, drones, HD cameras, and premium smartphones. And they want a stable, fast and easy tool to process their videos and make them worth sharing. It's for people who don't want to buy the professional-grade and expensive video editing tools like Final Cut X, Adobe Premiere Pro, and Sony Vegas.
Gates Capital Management Reduces Risk After Rare Down Year [Exclusive]
Gates Capital Management's ECF Value Funds have a fantastic track record. The funds (full-name Excess Cash Flow Value Funds), which invest in an event-driven equity and credit strategy, have produced a 12.6% annualised return over the past 26 years. The funds added 7.7% overall in the second half of 2022, outperforming the 3.4% return for Read More
Digiarty has kept in mind the needs of users whose computer freezes or lags while running tools like Premiere Pro and Final Cut X, and people whose software/media player doesn't affect footage from GoPro. If you want butter-smooth 4K video processing experience without paying top dollar, VideoProc is for you. It enables you to easily process, resize, edit, cut, trim, split, cut videos and so on with fast speed and high quality.
The video processing software also has a bunch of tools for power users. If you are one who understands bitrates, aspect ratios, frame rates, audio/video codec, and sample rate, you can select the specific settings of your choice.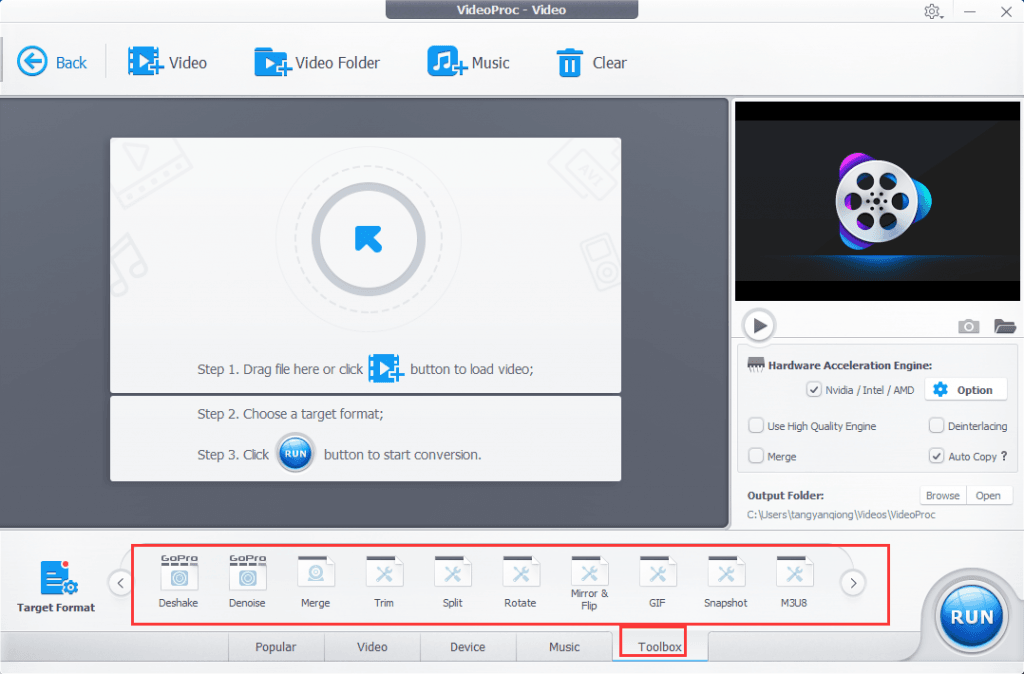 Insanely fast and efficient 4K video processing
What makes VideoProc superior to its rivals is their Level-3 Hardware Acceleration technology. It dramatically expedites the video transcoding and processing without compromising quality. It harnesses whatever processor is available on your computer to speed things up. When I installed it on my Windows laptop and launched it for the first time, the software analyzed my laptop to ensure that it would take full advantage of Nvidia CUDA, AMD, and Intel QSV.
About 40% of video programs don't support GPU acceleration, and another 24% can achieve both GPU accelerated video decoding and encoding. But only VideoProc fully utilizes hardware acceleration in video processing. It results into insanely fast video processing speed while keeping the CPU usage low. It uses your graphics card, not just CPU, to reduce the load on the CPU while processing slow-motion videos and 4K footage.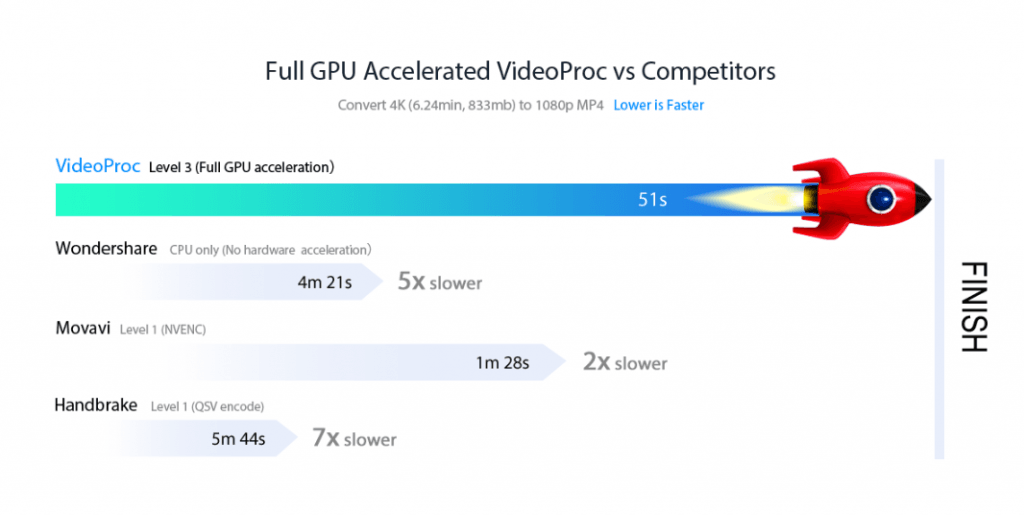 In short, VideoProc is capable of smoothly processing and rendering high-quality 4K videos without putting too much stress on the main processor. It also prevents your computer from overheating.
Benchmark tests have shown that converting Full HD videos on VideoProc is up to 10x faster than simply using CPU without hardware acceleration enabled. Converting 4K videos – such as those taken with GoPro cameras, DJI drones, and the expensive iPhones – is up to 7x faster, and it guarantees stutter-free processing.
Complete video processing…not just video editing
I said earlier VideoProc is the top 4K video processing software. It does much more than just editing videos. Video processing involves editing, converting, resizing, and fine-tuning.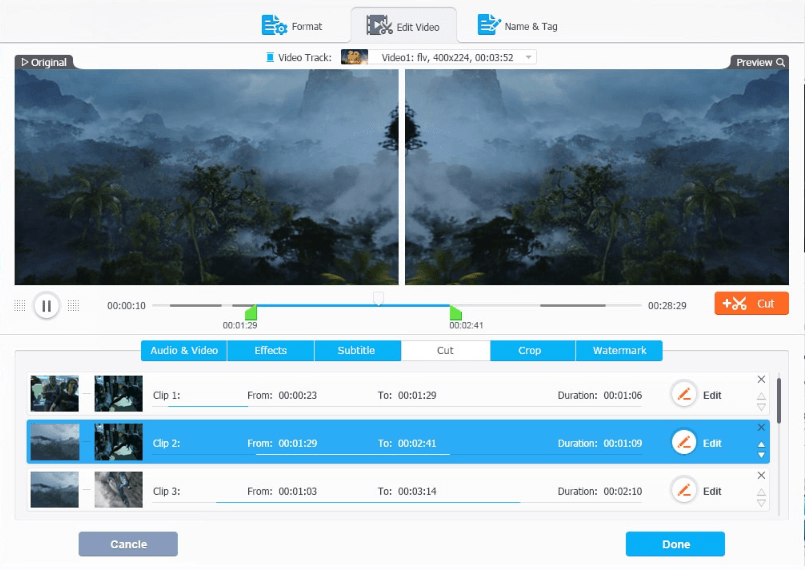 You can:
Edit: Cut, crop, trim, split, merge, rotate, subtitle, add effect, deshake, denoise, correct fisheye lens, mirror/flip, etc
Transcode: Convert or pass through video codes like H.264 to HEVC; convert formats of videos to videos or audios, e.g. MKV to MP4, MP4 to MP3; change video dimension, e.g. 3D to 2D
Resize: Compress video size, reduce video length, downscale (e.g. 4K to 1080o), upscale (e.g.: 720p to 1080p, 1080p to 2160p)
Adjust: Force A/V sync, audio delay, change playback speed (slow down or speed up), adjust audio volume, deinterlace; change frame rate, bit rate, aspect ratio, etc.
Convert your DVDs
Yes, you can not only process videos using VideoProc but also convert your physical DVDs to any format you like. Let's say you want to watch the DVD of your favorite movie on your iPad or if you want to take a backup of your entire DVD library, VideoProc has got you covered. Its presets and 1:1 copy mode ensure that all the details are copied without any hassle.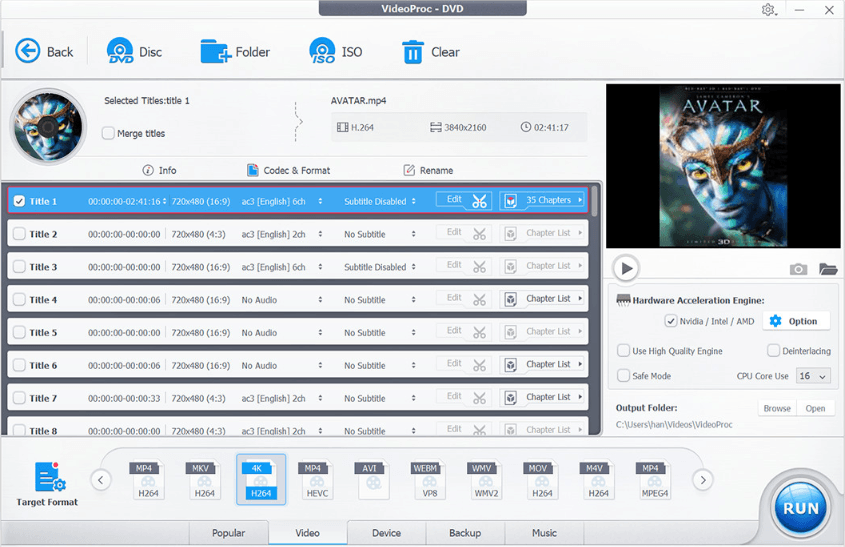 It can convert your DVDs/ISO files/CDR files/VIDEO_TS  folders to MKV, MP4, (HEVC, MPEG4), MOV, AVI, WMV, M4V, FLV, MP3, WAV, MPEG2, and a variety of other formats.
Download videos from the web
Want to edit a video that is online? VideoProc has a dedicated downloader tool to download videos from the web. Just copy and paste the URL from Facebook, YouTube, DailyMotion, Vimeo, SoundCloud, Vevo, MTV, or other sites to download videos for playback and editing. It can even download videos in 4K if the original video is in Ultra HD. This 4K video processing software also allows you to record YouTube live video.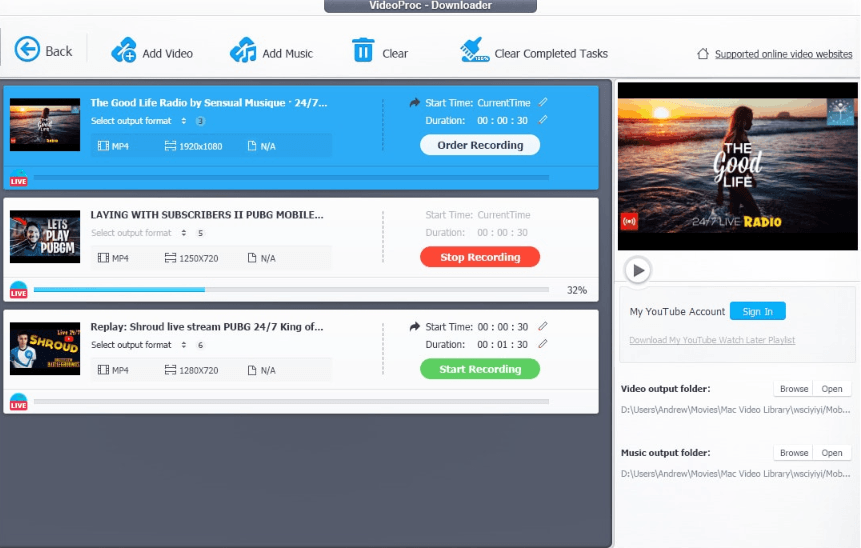 After downloading, you can convert the video to any format of your choice.
Screen recording
You can also use VideoProc to record anything on your computer screen. The recorder has three options: your computer screen, the video feed from your webcam, and a combination of your screen and webcam. Depending on your need, you can choose to record videos with or without audio and save them as MOV, MP4, FLV, TS, or MKV formats. What's more, you can also choose whether you want to record the entire screen or just a part of it.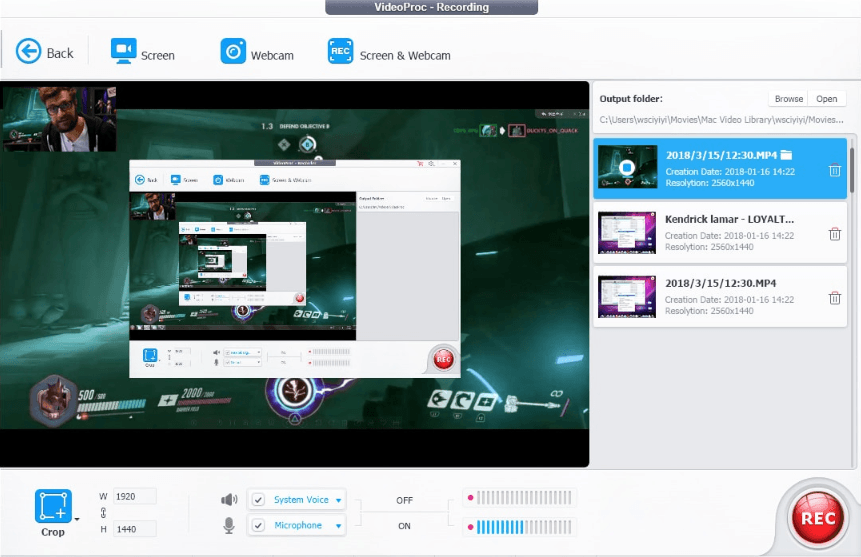 VideoProc's screen recording tool is particularly useful for people who want to capture gameplay, online streams, webinars, tutorials, etc.
Download the free trial
If you are interested in trying it out, you can download the free trial version right here. The trial version is limited to only 5-minute media file. Use it to get familiar with the interface, and if you choose to buy the full version, you can get the lifetime license for just $43. Alternatively, you can purchase it for $30 for one year. Digiarty Software offers a 30-day money back guarantee in case you change your mind.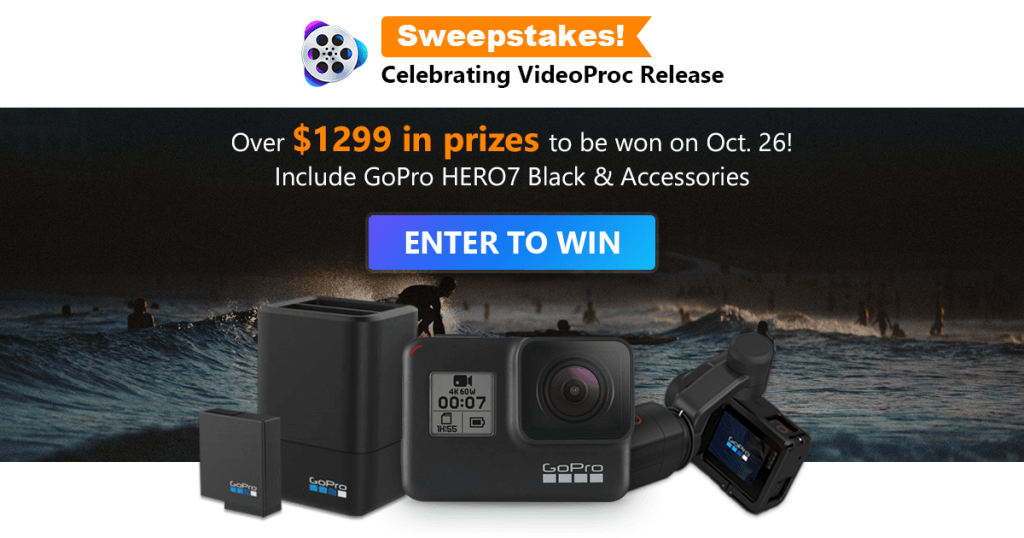 Digiarty is also running a New Release Celebration giveaway to promote VideoProc. Participate in the giveaway by going to '
How To Resize 4K Videos' tutorial 
to stand a chance to win a GoPro Hero 7 Black worth $399 (one winner), a Karma Grip gimbal worth $299 (two winners), and GoPro Dual Battery Charger + Battery worth $49 (six winners). The winners will be announced on October 26th.
Disclosure: ValueWalk received compensation in return for an honest review of the product