Color in a video is one of the most important things, and it is something that determines the overall quality of a video. If the colors are accurate, the video will grab the interest of the viewers, and if not, it could get hard on the eyes. Thus, you need to be extremely careful about the lighting and the environment you shoot in to ensure that you get the perfect colors.
However, if you don't get the colors of your choice even after paying the utmost attention, you still have an option to correct the colors. Thanks to technology, you can now use video color editors to perfect the colors.
There are primarily two reasons to correct colors in a video – the color in the image is slightly off or you want to be creative. The color image could get slightly off if the video is recorded with issues, such as wrong camera setup, poor lighting conditions and more. You may also want to change the color to experiment with new things or to achieve a certain style in your video.
The most convenient option to edit the colors in a video is to hire a skilled film colorist. However, this option is not feasible for all, as they may not be able to afford hiring a skilled colorist. Thus, the next best option (or I say the best overall option) is to use a video color editor.
Video color editors are growing in popularity, and there are two major reasons for it. The first reason, of course, is that they are easier on the wallet. There are even free editors available that offer all the needed tools to give a professional look to your video. The second reason is that they are easy to use and you just need to have basic technical knowledge to apply the tools. Further, most video color editors have a user-friendly interface that makes editing or color correction a breeze.
Many such video color editors are available online, such as Filmora. It is video editing software with color correction or grading as one of its popular features. Filmora is available for both Windows and Mac, and offers a free trial as well. It is suitable for beginners, as well as, professionals.
Filmora supports 6 different aspects to adjust the video color: White Balance / 3D LUT / Color / Light / HSL / Vignette.
It is easy to adjust videos' exposure, contrast, brightness, vibrance, and saturation now, and some color presets in Filmora are highly praised by the users.
Maybe this is the good chance to correct the video color and create personalized videos right now.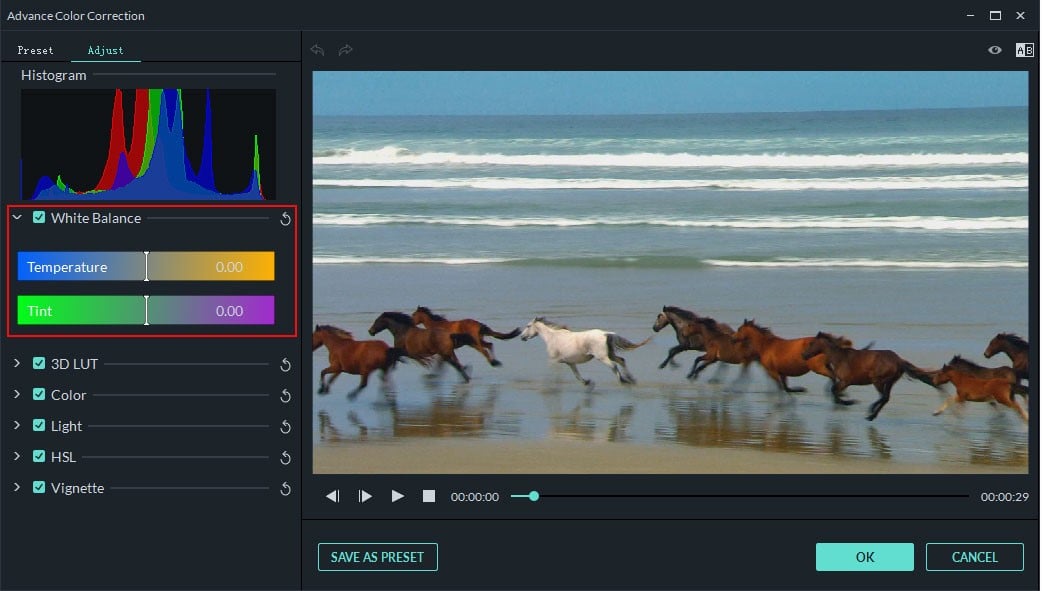 Hope you have fun and success at perfecting the colors in your videos.