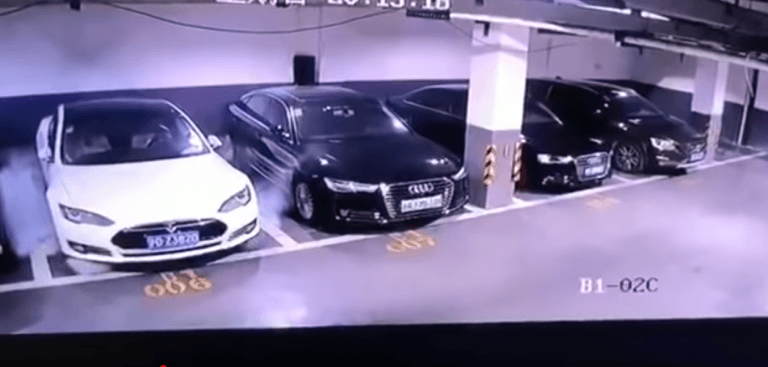 It seems like incidents of Tesla vehicles catching fire come in batches, and this time it sounds like one of the company's cars exploded. The automaker is investigating a video of a Tesla explosion that went viral on Chinese social media and on YouTube. It's important to note that the authenticity of the video hasn't been verified by Reuters, one of the first news outlets to spot it, or any other news outlet.
The video follows another fire incident involving a Model X that caught fire for the second time last week.
Tesla explosion in Shanghai?
The time stamp on the viral video is Sunday, and it was quickly shared across the Chinese social network Weibo. The video shows what many have identified as a first-generation Model S start to give off smoke and then explode after a few seconds. Weibo users who shared the video claim the incident happened in Shanghai. A second video purports to show the aftermath of the alleged explosion, which shows damage to vehicles next to the Tesla.
Fund Manager Profile: Kris Sidial Of Tail Risk Fund Ambrus Group
A decade ago, no one talked about tail risk hedge funds, which were a minuscule niche of the market. However, today many large investors, including pension funds and other institutions, have mandates that require the inclusion of tail risk protection. In a recent interview with ValueWalk, Kris Sidial of tail risk fund Ambrus Group, a Read More
Shanghaiist was able to confirm that there was a fire incident involving a Tesla at a parking garage in Shanghai. Fifteen firetrucks were reportedly called to the scene. In addition to the Model S, a Lexus and an Audi parked next to it were also destroyed.
Tesla told Reuters that it has sent a team to Shanghai to investigate the video and work with local authorities "to establish the facts." At this point, it doesn't sound like anyone was hurt in the incident. The full video of the alleged explosion is embedded below.
According to the news outlet, the phrase "Tesla self-ignites" was one of Weibo's top hashtags today with more than 20 million clicks. Some posts called for the company to determine the cause of the explosion, while others speculated about what impact it might have on the company or its reputation. Still others cracked jokes at the automaker's expense.
Not the first report of an explosion
According to CNBC, a Chicago law firm said in a suit filed in January that at least a dozen instances of batteries in Model S sedans exploding have been reported over the last five years. The latest video shows what supposedly is an explosion in a parked vehicle, but the lawsuit claims batteries have exploded in both collisions and while vehicles were parked.
The South Florida Sun Sentinel reports that the lawsuit filed against Tesla alleges that the battery pack inside a 2014 Model S was defective and resulted in a teenager's death in an accident last year. The 18-year-old boy died after the Model S he was riding in crashed and caught fire.
A classmate was reportedly driving the car at 116 miles per hour, lost control on a curve and smashed into a concrete wall in Fort Lauderdale. The boy's parents had installed a device in the vehicle to keep it from traveling over 85 miles per hour after he had received a ticket prior to his death, but the suit also alleges that a worker disabled the device when it was taken in for maintenance without telling the teen's parents.
At least 14 instances of Tesla vehicles catching fire have occurred in the last five to six years, and most of them were reported after an accident, according to Reuters.
Why the video of the Tesla explosion might be questionable
While reviewing some tweets about the apparent Tesla explosion, we started to notice a number of people who think the video has been edited to make a fire look like an explosion. CNBC also reported on why the video is questionable.
Hey, you know that "Tesla fire in China" video (https://t.co/YA6xsPCMP0)? Fun game. Start counting the seconds on the screen – "One-one-thousand, two-one-thousand…"

Second :19 is half the length. Second :20, 50% more. The video is edited to make a fire look like an explosion.

— Nafnlaus (@enn_nafnlaus) April 22, 2019
Whether this was a fire or an actual explosion, either way, the last thing Tesla needs is another fire incident going into this week's earnings report. It's easy to see why Tesla stock is falling today.