Have you ever wondered how many people clip coupons and use cash-back or rebate apps to save money? Well, Ibotta has the answer, and the numbers are staggering. They've tracked data for the past 5 years from 2016-2020, showing which states have saved the most money using the app, and also which have the most consumer savvy-shoppers.
Q3 2020 hedge fund letters, conferences and more
The States That Have Earned The Most Cash Back
Here are the rankings of the states that have earned the most cash back in the past 5 years. Data below shows the cash-back amount residents in each state have earned:
Florida - $72,666,574
Texas - $70,823,896
California - $58,568,887
Ohio - $43,095785
Pennsylvania - $39,537,895
North Carolina -$35,268,274
Georgia - $34,659,409
Illinois - $33,749,148
New York - $33,091,948
Michigan - $30,619,987
Virginia - $30,288,391
Tennessee $23,334,857
Wisconsin $20,548,185
Missouri $20,234,190
New Jersey $18,833,760
Indiana $18,506,277
Arizona $17,722,400
South Carolina $17,009,703
Colorado $15,853,566
Washington $15,079,897
According to state population data combined with Ibotta's data, most states average about 15% of their adult population using the app, which means that most states could save 6.5 times the amount of money they already have if more people used the app. For perspective, Florida has 18% of all adults using the app, meaning Floridans could have saved over $400 Million (instead of $72 Million) if everyone used the app.
The States With The Most Consumer Savvy Shoppers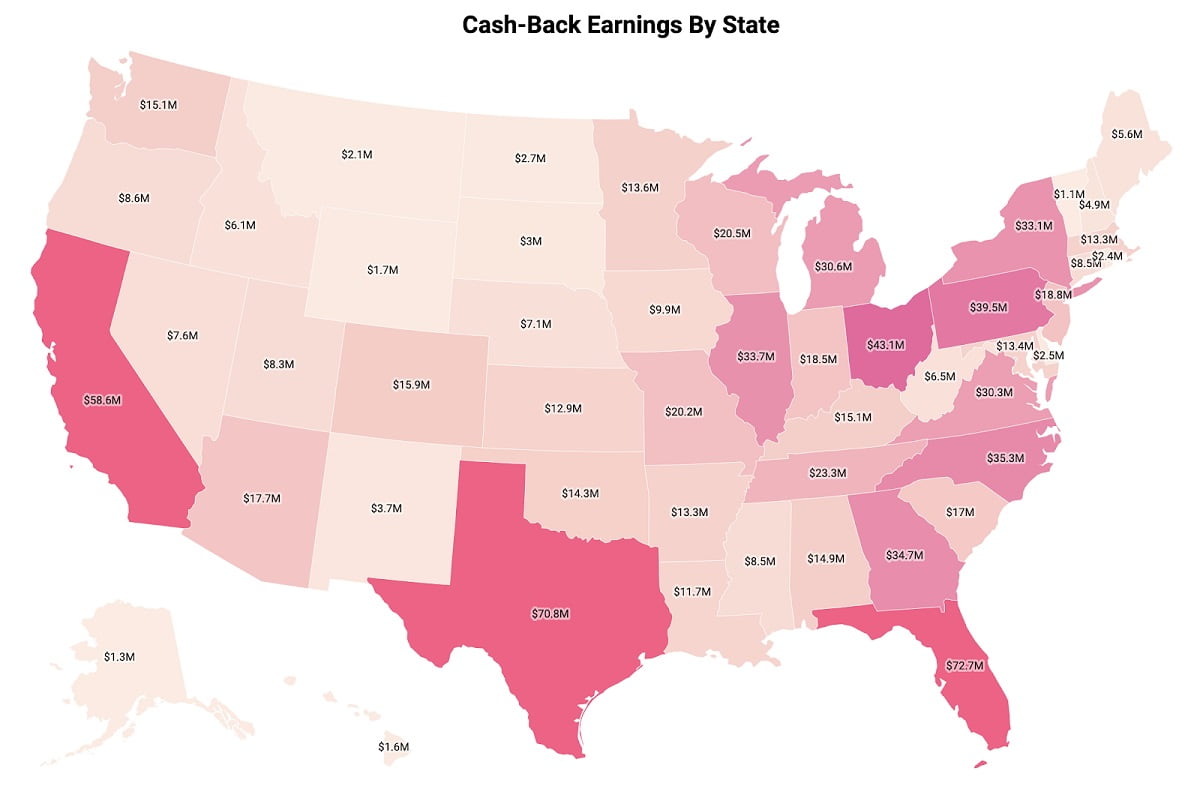 Let's drill down a bit further now to see the states with the most consumer savvy shoppers. 
Based on their data, here are the states where each user, on average, has saved the most money.
Maine
New Hampshire
South Dakota
Wisconsin
Idaho
Nebraska
North Dakota
Wyoming
Ohio
Arkansas
Virginia
Pennsylvania
Iowa
Michigan
Minnesota
Oklahoma
North Carolina
Colorado
South Carolina
Tennessee
Considering that some retailers have amazing cash back offers (we've seen upwards of 40% in some cases), and that some people only use Ibotta passively, residents in the top 20 states definitely know how to save money on their everyday purchases. Average users save about $20 a month using Ibotta, but many save $100+ per month using Ibotta.