CUSIP Request Volume Signals Strong Start to New Year for Equity Issuance Spurred by Tax Reform, Municipalities Raced to Issue New Debt in December
NEW YORK, NY, JANUARY 22, 2018 – CUSIP Global Services (CGS) today announced the release of its CUSIP Issuance Trends Report for December 2017. The report, which tracks the issuance of new security identifiers as an early indicator of debt and capital markets activity, found increases in CUSIP request volume for equities this month. This is suggestive of an increased pace of new security issuance in the early weeks of 2018.
[REITs]
CUSIP identifier requests for the broad category of U.S. and Canadian corporate offerings, which includes both equity and debt, totaled 4,234 in December, down 6% from November, driven primarily by a 23% decrease in requests for new corporate debt identifiers. By contrast, requests for corporate equity identifiers increased 14% during the month of December. For the full calendar year 2017, demand for new CUSIPs for both corporate debt and equity offerings was up 18% over the same period in 2017.
Municipal CUSIP requests increased for a second straight month in December. A total of 1,535 municipal bond identifier requests were made during the month, an increase of 26% from November. The surge is due in large part to the tax reform bill, passed on December 20, which removed the tax exemption from advanced refundings, which states and municipalities use to reduce borrowing costs. Early versions of the bill also threatened to remove the tax exemption for private activity bonds, but that provision was not included in the final bill. On a year-over-year basis, municipal request volume was down 17% through the end of 2017, reflecting ongoing volatility in municipal issuance volumes over the course of this year.
"A great deal of the end-of-year surge in municipal identifier requests was driven by the crush of issuers racing to raise capital ahead of tax reform," said Gerard Faulkner, Director of Operations for CUSIP Global Services. "Now that we see that the final version of the bill preserves the tax exemption on private activity bonds, we expect muni request volumes to move back into a more normalized range."
International debt and equity CUSIP International Numbers (CINS) were mixed in December. International equity CINS were up 29% during the month, while international debt CINS decreased 29% during the month. On a year-over-year basis, international equity requests were down 5% and international debt requests were up 42%, reflecting continued volatility in international markets.
"We've seen a fair amount of volatility in month-to-month CUSIP request volumes, driven by a combination of technical and market factors this year," said Richard Peterson, Senior Director, S&P Global Market Intelligence. "As we turn our sights to 2018, we are currently poised for healthy new issuance volumes in U.S. equities and municipal bond markets."
To view a copy of the full CUSIP Issuance Trends report, please click here.
Following is a breakdown of New CUSIP Identifier requests by asset class year-to-date, through November 2017: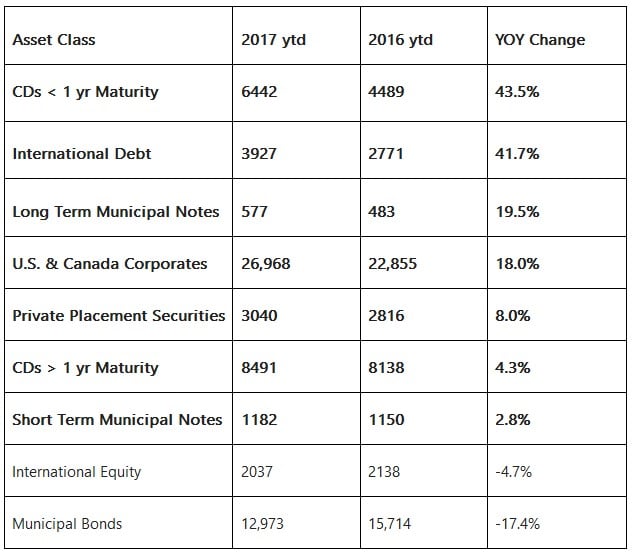 About CUSIP Global Services
The financial services industry relies on CGS' unrivaled experience in uniquely identifying instruments and entities to support efficient global capital markets. Its extensive focus on standardization over the past 50 years has helped CGS earn its reputation as a trusted originator of quality identifiers and descriptive data, ensuring that essential front- and back-office functions run smoothly. Relied upon worldwide as the industry standard provider of reliable, timely reference data, CGS is also a founding member and co-operates the Association of National Numbering Agencies (ANNA) Service Bureau, a global security and entity identifier database for over 34 million public and privately traded instruments, contributed by 92 national numbering agencies and 27 partner agencies representing 255 different countries. CGS is managed on behalf of the American Bankers Association (ABA) by S&P Global Market Intelligence, with a Board of Trustees that represents the voices of leading financial institutions. For more information, visit www.cusip.com.
About The American Bankers Association
The American Bankers Association represents banks of all sizes and charters and is the voice for the nation's $13 trillion banking industry and its 2 million employees.  Learn more at www.aba.com.
For More Information:
Christina Twomey
212-542-8033