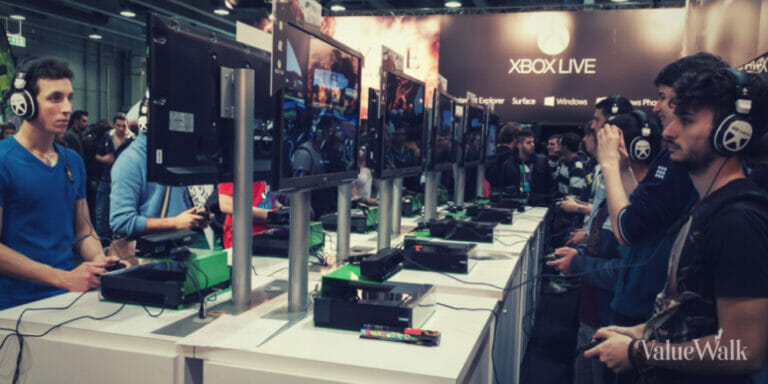 After enjoying years of stratospheric market growth, the would-be recession-proof video gaming industry is now starting to buckle under widespread macroeconomic problems.
The video game industry, which encompasses several facets of online and mobile gaming activities, including the marketing and monetization thereof, has started to come down from its peak, after experiencing a 26% growth between 2019 and 2021.
The growth is attributed to more than $191 billion in value, and since 2015, the industry has been steadily expanding into new products and consumer-based services.
Gates Capital Management Reduces Risk After Rare Down Year [Exclusive]
Gates Capital Management's ECF Value Funds have a fantastic track record. The funds (full-name Excess Cash Flow Value Funds), which invest in an event-driven equity and credit strategy, have produced a 12.6% annualised return over the past 26 years. The funds added 7.7% overall in the second half of 2022, outperforming the 3.4% return for Read More
Q3 2022 hedge fund letters, conferences and more
Now, with economies around the world seeing soaring inflation and central banks aggressively raising borrowing rates, other issues including supply chain constraints and pending lockdowns in China and other major manufacturing countries have left the video game industry experiencing some major headwinds.
Economic problems haven't been the only chokehold on the industry.
Game developers have been extending scheduled game releases throughout the year, postponing title releases until 2023. This might have left a sour taste behind for consumers who were promised some high-profile and exciting games that would originally be enjoyed during the better half of the year.
Benjamin Swift, the Managing Editor of Guided Hacking, an online platform that produces educational content for ethical hacking and reverse engineering feels that although the industry remains a resilient and highly profitable sector within the global economy, there's a need for developers and companies to rely on their existing features and structures and make that work to their best advantage.
"Consumers automatically spend less money when times are hard, and with economists predicting a tighter financial year as a recession looms, perhaps it would be in the best interest of game developers and companies to stick with their best-selling products and services to ensure consumers are engaged while receiving an innovative and exciting gaming experience at the same time."
According to Ampere Analysis, the nearly $200 billion industry is set to experience a 1.2% drop in market value this year, with estimates looking to value the industry at $188 billion.
The sudden bump that could potentially send a shockwave effect across the industry comes with its sorts of bells and whistles.
The Comedown Of Robust Growth
With the price of essential items, including food, gasoline, and utilities going up, consumers are experiencing how inflation is reaching deep into their disposable income every month.
In a November Games Market Update by Newzoo, the games market would see a further decline of 4.3% year on year, as higher prices across the board are making it harder for many to purchase video games, consoles, and accessories.
Typically, the holiday season is considered one of the best periods for the gaming industry, with consumers stocking up on holiday gifts for the family. Though this year, things are looking quite different, and many have been making some adjustments to see how far their money will be able to take them this festive season.
The decline does not come without problems, as global leaders in the industry, including Sony Group Corp (NYSE:SONY), Electronic Arts Inc (NASDAQ:EA), and Two-Take Interactive Software, Inc (NASDAQ:TTWO), among others have already announced that the industry could miss its fourth-quarter projections.
In a recent poll by PwC, more than 50% of respondents said that inflation and higher prices have made a big impact on their holiday spending activities.
The ripple effect might have not reached the edge, but as economic pressure continues, consumers will only pull their belts tighter, and the gaming industry will soon feel the water come crashing down.
Delays Are Now Part Of Life
This year gamers and enthusiasts were met with a tumultuous amount of game delays, as major developers were seen scrapping initial release dates and pushing it into 2023.
For many, this meant that instead of purchasing a long-awaited game, remake, or expansion that they were promised at the start of the year, perhaps even before that, they would now have to wait longer before their wishes to be fulfilled.
Yet, game delays are not something new, and oftentimes developers will postpone the release date to sort out some last-minute bugs or errors before making it publicly available.
This year consumers experienced a slew of high-profile titles and games being pushed back even further into the new year. Although this wouldn't necessarily have a grandiose effect on market growth, it's pretty simple to understand that if there is nothing to release or to provide consumers, then they won't necessarily be upgrading their consoles or games during that time.
The shortfall here is not only with the physical games and units developed by developers, but also a shortage of supplies and materials needed to complete products.
A shortage of semiconductors, a small component used in nearly every electrical appliance and gadget, has made it harder for game manufacturers to complete console orders and other electrical accessories.
Though there has been some talk over whether China, the world's largest producer of semiconductor chips, would be able to increase its capacity as demand continues to climb, questions to the answers have been met with hollow answers.
The Bottom Line
Though the video game industry remains resilient in the face of volatility, broader macroeconomic problems have been making it increasingly hard for the industry to function and grow.
The coming year will perhaps be another challenging experience for the game industry, and developers could perhaps see themselves making significant changes to their forward-looking guidance in the hopes of turning losses into growth.
While it's possible to turn around the situation once recessionary conditions have lessened, the solutions might not be as simple, and developers will need to consider how their current strategy will guide them going forward. Although there's a lot to factor in, the game industry could feel its legs being cut significantly shorter in the coming months if it doesn't brace itself for a hard knock.