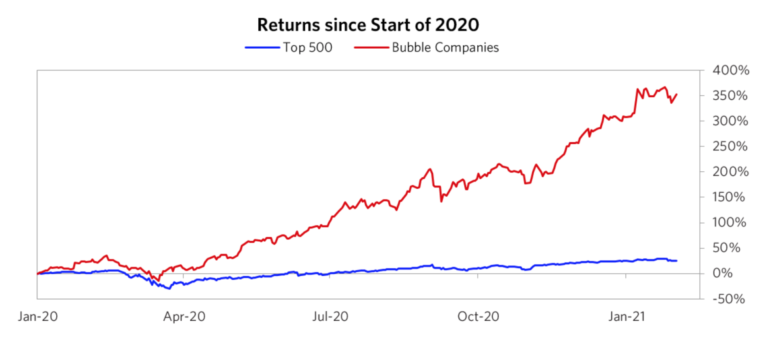 Ray Dalio's latest research on the U.S. stock market, which found that 50 of the 1,000 biggest companies are in 'extreme bubbles.'  While the bubble indicator flags other indicators that the markets are entering frothy waters, it overall shows no signs of a bubble bursting, such as those in 1929 and 2000.

Q4 2020 hedge fund letters, conferences and more
Ray Dalio's Six Indicators To Measure Bubbles
In the research, Ray outlines how Bridgewater measures a bubble, or an unsustainable high price, with the six following indicators:
Fund Manager Profile: Zhang Hui Of China's Southern Asset Management
Historically, the Chinese market has been relatively isolated from international investors, but much is changing there now, making China virtually impossible for the diversified investor to ignore. Earlier this year, CNBC pointed to signs that Chinese regulators may start easing up on their scrutiny of companies after months of clamping down on tech firms. That Read More
How high are prices relative to traditional measures? The current read for US equities is around the 82nd percentile, lower than what was seen in the 1929 and 2000 bubbles.
Are prices discounting unsustainable conditions? While stock prices in aggregate are high in relation to absolute returns they provide, they are not extremely high in relation to bond market competitors. It is currently in the 77th percentile, while in 1929 and 2000 it was at the 100th percentile.
How many new buyers have entered the market? This indicator is approaching bubble territory in the 95th percentile due to the flood of new retail investors into the most popular stocks.
How broadly bullish is sentiment? For "bubble stocks" the indicator is around the 85th percentile, brought on by IPOs and the recent SPAC boom.
Are purchases being financed by high leverage? The leverage gauge currently reads shy of the 80th percentile, but there is high leverage being deployed by the retail segment using options in bubble stocks.
Have buyers made exceptionally extended forward purchases to speculate or protect themselves against future price gains? This gauge is the weakest across all bubble gauges, pulling down the aggregate read.
Do you agree with Dalio on these equities being in a bubblr? Tell us in the comments section.
Updated on