Whitney Tilson's email to investors discussing how Amazon wove itself into the life of an American city; thousands protest Amazon; PayPal's scam, charging customers an unnecessary 2.9% fee; The seven ways getting rich increases your odds of divorce.
1) As I took the train to Baltimore this morning (I spend a day or two here each week at our corporate partner Stansberry Research's headquarters), I read this in-depth article – which uses this city as a case study – about "how Amazon (AMZN) may now reach into Americans' daily existence in more ways than any corporation in history." It's sort of scary – but makes me even more bullish on the stock… Prime Mover: How Amazon Wove Itself Into the Life of an American City. Excerpt:
Q3 2019 hedge fund letters, conferences and more
As federal regulators and Congress assess whether Amazon's market power should be curbed under antitrust laws – and whether, as some politicians argue, the company should be broken up – the New York Times has explored the company's impact in one American community: greater Baltimore.
2) As Amazon becomes more and more dominant, expect to see more protests like these... especially in Europe, where organized labor is stronger: "We Are Not Robots": Thousands Protest Amazon As Workers Stage Black Friday Walkout. Excerpt:
Thousands of Amazon workers across Europe have walked out as part of a coordinated Black Friday strike against working conditions at the world's largest online retailer.
3) When I used digital payments giant PayPal (PYPL) yesterday to send a large sum of money to a friend, I encountered highly deceptive practices that I think are a total scam and could be grounds for a huge class-action lawsuit.
I don't think that this, by itself, is sufficient grounds to short the stock of this rapidly growing company... but I'd want to look into it if I were a shareholder, especially given the stock's nosebleed valuation (7.2 times revenue, 37.7 times EBITDA, and 50.7 times trailing earnings).
As background, PayPal is a useful and free way to send money to (or request money from) a friend. In addition, you can use it to pay for goods and services from a merchant or someone on, say, eBay (EBAY), but in this case, the recipient pays a 2.9% fee plus $0.30.
Fair enough.
But what if PayPal dupes people into paying the 2.9% fee when two friends are just transferring money to each other? That's what happened to me...
I've used PayPal for years, but because I was sending my friend many thousands of dollars, I double-checked to make sure there wouldn't be a fee. No problem – PayPal's website confirmed that: "There are no fees within the U.S. to send money to family and friends when you use only your PayPal balance or bank account, or a combination of your PayPal balance and bank account."
So I went ahead and initiated the transfer. After I entered my friend's e-mail address and the amount, this screen popped up: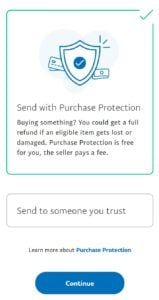 I was confused for a moment – I didn't want Purchase Protection – but without giving it much thought, I figured that the obvious thing to do was to click the default, highlighted "Continue" button.
After I did, a final confirmation page appeared that looked like this (this screenshot only shows a $1 transfer):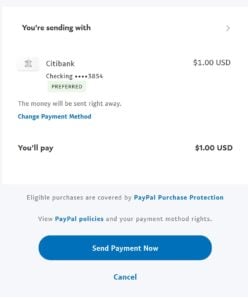 So I clicked "Send Payment Now" and thought I was done...
But moments later, my friend called me in a panic – he'd been charged 2.9%, equal to more than $200!
I was confused because I'd just received an e-mail stating clearly:
You paid [$X]
[My friend's name] will receive [$X]
So I went back to PayPal's website and entered a new $1 transfer to see what I'd done wrong.
Apparently, instead of clicking "Continue" on the first confirmation page, I should have clicked "Send to someone you trust." But this was unclear and there was no disclosure that a fee would be charged if I clicked "Continue." Deception No. 1.
Then on the final confirmation page, I discovered this, which I hadn't seen the first time: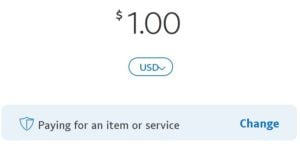 I have three problems with this: a) It wasn't visible on my screen when I went to click the "Send Payment Now" button – I had to scroll up to the top to see it... b) Only in the fine print does it say "Paying for an item or service"... and c) There is no disclosure anywhere on the page that PayPal is going to charge a fee on this transaction. Deception No. 2.
Finally, the e-mail I received was a flat-out lie. It said that my friend would receive the full amount that I sent him, when in fact PayPal had deducted more than $200! Deception No. 3.
None of this is by accident... Every sophisticated company carefully designs and tests every element of their website and purchase/payment process, so I'm certain that this is a carefully orchestrated plan – what I call a scam – to increase the number of people paying fees unnecessarily.
PayPal is huge, so if the deceptive and misleading process that fooled me – despite a conscious effort on my part – results in even a small incremental percentage of its customers paying fees they shouldn't, the company could be harvesting big money.
Here's some back-of-the envelope math: in its third-quarter earnings release, PayPal boasted that person-to-person ("P2P") volume grew 39% to $51 billion – representing 28% of its $179 billion total payment volume, or $50 billion. Annualized, that's $200 billion of P2P payments like the one I made yesterday to my friend.
If this scam results in 10% of its customers – to pick a number out of the air – paying a fee they shouldn't, that's $20 billion of volume being charged an unnecessary 2.9% fee. That's $580 million of pure excess profit for PayPal, equal to 22% of the company's trailing 12-month operating income of $2.6 billion.
Shame, shame!
Any class-action lawyers out there looking for an easy-to-win, big-dollar lawsuit against a deep-pocketed company?
(I refused to be scammed over the 2.9% fee, so I called PayPal's customer service line and read them the riot act. They said they couldn't waive the fee, so my friend has to reject the transaction once it clears – they told us usually within 24 hours – and then I have to resend it.)
4) Over the Thanksgiving break, after two years of on-and-off effort, I finally finished the first draft of one of the two books I'm working on, tentatively entitled, All I Want to Know Is Where I'm Going to Die: The Five Calamities That Can Destroy Your Life – And How to Avoid Them. It's still quite a ways from being finished, but it's a great feeling to have reached this milestone!
Near the end of the chapter on calamity No. 2, "A Bad Marriage, Often Ending in Divorce," I write:
Most people think that having a lot of money is good for a marriage. Up to a certain point, that's true – financial pressures can definitely put strain on a marriage.
But, ironically, making a ton of money can actually increase the odds of divorce for the following seven reasons (I've seen them all up close).
In this e-mail and the next six, I'll go through each of them.
Reason No. 1 is that divorce is crazy expensive (both the short-term cost for lawyers, as well as the long-term higher expenses due to two homes, less favorable tax treatment, etc.), so having a lot of money reduces this barrier.
I know one guy whose wife suddenly inherited a huge amount of money – and told him she was divorcing him that very day. My wife and I joke (at least I hope she's joking!) that, even if we wanted to, we couldn't afford to get divorced. Even though it's not technically true, I'm glad she thinks it is – LOL!
Best regards,
Whitney