New S&P Analysis: Outlook 2021: US planned capacity additions again led by solar, wind
[soros]
Q1 2021 hedge fund letters, conferences and more
According to a recent analysis by S&P Global Market Intelligence, 63,667 MW of new resources are projected to come into service in the U.S. in 2021. More than three-quarters of the new capacity is from solar and wind, with slightly more solar than wind.
New Capacity To Come From ERCOT Market
Key highlights from analysis include:
10,693 MW are set to be retired this year, leaving a net gain of 52,974 MW in 2021. About half of the capacity to be retired comes from three nuclear plants.
Nearly one-third on new capacity is expected to come from the Electric Reliability Council Of Texas Inc. (ERCOT) market, with 19,928 MW comprised mostly of wind and solar resources, but also gas and stand-alone energy storage.
More than half the capacity expected to be retired this year is in the PJM Interconnection region, made up largely of the two Exelon nuclear plants, but also some coal-fired capacity. Overall, nearly 3,100 MW of coal-fired capacity is slated for retirement in 2021.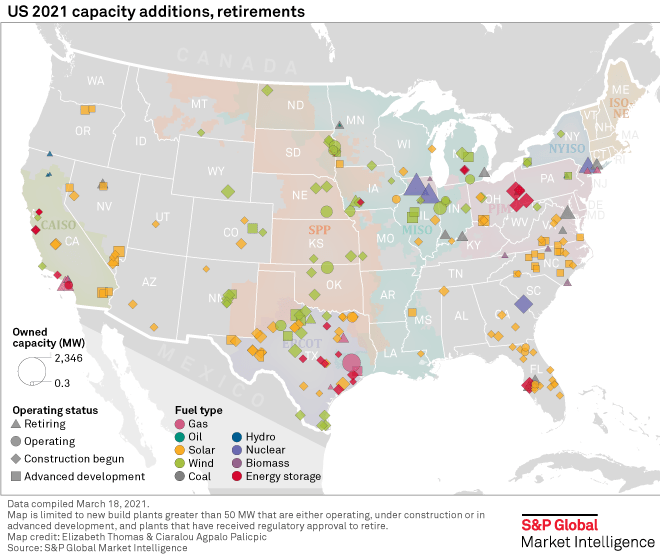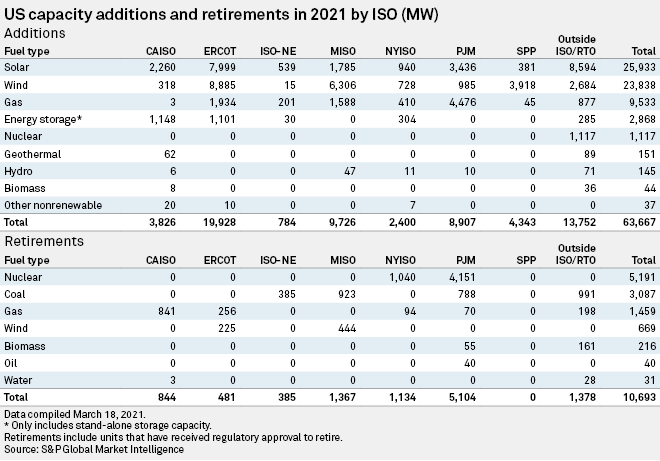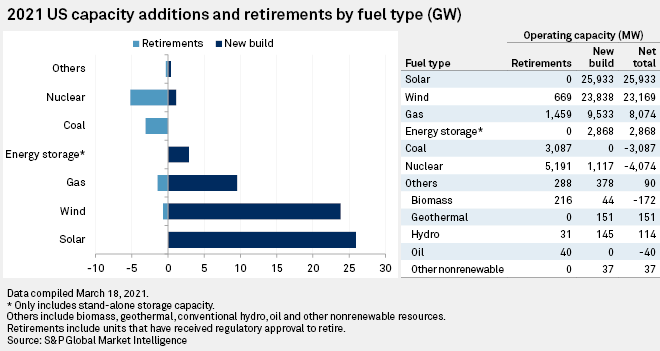 Largest Plants To Be Retired
The largest plants to be retired and begin operating this year are the nuclear units. Among the largest plants expected to begin operating is the 1,132-MW gas-fired South Field Energy facility in Columbiana County, Ohio, in the PJM region, owned by a consortium of largely Japanese investors. The largest coal-fired plant to be retired, the 683-MW Chalk Point 1 and 2 plant in Prince George's County, Md., owned by GenOn Holdings Inc., is also in the PJM region.
In Florida, Emera Inc. subsidiary Tampa Electric Co. is contributing to both new capacity and retirements, adding 784 MW with its gas-fired Big Bend CT unit while retiring the two oldest units, totaling 790 MW at the coal-fired Big Bend plant, all in Hillsborough County, Fla.
Read the full article here by Michael Lustig and Gaurang Dholakia – S&P Global Market Intelligence