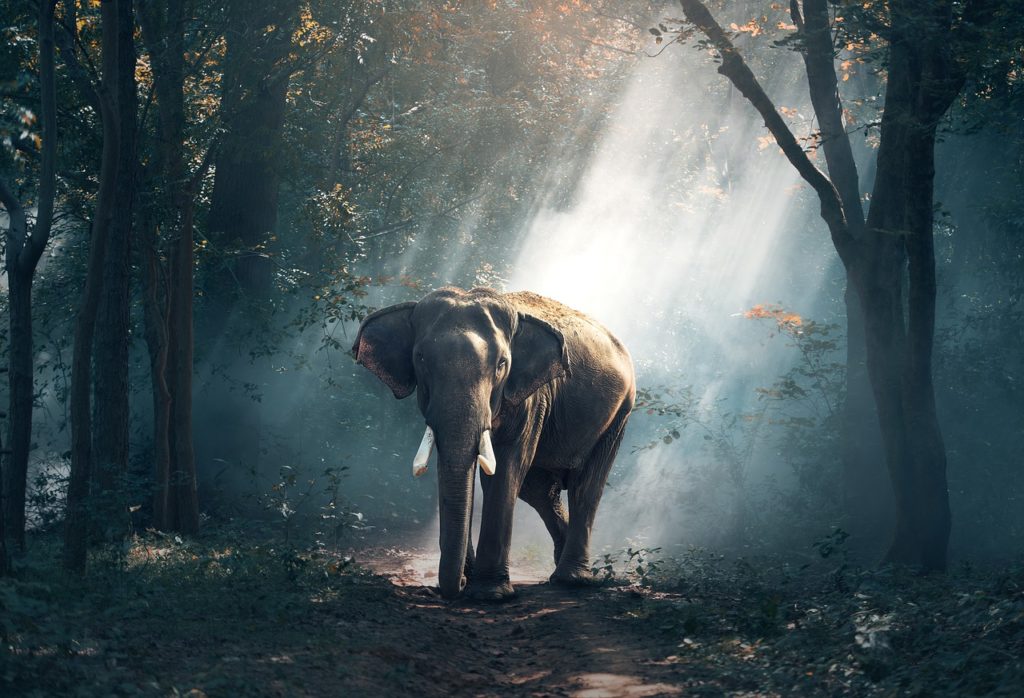 A man was trampled to death by five elephants in Thailand this week in the latest incident showing the troubled relationship between humans and elephants in the Southeast Asian country.
Masaree Samae, 40, was trampled by elephants near a rubber plantation in the southern Yala province, early Friday morning.
Police captain Sathit Woonchoom explained, "The victim was riding his motorbike on the way to tap rubber… and was circled by five elephants."
"I conducted the autopsy with a doctor and found wounds on his back and head," he said. The police captain went on to say that he heard elephants in the bushes when he arrived on the scene.
Elephants in Thailand
The giant elephants are both revered and feared in in the Southeast Asian nation. The wild elephant population in Thailand has significantly dwindled in the past 100 or so years. Today, there is an estimated 2,700 wild elephants in Thailand. In 1850, there were 100,000.
As industry and population grows in Thailand, urban sprawl and deforestation have led to wild elephants losing their habitats. This has brought elephants into closer contact with humans, which often leads to problems. Elephants have been known to trample humans, and villagers often kill the giant mammals out of fear. Last year a man was arrested to setting up an electric fence meant to kill elephants. After a few elephants died, he was arrested on poaching charges.
Elephants have also fallen victim to poachers, who sell them to wealthy individuals as pets, to circuses, or to be featured in films. Elephants are also used in the logging industry.
Last year, an elephant who had been featured in films and commercials killed his owner in Chiang Mai. Many elephants are also sold to "elephant experiences," where tourists may ride and feed captive elephants or take selfies with them.
Elephant Tourism in Thailand
Thailand has been internationally criticized for elephant tourism. According to a study conducted last year by World Animal Protection (WAP) found the number of elephants captured in Thailand has increased by a third over the past five years. According to the study, many of these elephants were kept in cruel conditions. Only 200 elephants of the 3,000 examined were living in acceptable conditions.
Brutal conditions and inhumane training methods are used to teach the elephants to do tricks and endure countless selfies with eager tourists. In order to make the elephants obedient, baby elephants are captured and taken away from their mothers. They are then physically abused and kept in small enclosures to break their spirits.
Poverty is also a part of the problem. Elephant trainers, knowns as mahouts, rely on the elephants for their meager livelihoods. Like the elephants, they too are often subjected to terrible living conditions inside the elephant camps. The mahouts are also constantly at risk of being injured or killed by the wild animals. Last December, an elephant at one of these camps was agitated by selfies and tourists taking him for rides. After a tourist pulled his tail, the elephant trampled a tour guide to death and injured two tourists.
The WAP study also found that Thailand has more than twice as many elephants used for tourism as all other countries combined. In response to the public outcry against animal cruelty, 160 travel organizations, including TripAdvisor, committed to not selling tickets for experiences that feature captive elephants.
The International Union for Conservation of Nature (IUCN) considers the Asian elephant to be an endangered species with only 30,000 left in the entire world. While the population of wild elephants in Thailand shrinks, animal poachers have turned to Myanmar to satisfy the demand. Each captured elephant can fetch up to $60,000 once smuggled into Thailand. In 2016, the Thai government increased police presence at the border with Myanmar in an attempt to limit animal smuggling.
Are Animal Sanctuaries the Solution?
While many people long to snap a Instagram photo of themselves riding an elephant in Thailand, many don't consider the harm to the animals or the potential danger they face in doing so. Tourists have been injured in the past by enraged elephants and spending money at these "elephant experiences" only encourages the cruelty.
Daniel Turner, Associate Director for Tourism at Born Free Elephant Sanctuary in Chiang Mai Thailand explained to the BBC:
"Riding an elephant still features on many people's bucket list when visiting Asia and, more recently, Africa. While some may consider riding on top of the largest land mammal to be a cultural experience that holds an air of romance, few recognise that this practice actually significantly compromises the welfare of these magnificent animals and potentially places people at risk.
"Riding or interacting with captive elephants, swimming with dolphins, walking with lions, or cuddling a tiger cub for a photo – these are just some of the many worrying tourism excursions and activities involving animals. All can impact on the welfare of the animals involved, and risk people's safety."
The Born Free sanctuary rescues and rehabilitates elephants who have been kept in captivity. Since the elephants have sustained physical and psychological injuries, many cannot be truly returned to the wild. Instead they live at wild animal sanctuaries. Many sanctuaries are able to continue their work only with the help of volunteers; they welcome tourists who want to learn more about elephants and maybe get up close and personal to come volunteer with them. However, some organizations parading as animal sanctuaries are actually just traps for tourists and keep elephants in just as cruel of conditions.
WAP surveyed a number of these elephant sanctuaries as part of their study. They found that authentic animal sanctuaries and elephant hospitals may be a good solution the growing problem of abused and captive elephants.
Since the mahouts are often forced into elephant poaching by economic instability, some of these sanctuaries work to provide education and sustainable employment for mahouts. Born Free also aims to educate local populations about the dangers and harms of elephant poaching. Volunteers can sign up to teach about elephants in local villages.