Kindle E-reader – Black with 6-inch display just for $49.99, this was selling for $79.99 and All-new Kindle Paperwhite Waterproof just for $119.99, this was selling for $159.99. Both items are at the lowest price ever. Stack this promo with this amazing Amex deal here to get it for just $19.99.
Q4 hedge fund letters, conference, scoops etc
Kindle E-reader – Black With 6-Inch Display
All-new design is thinner and lighter, and now available in your choice of black or white.
With built-in Audible, access the world's largest library of audiobooks. Easily switch between reading and listening on Bluetooth-enabled speakers or headphones.
Easy on your eyes—touchscreen display reads like real paper.
No screen glare, even in bright sunlight, unlike tablets.
Keep reading—a single charge lasts weeks, not hours.
Get lost in your story with no alerts or notifications.
Instant access to new releases and bestsellers, or from over a million titles at $2.99 or less. Prime members read free with unlimited access to over a thousand titles.
Looking for a light? Try Kindle Paperwhite.
Thin and light for one-handed reading
Kindle is 11% thinner and 16% lighter than the previous generation Kindle, making it easy and comfortable to hold in one hand.
No eye strain, reads like real paper
Kindle uses actual ink particles and proprietary, hand-built fonts to create crisp text similar to what you see in a physical book. The blacks and whites on the screen are uniform, improving text and image quality.
Unlike tablets, no blue light to disturb your sleep
Studies have shown that evening exposure to blue light from backlit screens like tablets and smartphones can suppress the body's production of melatonin, a naturally occurring hormone that helps the body fall asleep. Because the Kindle display emits no light, you can read anytime without losing sleep.
No glare in bright sunlight
Unlike reflective tablet and smartphone screens, the high contrast touchscreen display eliminates glare in any setting—even direct sunlight.
Battery lasts weeks, not hours
A single battery charge allows you to read for weeks, not hours.
Millions of books, no distractions
Kindle is designed as a dedicated e-reader. Indulge your love of reading without interruptions like email alerts and push notifications.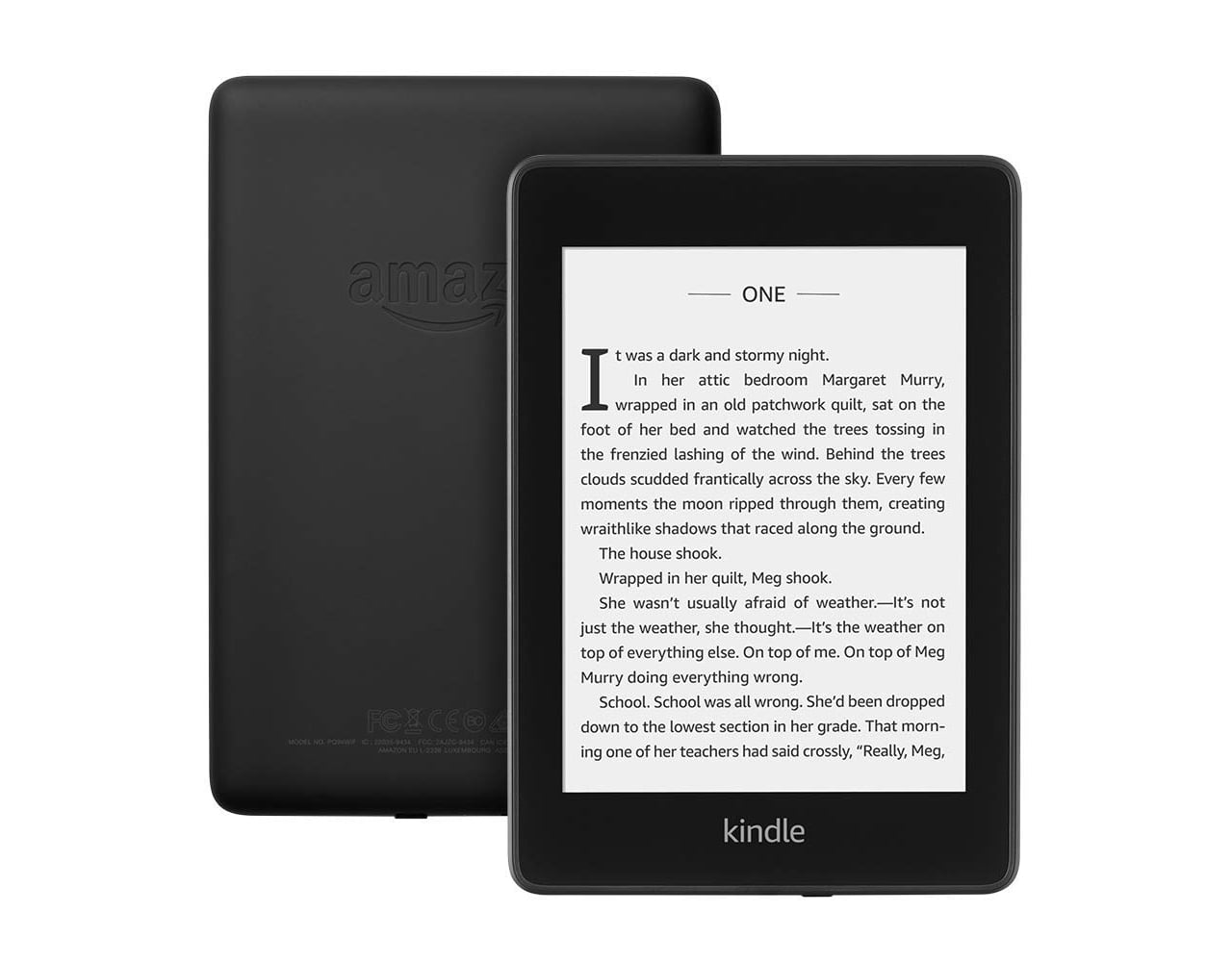 All-New Kindle 32GB Paperwhite Waterproof with 2x the Storage
Kindle E-Reader black devices don't support Immersion Reading, which lets you listen and read along as the text highlights.
---
Kindle E-reader – Black with 6-inch display – right here to purchase.
All-new Kindle Paperwhite Waterproof – right here to purchase.
H/T TJB Deals