JPMorgan has emerged as the top financial adviser for mergers and acquisitions (M&A) by both value and volume in technology, media & telecom (TMT) sector for Q1 2021, having advised on 41 deals worth US$72.5bn. A total of 3,009 M&A deals were announced in the sector during Q1 2021, according to GlobalData, a leading data and analytics company.
Q1 2021 hedge fund letters, conferences and more
According to GlobalData's report, 'Global and Technology, Media & Telecom M&A Report Financial Adviser League Tables Q1 2021', deal value for the sector increased by 88% from US$175bn in Q1 2020 to US$329bn in Q1 2021.
Global M&A Review Q1 2021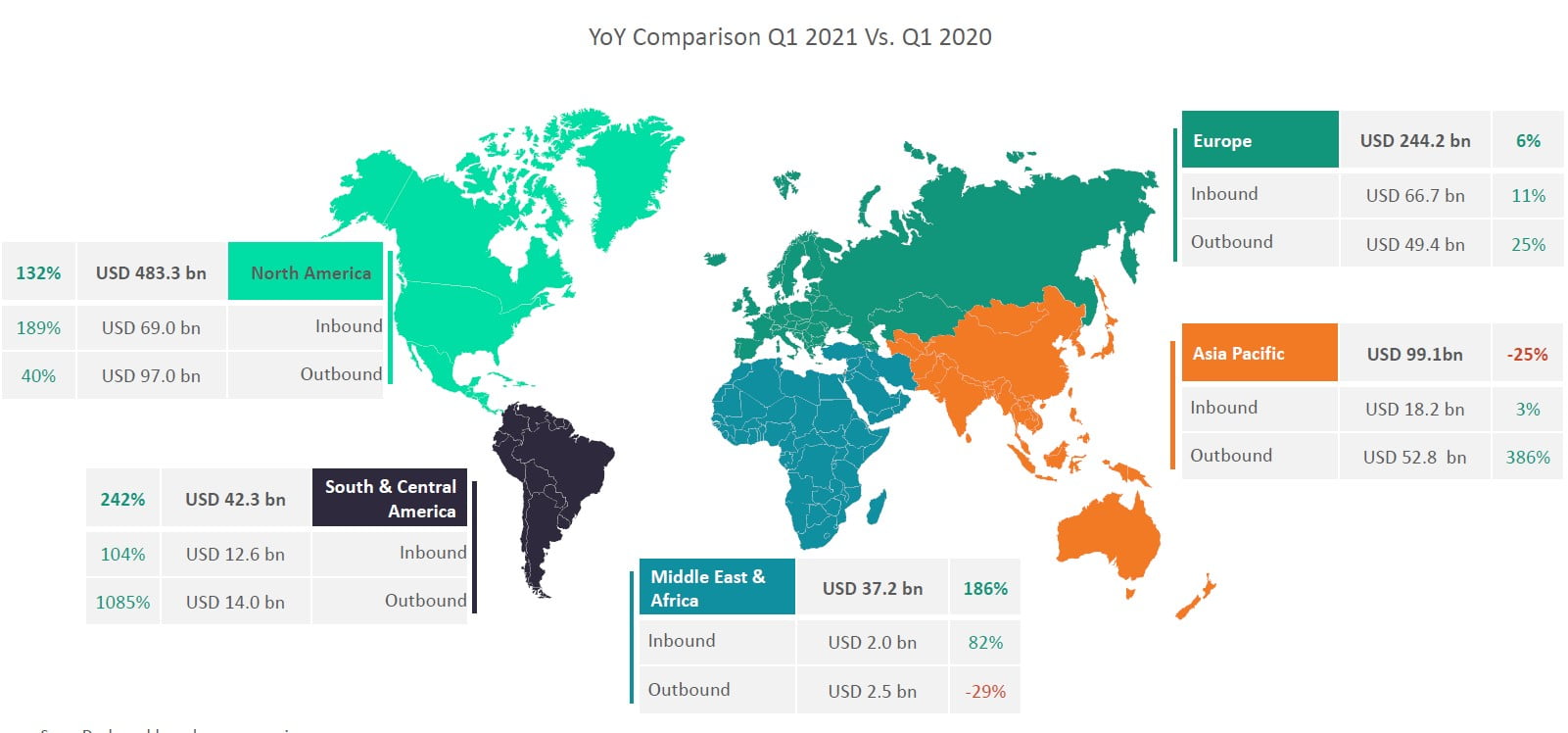 2021 Makes A Good Start, Reports One Of The Best First Quarters In Recent Years
After making a solid comeback in H2 2020, deal-making sentiments continued to remain buoyant in 2021 as well. Deals worth US$878bn were announced during Q1 2021, which is a decline of 16.9% over deals worth US$1,056bn announced during the previous quarter. Despite the decline, Q1 2021's deal value is by far the highest value recorded across any first quarter since 2019. It is also one of the best first quarters since 2016. This could be indicative of high-value deals, which investors probably deferred due to Covid-19 outbreak in 2020, are now springing back to action.
Big-Ticket Deals Drove Strong First Quarter Performance
The strong performance in the first quarter of 2021 is attributed to announcement of several big-ticket deals and some of which also included megadeals (deals valued more than or equal to US$10bn). Some of the notable high-value transactions announced during Q1 2021 included acquisition of GE Capital Aviation Services Ltd by AerCap Holdings NV for US$30bn, Canadian Pacific Railway Ltd 's acquisition of Kansas City Southern for US$29bn and acquisition of Shaw Communications by Rogers Communications for US$20.8bn, among others.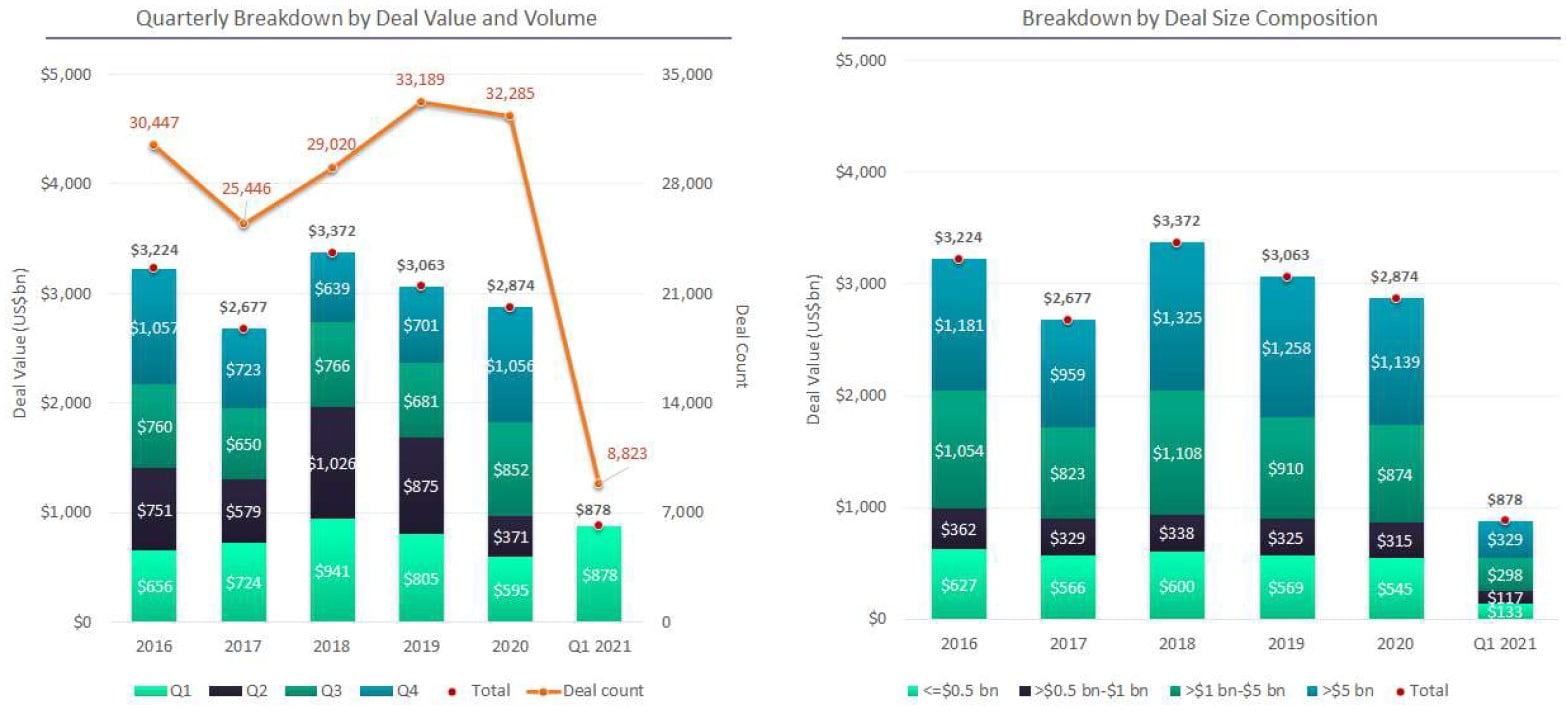 Cross-Border Activity Improves Across Most Of The Regions
Despite geopolitical tensions, cross-border M&A activity remained at decent levels during the first quarter of 2021. A total of 2,515 cross-border M&A deals worth US$317bn were announced during Q1 2021, which is already around 30% of 2020's total cross-border activity. All the regions except Middle East and Africa witnessed improvement in inbound as well as outbound deal value in Q1 2021 compared to Q1 2020. Despite witnessing growth in inbound deal value, Middle East and Africa witnessed decline in outbound deal value.
North America continued its dominance in global M&A landscape accounting for 53% share of total deal value in Q1 2021, which is also a major leap from 43% share in 2020. In contrast, Asia-Pacific witnessed its share of global deal value declining sharply from 23% in 2020 to 11% in Q1 2021. Europe also witnessed a marginal decline in its share while South and Central America and Middle East & Africa witnessed improvement in share of deal value in Q1 2021 compared to 2020.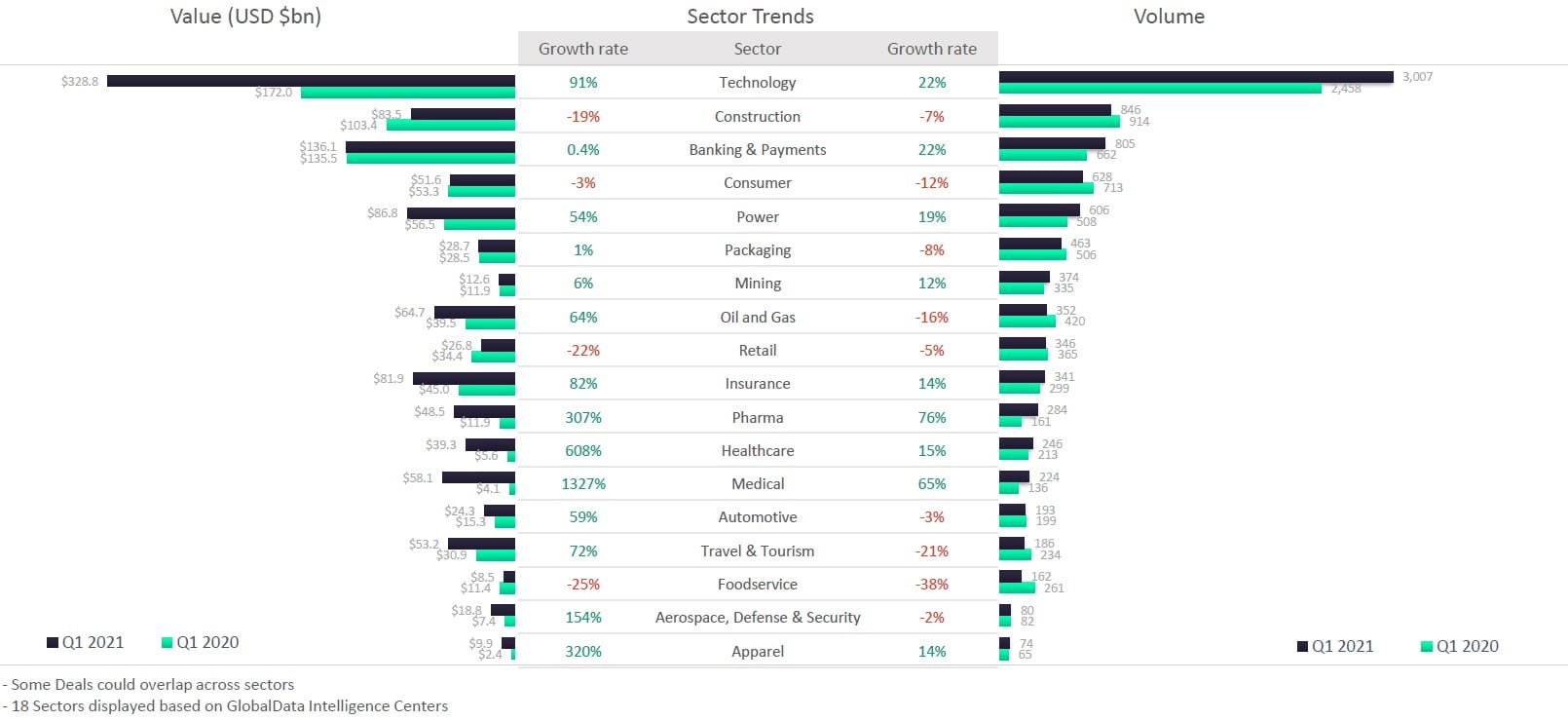 Technology Remained The Most Active Sector For M&A Activity
With future directions becoming clearer, several sectors witnessed improvement in deal activity during Q1 2021 compared to Q1 2020. Meanwhile, technology sector remained the most active sector for M&A activity and registered the highest number of deals during Q1 2021 and also led in value terms. The sector also witnessed growth in deal volume as well as value during Q1 2021 compared to Q1 2020. Meanwhile, pharma, medical and healthcare sectors also emerged as clear winners.
Digitalization And Cloud Themes Gaining Prominence
Of all the technology themes, the highest number of M&A deals were announced in digitalization theme during Q1 2021. With COVID-19 outbreak prompting adoption of technology, digitalization has come to the forefront while companies with innovative cloud solutions are also emerging as attractive acquisition targets. A total of 446 M&A deals involving targets active in the digitalization space were announced during Q1 2021 followed by 345 deals involving targets active in cloud space.