For those who want to experience an in-flight atmosphere while on the ground, a hotel in Japan is offering a room with a flight simulator. The room with the flight simulator is based on the Boeing 737-800.
The hotel with this unique idea is Tokyo's Haneda Excel Hotel Tokyu. This hotel is very close to Tokyo's Haneda International Airport. In fact, it is connected to Terminal 2.
The room with the flight simulator is called the Superior Cockpit Room, and guests can book it for 90-minute flying sessions. In the room, guests can get the experience of piloting a Boeing 737-800 from Haneda to Osaka's Itami Airport. There is also an instructor on hand to help.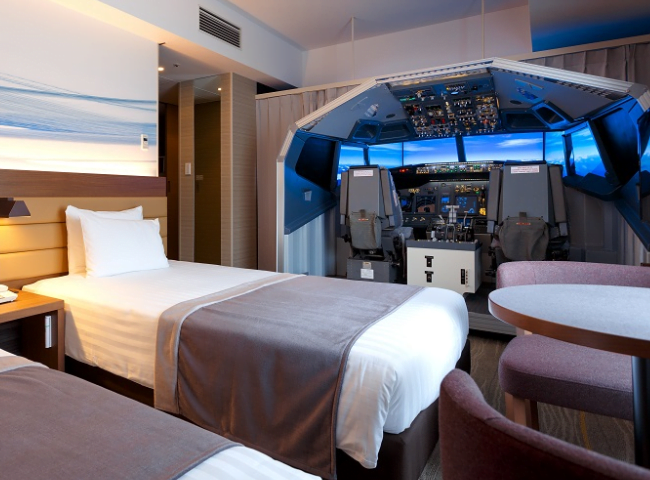 Renting the flight simulator for a session will cost you 30,000 yen ($277), while booking the room for a night will cost 25,300 yen ($234) extra. Guests are not allowed to use the simulator without an instructor.
According to the hotel's public relations manager, the flight simulator is an investment of about 10 million yen ($92,000). Although the executive did not reveal exact sales figures so far, they are getting a positive response, according to CNN.
The idea of putting a flight simulator in a room came from the hotel's general manager. With such a concept, the hotel aims to differentiate itself from the thousands of other hotels in Tokyo. Further, the public relations manager said they zeroed in on the airport theme to attract transit passengers and aviation enthusiasts. This room with the flight simulator will open for booking on July 18.
This is not the first time a flight simulator has been used to offer something unique to customers. Last year, the First Airlines restaurant opened in Tokyo, offering customers an "in-flight" virtual reality (VR) dining experience. In addition to serving food, the restaurant gives guests a virtual tour of various cities, including Rome, Paris, New York and Hawaii.
Guests need to "check in" to the flight, where they get a comfortable first-class seat and a pre-flight safety demonstration. Thereafter, they are served food items similar to what is served on flights. After the "take-off," guests are served a four-course meal from cuisine based on the VR destination they chose. For example, those who chose Italy can eat salmon carpaccio and tiramisu.
In addition to using the flight simulator, hoteliers have tried other things as well to differentiate their hotel. For instance, Alienware designed a decadent gaming room in the Hilton Panama last year. The room featured a top gaming machine powered by a Core i7-7800 CPU and an NVIDIA GTX 1800 Ti graphics. The machine is then plugged into a 65-inch OLED TV. However, a stay in the room costs $349 a night.
In other news related to the flight simulator, Microsoft revealed a new installment of its Microsoft Flight Simulator series last month. This new Flight Simulator is powered by its Azure cloud artificial intelligence.
Microsoft has been running the Flight Simulator series since the 1980s. The last installment in the series landed in 2014. It's called Flight Simulator X: Steam Edition and was the continuation of 2006's Flight Simulator X. Although the series is part of the Xbox Game Pass program, Microsoft refers to it as "Microsoft Flight Simulator for PC."
During E3, Microsoft revealed the trailer of the latest installment captured in real-time 4K, while the game is powered by satellite data and Azure AI. The trailer showed shots of Dubai's Palm Islands, the city of San Francisco, the pyramids of Giza and more. According to Microsoft's head of gaming, Phil Spencer, about 2 petabytes of geographical data was used to create the game.
"You're going to have to put at the bottom that it's in-game, because nobody is going to believe that's in the game," Spencer said, according to PC Gamer.
Microsoft's latest installment in the Flight Simulator series allows you to deal with adverse weather effects and pilot a range of planes from small to giant airplanes.
"From light planes to wide-body jets, fly highly detailed and stunning aircraft in an incredibly realistic world," Microsoft states in the description of the trailer. "Create your flight plan and fly anywhere on the planet. Enjoy flying day or night and face realistic, challenging weather conditions."
Microsoft gave no firm release date, but the game is set for release next year and will be available with Xbox Game Pass.