While the HTC U12 Plus is a major upgrade over its predecessor, is it impressive enough to compete with the likes of Samsung's latest flagship? We compare the HTC U12 Plus vs Galaxy S9 Plus to try to determine which phone is the better buy
HTC U12 Plus vs Galaxy S9 Plus: Performance
Perhaps the most important consideration for many when buying a new phone is performance. While pretty much any high-end phone will give you enough power to handle pretty much anything, for those who are looking for the best of the best it's important to look closely at the specifications and testing in order to determine what is the best bang for your buck.
ValueWalk's October 2022 Hedge Fund Update: Haidar Capital Surges 225%
Welcome to our latest issue of ValueWalk's hedge fund update. Below subscribers can find an excerpt in text and the full issue in PDF format. Please send us your feedback! Featuring investors exit long-short hedge funds, the oil market is now "broken", and Haidar Capital surges 225%. Q2 2022 hedge fund letters, conferences and more
On paper, it appears as if the phones are quite similar in terms of performance. Both phones have the latest chip from Qualcomm – the Snapdragon 845 – and feature 6GB of RAM. Whichever of these devices you choose, you're in for a treat with some of the best power on the market.
Overall, it's difficult to determine a clear winner when comparing the HTC U12 Plus vs Galaxy S9 Plus in terms of power. Both phones offer premium performance and it will be difficult to tell a difference between the two
HTC U12 Plus vs Galaxy S9 Plus: Battery
There is a difference if you compare the HTC U12 Plus vs Galaxy S9 Plus when it comes to charging, however. The Galaxy S9 Plus features QuickCharge 2.0 which is pretty useful, but the U12 Plus actually has QuickCharge 3.0 which is significantly better. The Galaxy S9 Plus, however, has support for wireless charging while the U12 Plus does not.
The phones also have an identical battery size of 3500, so it's not clear which phone comes out ahead. We feel as if the HTC U12 Plus is the superior phone in terms of battery, however, as the QuickCharge 3.0 is a little more useful in our opinion than wireless charging.
HTC U12 Plus vs Galaxy S9 Plus: Design
Both phones feature a premium look that truly makes them feel like luxury devices. The Galaxy S9 Plus looks strikingly similar to the S8 – and that's not a bad thing in our books. With gentle curves, razor thin bezels, and a sleek design and construction, it's a top pick in terms of aesthetics in our book.
The HT U12 Plus is also a major contender, however, bringing back the Liquid Surface design that we saw in the U11 while slimming down the bezels significantly.
We feel that Samsung takes the win, however, due to the fact that the bezels are significantly thinner – giving the phone that truly modern construction that has established the company as an industry leader.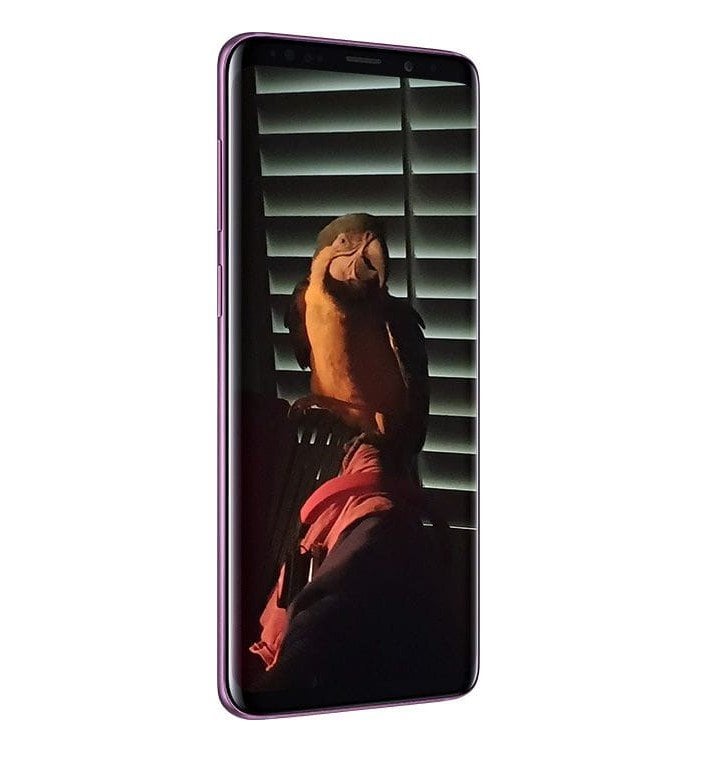 HTC U12 Plus vs Galaxy S9 Plus: Display
When it comes to display, it unfortunately isn't really a competition. When comparing the HTC U12 Plus vs Galaxy S9 Plus, it's clear that Samsung's device is the winner.
That's not to say that the U12 Plus isn't an excellent screen, however. With a 6-inch Super LCD screen with a 2880 x 1440 pixel resolution, it actually has a sharper display than the S9 Plus. But no matter how sharp the resolution may be, it can't compete with the AMOLED display we're seeing on the S9 Plus. With AMOLED technology capable of deeper colors and insider blacks than LCD, it's clear that the Galaxy S9 Plus comes out on top.
HTC U12 Plus vs Galaxy S9 Plus: Camera
The Galaxy S9 Plus actually focused on cameras as the main aspect of its design, and it certainly delivers high quality performance. With two 12 megapixel lenses in the rear of the phone and an 8 megapixel front camera, it delivers excellent performance with the combination of high-quality lenses and variable apertures.
However, just because the Galaxy phone delivers excellent photos and focused the marketing around that feature, that doesn't necessarily mean that the HTC U12 Plus isn't competitive.
While we believe that the Galaxy S9 Plus may come out on top in terms of raw camera hardware, the HTC U12 Plus has both a 12 megapixel lens and a 16 megapixel telephoto lens as well as two megapixel selfie lenses.
Ultimately, we'll have to get our hands on both devices in order to understand which device comes out on top, but at the moment it's appearing that the Galaxy S9 Plus has the edge.
HTC U12 Plus vs Galaxy S9 Plus: Verdict
While HTC does have some advantages over Samsung when comparing the HTC U12 Plus vs Galaxy S9 Plus, we feel that the Galaxy phone still manages to pull ahead of the competition. With superior design, display, and possibly a better camera, it just edges out the competition as one of the best phones thus far in 2018.