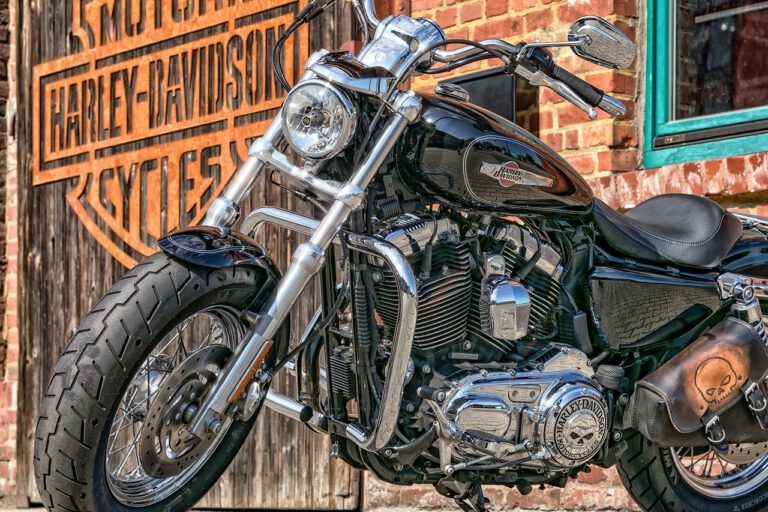 The following is the unofficial transcript of a CNBC interview with Harley-Davidson Inc (NYSE:HOG) CEO Jochen Zeitz from the CNBC Evolve Global Summit, which took place today, Wednesday, June 16th. Video from the interview will be available at cnbc.com/evolve.
Q1 2021 hedge fund letters, conferences and more
Interview With Harley-Davidson CEO Jochen Zeitz
MORGAN BRENNAN: Jochen, thank you so much for joining us today.  We have so much to cover, and hopefully we will get to as much of it as we can.  So we appreciate having you here.  I mean, as Tyler just mentioned, it's no secret that Harley's been in this midst of this multi-year turnaround or transition, if you will, restoke sales, attract new riders as that core baby boomer demographic begins to age out of the motorcycle market. I mean, first there was the Rewire strategy.  And then once you took the helm, you have now unveiled this hardwire multi-pronged, multi-year strategy.  Just walk us through that and how quickly -- and I realize it is a five-year plan, but how quickly you expect to begin to yield results.
Here Is What Electron Capital Told It's Investors On A Recent Call [Exclusive]
Electron Capital Partners returned 10.3% net for August, pushing its year-to-date returns into the green at 10%. The MSCI ACWI was down 3.9% for August, bringing its year-to-date return to -18.8%, while the S&P 500 was down 4.2% for August, which brought its year-to-date return to -17%. The MSCI World Utilities Index lost 1.8% for Read More
JOCHEN ZEITZ: Well, first of all, nice to meet you.  Well, last year was all about rewiring the company.  Obviously when I took on the job, we had to close down our company, or at least our manufacturing because we couldn't manufacture for several months.  So that was a crisis in itself, but it gave us the opportunity to really look at where our strengths are, where our weaknesses are.  And in a crisis, you see what's working and what's not working.  So we took 12 months to rewire the company, build it up from the ground.  And that was the basis then for a new strategy that we implemented and started implementing early this year, which we call the Hardwire.  The Hardwire essentially looks at the core strength of the business, invests into the core strength, looks at selective expansion and categories where we think we can become one of the leaders, if not the leader, with a path to profitability.  We're looking at electric, as well -- we want to lead in electric -- and adjacent businesses such as parts and accessories and general merchandise as a huge opportunity because we are a lifestyle brand.  We are not just a motorcycle brand.  We are really a brand that's about adventure, that's about emotion.  That is a great opportunity to expand in our adjacent businesses, as well.
BRENNAN: All right.  I want to dig into all of that a little bit more.  But, first, how are you measuring success?
ZEITZ: Well, first of all, what's really important to us, we're the most desirable motorcycle brand.  We are one of the most desirable lifestyle brands, as well, and so it's all about desirability.  It's not about market share, it's not about growth.  We've got to make sure that the brand is desirable wherever we decide to compete, and that's critical.  So we have internal measures that clearly define what is a desirable brand.  It could be how are the -- how is the MSRP, the price in the market?  Are our dealers selling our motorcycles at MSRP?  How are the used bike prices?  How is the brand fairing in terms of desirability? So it's qualitative and quantitative metrics that are really important to us.  Because in the past, we were very much market share driven, we didn't look at profitability.  We looked at market share primarily, and that essentially led to a lot of promotion of our bikes.  So we discounted our bikes for several years just to keep the market share up, and that was unsustainable.  So we changed that and really put desirability as the overarching goal.
BRENNAN: Yeah.  I wonder what you say to or how you respond to the argument that's out there that at least in heavyweight motorcycles, that this is an industry in secular decline right now.
ZEITZ:  Well, I think you have to craft your own destiny in a way, and it became a bit of a narrative that I look at as a bit of an excuse.  I think every business you're in that has a consumer, you need to constantly innovate and excite your consumer about your brand, about your product, and I don't take it as an answer that, you know, you are on a secular decline. If you look at our average age, it is actually very comparable to other motorcycle manufacturers.  You age into the brand.  Of course your existing customer gets older, but you have to make sure as a brand that you're bringing new people into the sport, into riding, into the experience.  And that's really what we're trying to do with the new products that we're launching. So, yes, you know, in the last five years we've seen declines, but I believe that we can do better than that.
BRENNAN: Yeah.  And to be certain, in your last earnings you certainly saw sales increase and you upped the guidance for the year, as well, which certainly has gotten Wall Street keeping a close eye as you do implement this turnaround. In terms of balancing that brand, I mean you have this longstanding, iconic American brand, you do have that existing customer base.  As you expand that out into what is perhaps potentially some younger riders, more diverse riders, different riders than have been associated with Harley in the past, how do you think about the reimagining and balancing of that brand.
ZEITZ: Well, you have that customer that is all into touring, into grand American touring, as we call it.  It's a customer that's been very loyal to the brand that we consider them as our core customers, but we're also looking at new segments.  We just launched an extraordinary bike into the adventure touring market.  It's called Pan America, getting fantastic reviews.  You know, they're really flying out of the stores and our dealerships.  And it's the first time that we're actually getting into the adventure touring market.  It's, you know, Harley, obviously, has been off-road historically.  When you look at 118 years ago, you know, there were no roads, everything was off road.  But we've never really ventured into the segment, and we've done so with focus and determination and early results are very encouraging.  And we are also launching a new bike in the sports segment very soon.  So there's a lot in the pipeline, but what's really important to us is also creating excitement around our core customers, which we've done with the limited edition icon series, and that's also doing really, really well.
BRENNAN: Yeah, and you mentioned it before, but also the electric piece of the equation too, the fact that you are standing up an EV line, a standalone brands for electric motorcycles.  Walks us through that process and who you expect to attract with that line of bikes.
ZEITZ: Well, you know, electrification is a given, the future will be electrified also in motorcycling.  It might take longer in certain segments such as the traditional Harley-Davidson segment, simply because the technology is not there in terms of range and longevity of a ride that our touring customer wants, and the LiveWire product that we launched a couple years ago under the Harley-Davidson brand, but model named LiveWire, was really a product that was more focused and geared towards the urban consumer. So I felt there was a huge opportunity as we are bridging into electric long term to use the LiveWire, which is the best product out there, the best electric product, but focusing more on an urban customer to actually segment that out and stand it up as its own brand.  It's the best technology, it's the best product, it's a fantastic brand name, and we will be targeting a customer that I think is looking for this kind of product.  And hence why we're standing it up separately as a separate brand, but being part of the lineage of Harley-Davidson.  That's really important.  All the values that, you know, made Harley great in terms of adventure, in terms of freedom, you know, freedom for the soul, as we say, are also values that very much translate into LiveWire, although, you know, translated towards a different, more urban customer, and more sporty as well because –
BRENNAN: I wonder as you look across the industry -- okay.  Go ahead.
ZEITZ: No, no.  And more sporty, a sport performance bike user.  Because when you ride the LiveWire -- and I can only -- those who ride motorcycles try it, it's an extraordinary product, it's a totally new experience of how you go out and ride a motorcycle.  You know, it's a different customer that you're appealing, and I think that's why standing up a separate brand is really a great opportunity.
BRENNAN: So how would you assess, I mean, just looking across the industry, the competitive landscape right now?  I mean, whether it is within electrification, whether it is in some of those more classic, I guess, heavyweight lines right now, and given the fact that you have competition against the likes of Indian, which is owned by Polaris, or also the used bike market, which you're now embracing, I think for the first time, at Harley-Davidson.
ZEITZ: Well, you know, every customer, whether that customer buys a new bike or buys a used bike, is a customer.  And we've always in the last few years looked at the used bike market as a competition, which I never understood.  So we're embracing the used bike market.  It's very important.  Those are all Harley customers.  They're loyal customers to us.  And there is business to be made.  And that's whey we've launched earlier this year Harley-Davidson certified which our dealers can do together with our financing company. So we -- there is a big marketplace out there that we haven't tapped into and we want to make sure that it becomes part of the ecosystem rather than something that happens outside of our business.  And that's really important because a used bike Harley customer can be a new bike customer in the future, and, therefore, you need to know everything about that customer, whether that customer buys new or old.
BRENNAN: I want to go back to last February, February 29, specifically, of 2020.  That's when the news broke that you were going to take over at the time as interim CEO of the company.  I guess take us inside that process.  You know, how did that come about, what did it look like.  When you actually entered the C suite, what did you have in front of you in terms of the company?
ZEITZ: Well, it was a pretty dramatic time, as you can imagine.  I took the role, and we had to shut down our manufacturing facilities pretty much right away and it became, you know, all about preserving cash, making sure, you know, your financing is in place to get through the close down because, you know, you don't manufacture bikes, you don't sell. While our dealers still had stock and obviously can also sell used bikes, we had nothing to sell, very little.  We didn't know how long that would last.  So the first focus was really securing cash, making sure the company is secure, and then pretty quickly embarked on our rewiring program because I realized that there was a lot that needed to be changed in order to turn Harley-Davidson into a high performance company, into a winning spirit, into a winning culture and team.  And then the journey began. So it was quite, you know, dramatic, obviously, for all our employees going from one day to another, to remote.  You know, there are still some of my leadership team that I haven't met 15 months later, and that's the new normal, in a way.  Obviously we look forward to meeting each other one day.  But it's worked really, really well because we're also able to hire talent, you know, all over the country, all over the world that might not have decided to move to Milwaukee or to move to one of our headquarters, so we have a much larger talent pool that we can tap into now simply because we accept that part of the work will be remote and you are not obliged to move if you don't want to.
BRENNAN: So is it safe to say that as difficult as the pandemic has been and the fact that you came on just as it was really enveloping the world, that there have been silver linings and opportunities for Harley as you do look to I guess engineer this transition?
ZEITZ: Yeah.  I mean, I don't mind the crisis, let's put it this bay.  So one of the challenges -- this was a big challenge and I just was quite excited, actually, to get into it.  Dramatic as it was, I really looked at this as a great opportunity to, you know, lead one of the most iconic brands in the world, otherwise, I wouldn't have done it.  Harley-Davidson is one of those very few brands.  If you get that opportunity, you certainly don't say no.
BRENNAN: Yeah.  And speaking of brands, I mean, you had an incredibly successful run at another very well-known global brand, which is Puma.  You turned that company around.  You created a heavyweight in athletic apparel and goods. Now, I realize you were a director on the board of Harley, but it had been a couple years, I think almost a decade since you had been in the c-suite at Puma.  So why the decision, I guess, to start working at Harley in this capacity?
ZEITZ: Well, because I have a great passion for Harley-Davidson and for motorcycling and the opportunity came up.  My board asked me if I was willing to do it, my family was okay with it, and so I took the decision to do it.  I never thought I would get back into the CEO seat, but, you know, I felt I could do the job and here I am.
BRENNAN: The experience that you had at Puma, have you been able to bring that over to Harley and apply it here?
ZEITZ: Well, I'm always a little careful when using the word "experience."  When I became CEO, I was 29 years old and I had literally no experience.  I inherited a pretty much bankrupt company on paper that had no product, that was totally undesirable as a brand and there was really nothing to offer other than a passion for the brand.  And so, you know, I at the time quoted a German writer who said, "Experience means nothing.  You can do the same thing wrong for 20 years." So I am always a little careful using the word "experience."  Looking back today, of course, having done this and gone through massive transformation over 18 years with Puma is certainly something that helped me feel much more confident about decisions I make.  And, also, I don't take a crisis, you know, as an intimidating thing or I don't take no for an answer.  You know, I have had a lot of situations in my career where people said, "This can't be done, this is impossible," and you know I would say today, "Impossible is nothing."  So in a way, it gave me the confidence to do this job. But there's very little resemblance between Puma as it was in the early days and Harley as it is today.  You know, Harley is a truly global icon that's been around for 118 years.  Puma was an underdog that was barely on the radar screen, so there are very few comparisons, I would say, other than that both are in sport and lifestyle today.  You know, it is not just riding, it is about a lifestyle, and just like sneakers are as much about sport as they are about lifestyle today.
BRENNAN: Yeah.  You mentioned the ability to tap into a larger labor pool.  I'm just wondering, these are the conversations we're having with a lot of companies right now, the fact that you're seeing rising material costs, supply chain and transportation bottlenecks.  Some companies having issues finding enough workers.  What are you experiencing at Harley right now?
ZEITZ: Yeah, certainly when you think workers in our factories and our distribution centers, that is challenging.  It's also challenging for us getting people to work in our factories right now in New York, in Pennsylvania and in Milwaukee as well.  So that has been a challenge, but, you know, people love to work for Harley-Davidson.  I think we pay very well, too, but, you know, in the pandemic people can choose now because everyone is scrambling to hire hard workers and that has been a challenge for sure. Other than that, you know, I think we can tap into a big labor pool around the world.  And we haven't had the challenges, you know, hiring key positions at all.  Quite the opposite.  I think people see this as a huge opportunity and, you know, being flexible in terms of working in the office or not working in office or living somewhere else, you know, allows you much more flexibility also from a hiring perspective.
BRENNAN: And just to wrap all of this up, I can remember back to three years ago I sat down with your predecessor, Matt Levatich, what became kind of an in-depth conversation about trade given the fact that Harley-Davidson, for better or worse, not just over the years but over the decades, has become something of a lightning rod where tariffs are concerned.  We're starting to see this thawing perhaps between U.S. and EU relations and what that has meant in terms of tariffs and higher tariffs for a company such as Harley. But just looking k around the globe right now, how would you assess the trade situation from your vantage point and what would you expect that to continue to evolve into?
ZEITZ: Well, first of all, it's good that the trade tariffs didn't escalate further and the trade war between Europe and the U.S. didn't escalate further.  That decision was made sometime ago, actually a little over a month ago.  And now with the President going to Europe and meeting European governments and the EU as well, I think there is definitely a sense that, you know, there's no point in fighting over tariffs.  And I believe that a solution will be found.  Might take a little bit of time.  That's the signals we're getting out of the process since the visit happened in the last few days.  Still work to be done. We're certainly hopeful that something positive will come out of it.  There's just no reason why these tariffs should be in place and certainly no reason why you would single out Harley-Davidson as only one motorcycle manufacturing that is -- you know, that cannot import into the EU other than paying 35 percent tariffs.  It makes no sense because European manufacturers don't pay essentially no tariffs importing into the U.S.  So that's just not right, it's not fair, and that needs to be solved quickly.
BRENNAN: All right.  Jochen Zeitz.  It's a pleasure to speak with you today.  Thanks so much for joining us.
ZEITZ: Thank you.
BRENNAN: The CEO and chairman of Harley-Davidson.