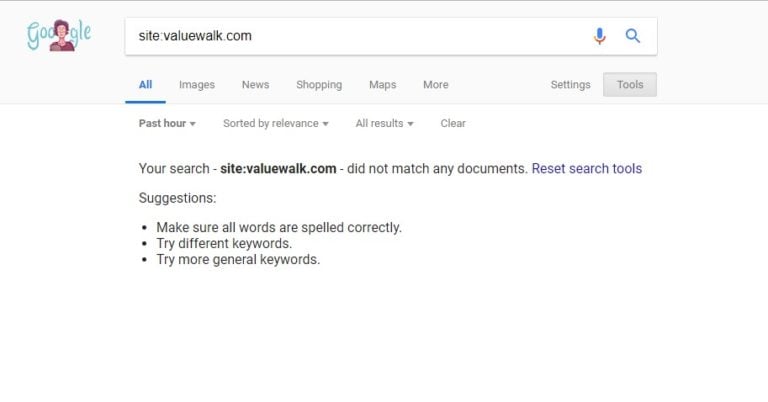 Many of us have certain websites we frequent specifically to see what they've been posting about rather than just searching for a particular topic and seeing which websites we end up with. Unfortunately though, one of the tools in Google Search seems to have broken, making it a little more difficult to check our favorite websites.
Google Search filter is broken
We noticed that when entering something like "site:www.valuewalk.com" in the Google Search bar and then using the tool to filter by time, it no longer receives any results for any of the websites we tried. This only seems to be affecting the "Past hour" filter in the "All" category of the Google Search tool. It works just fine if you choose "Past 24 hours" or if you switch to the "News" category and run a "Past hour" search.
Fund Manager Profile: Kris Sidial Of Tail Risk Fund Ambrus Group
A decade ago, no one talked about tail risk hedge funds, which were a minuscule niche of the market. However, today many large investors, including pension funds and other institutions, have mandates that require the inclusion of tail risk protection. In a recent interview with ValueWalk, Kris Sidial of tail risk fund Ambrus Group, a Read More
We tried many different websites and ended up with the same problem, so this is clearly an issue Google will have to address. The Google Search filter was working just fine yesterday, so it seems to have broken at some point within the last 12 hours. We reached out to Google Search liaison Danny Sullivan to find out more about this problem, and he responded back very quickly to say that he noticed something similar yesterday as well, so he's going to submit it for review to get it fixed.
Google has been tinkering with search
The main Google Search results seem to be working just fine though, so if you have never used this tool and the filters, you might not have noticed that anything is broken. It is a pretty helpful tool though when you're wanting to see what your favorite website has just posted within the last hour.
There's no word yet on what went wrong, but Google has been tweaking and making other changes to Search lately. This week, Google ended a small test it had been running which involved answering questions that are asked but not showing any results. Essentially, you could type something like, "What time is it in the U.K.?" and it would just give you the answer, along with a link you could click if you want the search results to go along with the answer.
Sullivan tweeted earlier this week that they had collected enough feedback and data on the feature, so they ended their experiment. It's unclear whether that will be a permanent change to Search eventually or not.
Sheeraz Raza contributed to this report.