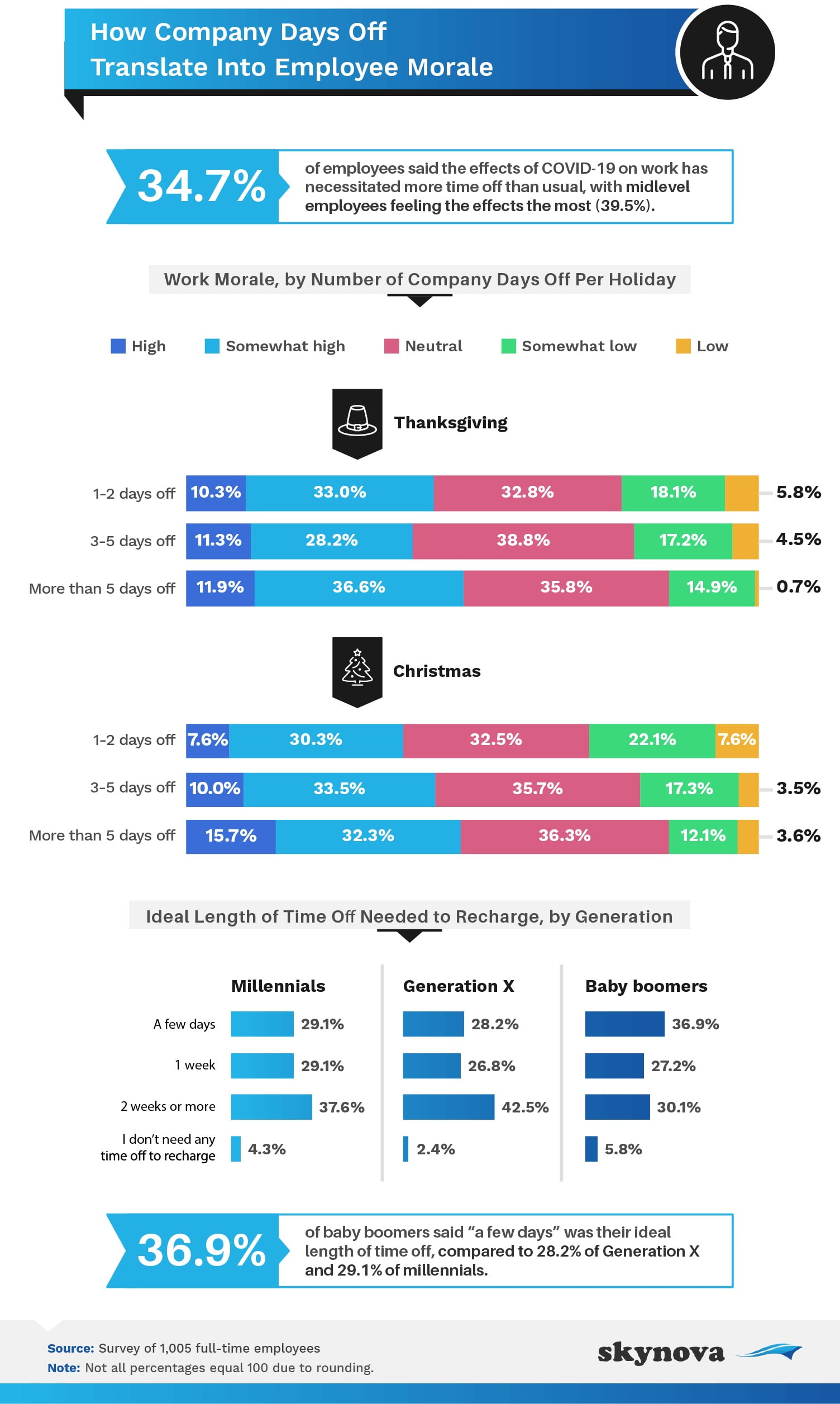 The COVID-19 pandemic has put a lot of things into perspective for people all over the world: our health, our relationships with family and friends, and our careers. With economic consequences of the pandemic still being felt among companies big and small, there's been a constant sense of insecurity among employees for months with no signs of improvement soon.
Q3 2020 hedge fund letters, conferences and more
The holiday season is also in full swing, and with travel restrictions still in place, many aren't feeling comfortable enough to travel. That means some big questions linger: Are companies changing their holiday time-off policies as a result, and are employees even wanting to take the same amount of time off for holidays this year considering the circumstances?
Crypto Hedge Fund Three Arrows Blows Up, Others Could Follow
A few years ago, crypto hedge funds were all the rage. As cryptocurrencies rose in value, hundreds of hedge funds specializing in digital assets launched to try and capitalize on investor demand. Some of these funds recorded double-digit gains in 2020 and 2021 as cryptocurrencies surged in value. However, this year, cryptocurrencies have been under Read More
Skynova surveyed over 1,000 full-time employees to find out how policies for Thanksgiving and winter holidays have changed this year and whether employees feel the same way about PTO this season than in the past.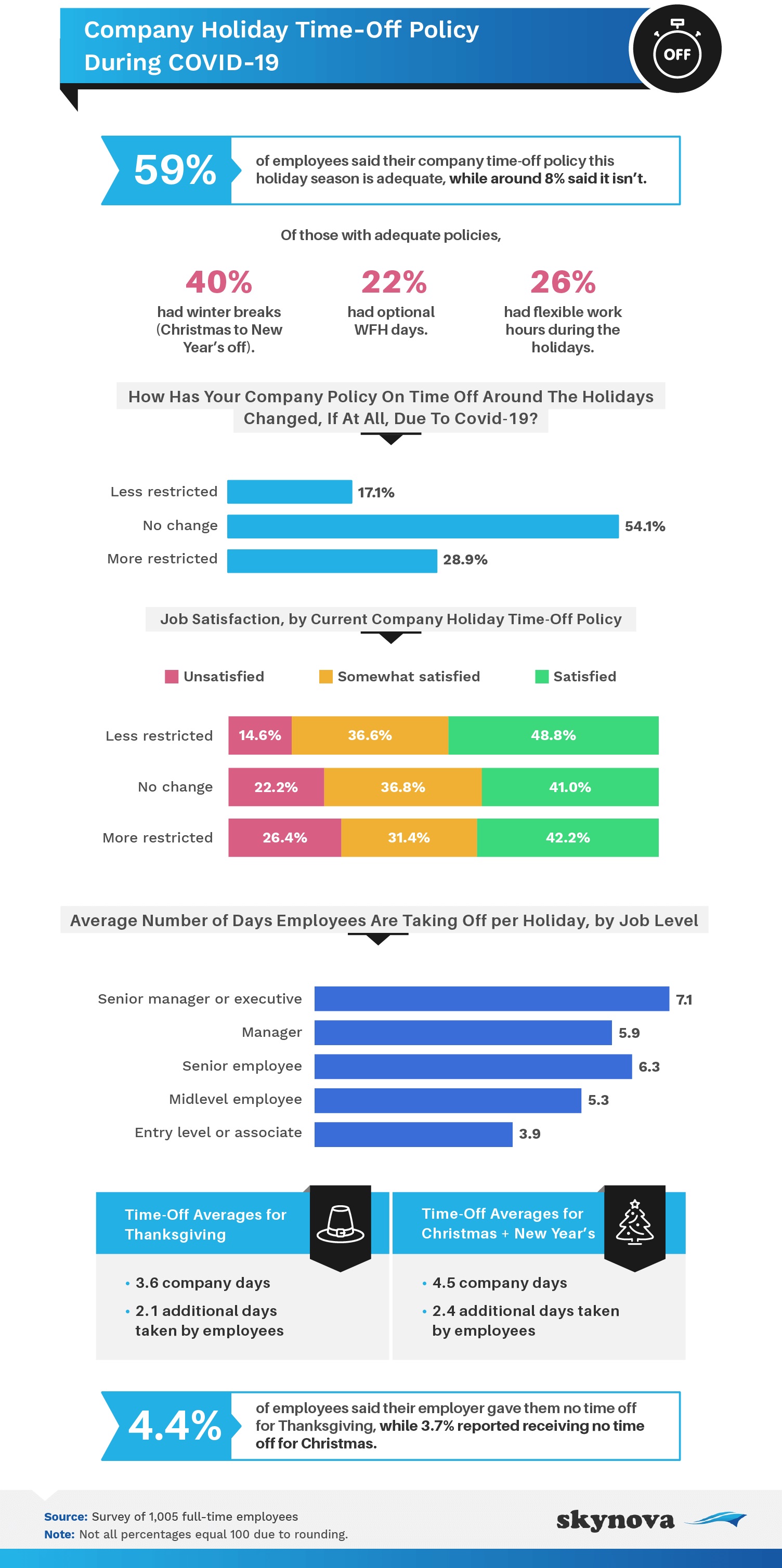 Policy Changes
Perhaps unsurprisingly, 54.1% of those surveyed in the Skynova study said their company's holiday time-off policy hasn't changed for the better as a result of the pandemic. In a country that is far behind others in regard to paid time off overall, one would think that many companies would reevaluate their policies as a result of this challenging year and give people a much-needed respite. However, 30% of those surveyed said their company's policies have actually become stricter this year.
How do employees feel about their holiday PTO policies? Interestingly enough, 59% of respondents said they felt their company policy was good enough, while only 8% said it wasn't. About 17% of those surveyed said their company time-off policy became less restricted after the pandemic, which puts the general acceptance of these policies into an interesting perspective.
In terms of job satisfaction relating to company PTO policies, those whose policies became less restricted due to COVID seemed to be much happier in their jobs – with 48.8% expressing satisfaction with their company. Over 42% of those with more restrictive policies said they were still satisfied with their job despite the negative changes in PTO policy.
Of the 1,005 employees surveyed, 4.4% said their employers gave them no time off for Thanksgiving, and 3.7% reported no time off for Christmas.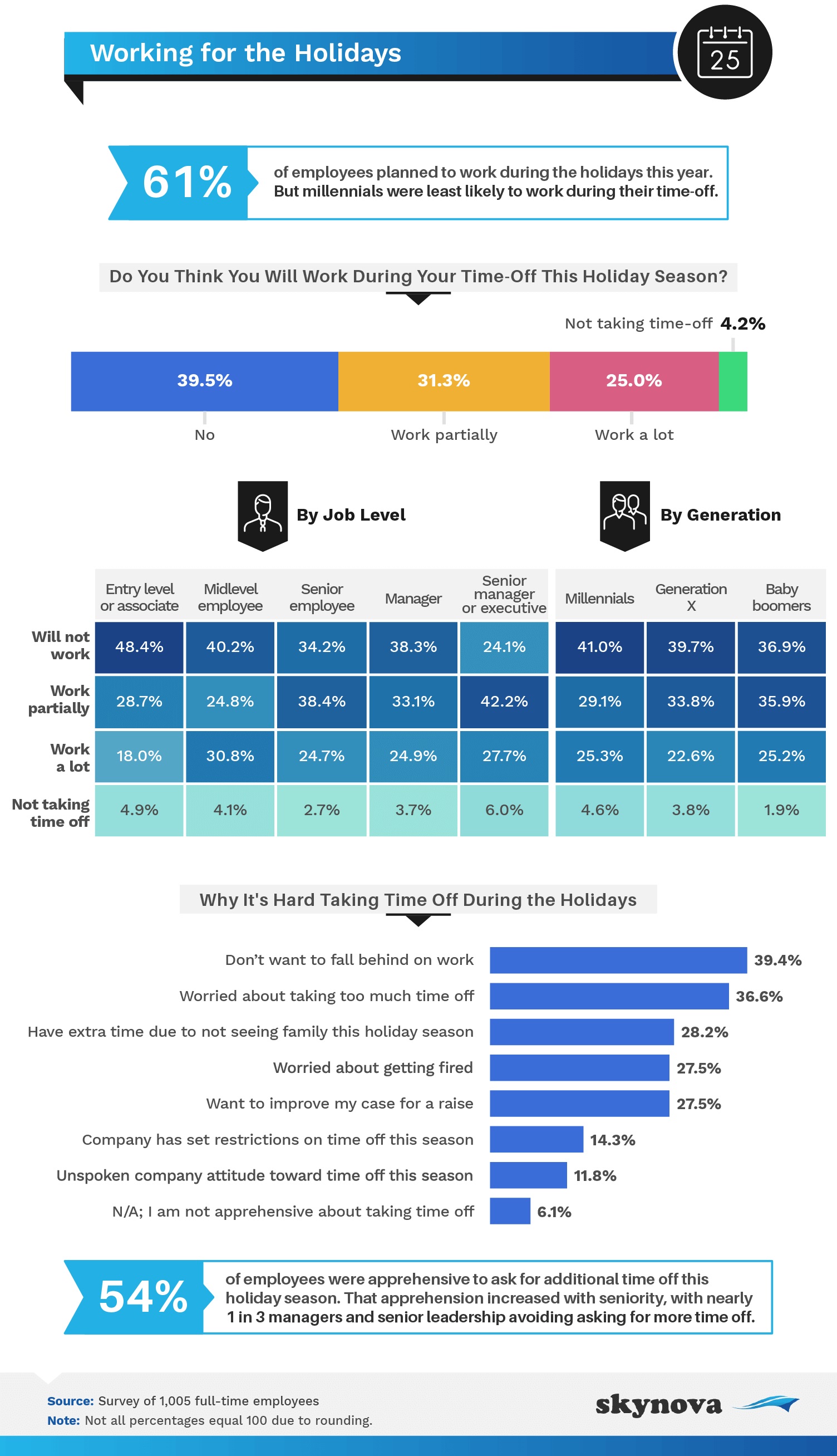 Working Through the Celebrations
Despite holiday celebrations and traditions, a staggering number of people surveyed in the Skynova study said they would still be working on holidays. The study showed that millennials, as well as entry-level associates, were most likely to take advantage of the time off. Specifically, 41% of millennials said they were planning on not working, while 39.7% of Gen Xers and 36.9% of baby boomers said the same. Consequently, only 5% of millennials surveyed also said they didn't plan on taking time off, while 3.8% of Gen Xers and less than 2% of baby boomers said the same.
Trepidation in an Uncertain Market
Most notably, the survey highlighted the fact that people – for one reason or another – are pretty apprehensive about taking time off beyond the allotted holidays. It's understandable, given the uncertainty of the job market right now amid an economic crisis. Fifty-four percent of those surveyed admitted to being nervous about using additional PTO beyond holiday days, and 27.5% of those surveyed said they were apprehensive out of fear of getting fired.
There were other reasons for having reservations, with 39.4% of respondents saying they didn't want to take additional time because they didn't want to fall behind at work. Almost 37% reported a general fear of taking too much time off, and 14.3% said they simply couldn't take extra time due to company restrictions this year.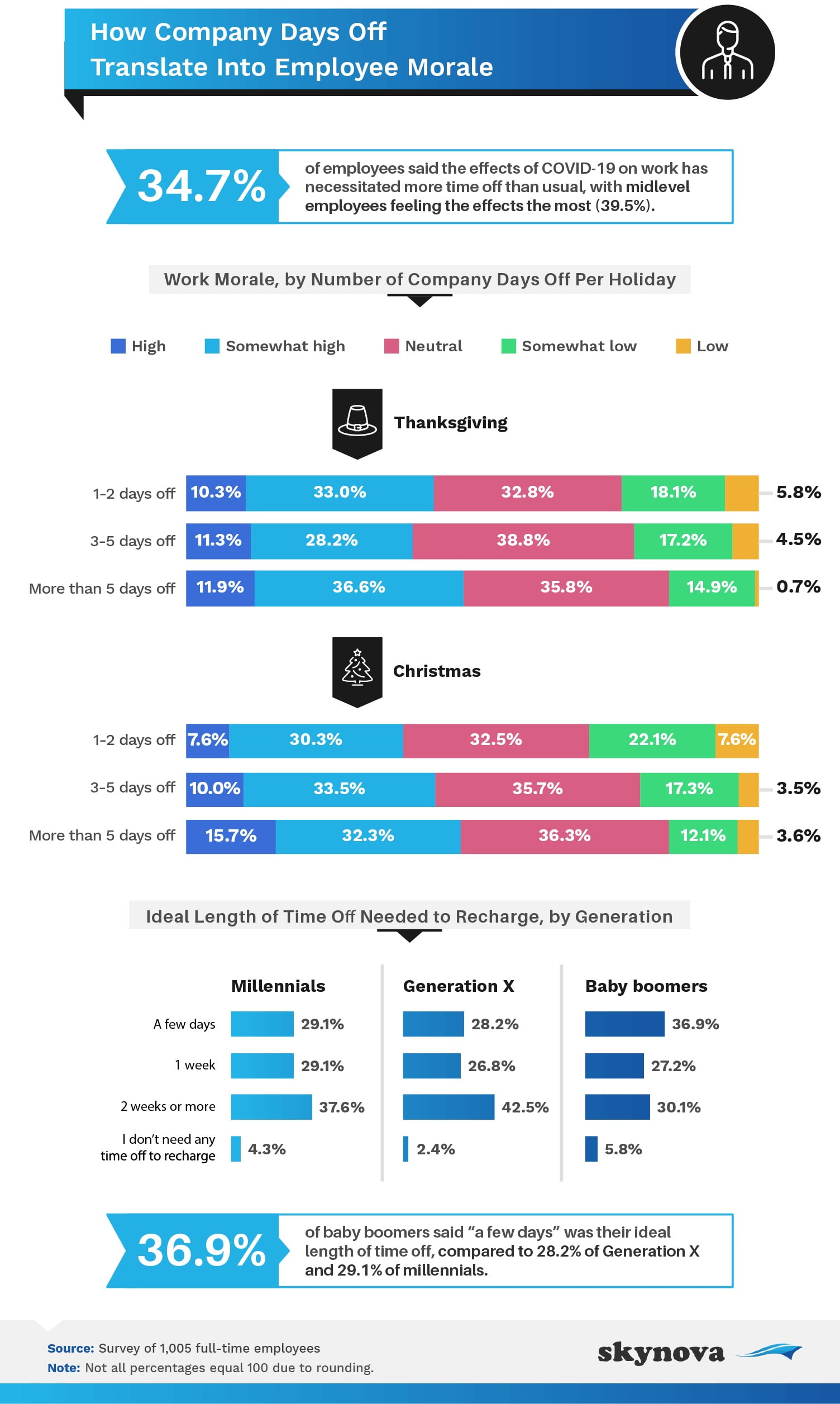 Impacting Morale
You might be wondering how restrictions on holiday PTO might be impacting morale this year, and it's a valid curiosity given the extremely difficult year it has been across the board for work enthusiasm and company culture. It may not be surprising to learn that the pandemic has made time off more of a necessity for people in terms of mental health alone; in fact, 34.7% of those surveyed said the pandemic has made them feel the need to take more time off than ever before.
Overall, it seems that company morale is positively impacted the more days off people get. For Thanksgiving, 10.3% of those who got one to two days off reported high morale, and 1 in 3 said morale was somewhat high. For those who got more than five days off, 36.6% said morale was somewhat high, and 35.8% remained neutral.
Notably, though, 0.7% of those who got more than five days off admitted to morale being low, while 4.5% of those with three to five days off and 5.8% of those receiving one to two days off said morale was low, respectively.
Take the Break
Despite their being an understandable nervousness surrounding paid time off this holiday season, the pandemic has stressed the importance of taking time for yourself and taking advantage of that time when it's given to you. It's clearly good for morale as well, and PTO is ultimately there for a purpose. There's never been another time more vital than now to use it, within reason.
Updated on