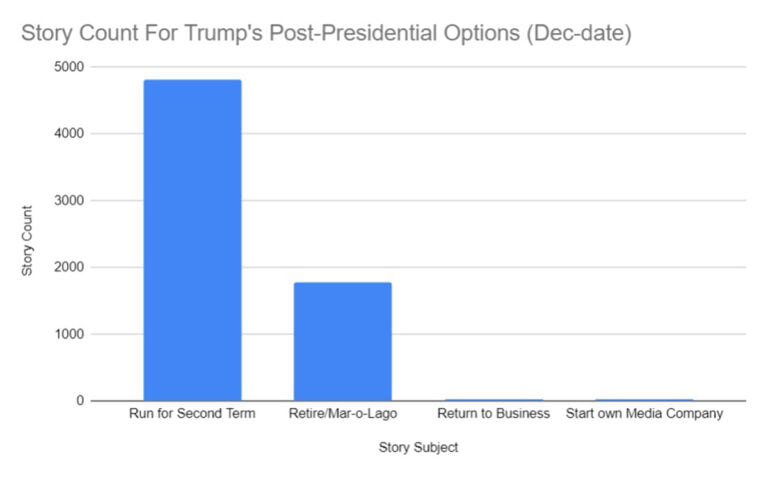 With Joe Biden's swearing in now imminent much speculation has revolved around what Donald Trump will do next, and this article aims to provide an 'alternative data' dimension to the speculation using RavenPack news analytics.
Q3 2020 hedge fund letters, conferences and more
Most of the guesswork in the media revolves around whether or not he will stand for office again in 2024. If he chooses not to, the other main options considered are: b) a return to running his business, c) launching a media company with a streaming or cable channel, or d) retiring to Mar-o-Lago, writing his memoirs and working the speech circuit.
Crypto Hedge Fund Three Arrows Blows Up, Others Could Follow
A few years ago, crypto hedge funds were all the rage. As cryptocurrencies rose in value, hundreds of hedge funds specializing in digital assets launched to try and capitalize on investor demand. Some of these funds recorded double-digit gains in 2020 and 2021 as cryptocurrencies surged in value. However, this year, cryptocurrencies have been under Read More
What Does Media Exposure Say?
One of RavenPack's key analytics is media exposure, or attention, which measures the volume of news about an event or person. Research has shown that in certain cases stocks that receive higher media exposure compared to their peers often make greater gains in the future. This was true for BioPharma stocks during the Covid Pandemic, for example. The question now is could it also be true for Donald Trump's post-presidential options? Possibly - it is certainly worth checking.
The bar chart below shows the aggregate article count for articles about Donald Trump that mention key distinguishing topics for his four main post-presidential options.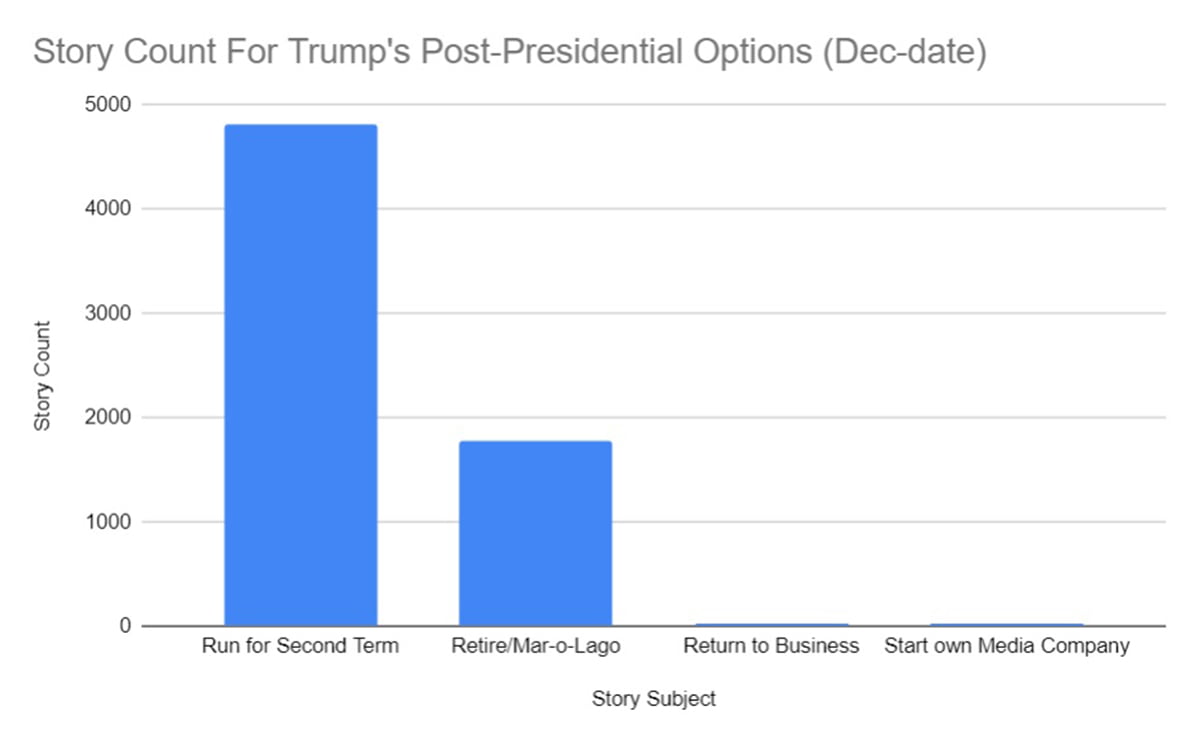 It is clear from the chart that the option garnering the greatest media attention in December (up until the 22nd) was running for a second term, with retirement to Mar-o-Lago in second place. The other two options - returning to run the Trump organization or starting a media empire - garnered much less exposure.
Applying the same logic that proposes a link between media exposure and stock price volatility suggests this may also be the most likely outcome of the four.
One possible explanation for a Trump comeback gaining the highest media attention may be that it is the most consequential outcome for the Republican Party.
Of course just floating the idea of another run serves the dual purpose of silencing other contenders, and assessing the level of informal support from likely donors, even if the run never materializes - a brand-burnishing tactic Trump himself used multiple times - whereas announcing a formal run, with all the required filings, would likely invite further scrutiny.
Updated on