Are you thinking of ditching the desk job for good and becoming a "digital nomad," traveling the world while working remotely from exotic locations? It's an exciting proposition but there are some considerations and safety tips to keep in mind if you decide to make the leap.
Also read Lear Capital
Fund Manager Profile: Kris Sidial Of Tail Risk Fund Ambrus Group
A decade ago, no one talked about tail risk hedge funds, which were a minuscule niche of the market. However, today many large investors, including pension funds and other institutions, have mandates that require the inclusion of tail risk protection. In a recent interview with ValueWalk, Kris Sidial of tail risk fund Ambrus Group, a Read More
Join a co-working space
Trying to juggle a normal work routine when you're also busy seeking out the best Wi-Fi connection, or trying to track down a safe place to sleep for the night can be a challenge.  There are many co-working, co-living (and now co-work/live) spaces available:  shared spaces that come with everything you'll need to live and work on the road—a good Wi-Fi connection, safe accommodations, work tables, printers, conference rooms and (the always important, at least to me), coffee stations. There are many benefits of co-spaces, from combating the social isolation that can come from working alone, to offering safe work and living spaces (and people who would notice you missing should something odd happen to you).
Prepare for your safety
Working as a digital nomad is really no different than any other trip abroad; but when you spend a lot of time in one location, it's easy to get comfortable and forget to follow simple safety rules. Before jetting off to each digital nomad site, sit down and research the safety services in the city you'll be working in. Look up the local emergency phone numbers—most countries don't use "911" and have their own emergency numbers, some even vary by city. Identify the closest hospital and emergency room. Also take note of the nearest U.S. Embassy, including its location, contact information and even it's Twitter handle. Print out the emergency information you've gathered and keep a copy of it in your wallet or backpack.   Enroll in the State Department's free Smart Traveler Enrollment Program (STEP), which lets each embassy along your itinerary know you're in the area.
It's also wise to keep a low profile, especially if you're carrying your work gear. Leave your expensive laptop or camera equipment safely in your room whenever possible. If you're walking to a café or co-working space to work for the day, use a cross-shoulder bag that you keep in front of you to ensure pickpockets don't slit your bag from behind.
Get travel insurance
If you'll be living and working abroad, travel medical and dental insurance is a necessity.
It's hard to think about, but if you are injured or fall seriously ill, how will you get home as quickly and safely as possible? Consider an air medical transport membership and travel security membership such as Medjet's Expatriate Membership for travelers.
In case of hospitalization abroad, most travel insurance policies and platinum card benefits will only get you to the "nearest acceptable facility," not all the way back home.  Capping out on your travel medical insurance, language barriers making treatment decisions difficult, and quality of local care are very real issues, so the additional cost is well worth it.
Medjet also offers a security and crisis response option. While it's scary to think about it, having someone to call (or your family having someone to call) for help in the event of political threat, disappearance, violent crime, wrongful detention, natural disaster or acts of terrorism is also well worth the extra cost.
Are You REALLY Covered For a Medical Emergency While Traveling?"
If not, you could be looking at a $30k – $150k bill to get home.
Stories abound ~ the business traveler, married couple (or those poor honeymooners stuck in Tahiti right now) ~ about travelers who's travel insurance, Business Travel Accident (BTA) policies, and credit card travel benefits have let them down. Leaving them stuck in a foreign hospital to recuperate after an injury or having fallen seriously ill.
One in 30 trips end in a medical emergency or safety concern
Credit cards (yes even Amex) many times do not cover this (large) expense.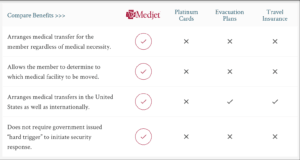 Keep your valuables safe
The amazing thing about the world we live in today is that you can earn a living with just a laptop, a phone, and a good Internet connection. But if your work equipment goes missing while you're working on the road, it can be timely and expensive to replace.
To reduce your risk of theft, don't wear earplugs or headphones while working in a public space like a café or library. Stay as alert as possible, even while submerged in your work. If you're noticeably distracted, it can make you more of a target. Keep in mind that many thieves are bold and will grab your laptop right out of your hands while you're working. To discourage this, find a seat in the back of the café away from the door. If a thief has a longer distance to travel before making his escape, he'll most likely target someone sitting closer to the exit.
If you're staying in a guesthouse, hotel or hostel, make sure your valuables are locked up in your room. Use the hotel safe or lock your backpack with your valuables inside.
Insure it!  Depending on the type of travel insurance you buy, you may be able to add your business equipment onto your plan.
Get a VPN
As a digital nomad it's inevitable that you'll be logging on to open networks to access the Internet. When you do that, you're sharing a network with hundreds or thousands of other users and that makes you susceptible to hackers who can steal your information. To protect your privacy, and the privacy of your employer or clients, use a Virtual Private Network (VPN).
A VPN is a private, controlled network that connects you to the Internet. The way it works is: the VPN creates an encrypted portal between your device and the server and then directs all web traffic through that portal. When you use a VPN, you protect yourself from hackers and trackers, and ensure your privacy online. A VPN will also prevent hackers from accessing your bank account and other important websites that you'll inevitably log into when you live and work overseas.
Store all important work documents on the cloud
When you're a digital nomad, many important aspects of your life and your work are stored online. If your computer dies or is stolen, all of the documents on your computer are gone forever. It can be devastating for both your professional and private life. That's why all digital nomads should have cloud storage backup. Cloud storage allows your data to be stored in an online depository, not directly on your computer, so if your computer goes missing or dies, your important documents are safe. To use the cloud, simply download a cloud service to your computer (the cost for this is usually just a few dollars per month), select the folders you would like to back up, and your cloud service will save those files to a remote server on a regular basis. If disaster strikes, your data will still be safe and accessible.
By following these safety tips, your time living and working abroad will be a lot safer, and hopefully the peace of mind you have, knowing you've protected yourself as best as possible, will allow you to be more relaxed and more productive.
Bon voyage!
Disclosure: This article contains affiliate links – if you purchase the product we get a small fee – not enough to travel on an exotic vacation like yourself but hopefully enough to rent a ( junky, beat up) Chevy (for like a few hours). Purchasing via the links costs you nothing extra (and sometimes even saves you money) is anonymous, and supports quality journalism!

Still interested? Check out Medjet right here