Since the birth of cryptocurrencies and blockchain technology, we've seen marketplaces springing up all over the globe that let users pay in cryptocurrency. But a few fantastic projects have taken this technology one step further. There are decentralized, privacy-focused marketplaces that let you shop without fears of the government or corporations snooping on you. With so many great decentralized marketplaces out there to choose from, we're diving into the overview of the top three decentralized marketplaces by Millennium Communications.
We are going to compare and talk about the pros and cons of OpenBazaar 2.0, Particl and OpenSea. After all — what better way to help mass adoption of this fantastic technology than by being a first mover.
Q3 2019 hedge fund letters, conferences and more
OpenBazaar 2.0
OpenBazaar started out life as a project called DarkMarket, and became known as OpenBazaar after a fork back in late 2014. Since then, OpenBazaar has gone on to be one of the foremost decentralized marketplaces. It has an intuitive GUI and is easy enough to use by virtually anyone. You don't need any special skills or need to set up anything, simply install the marketplace and you're good to go. There are numerous items available and more filtering options than you could shake a stick at.
Questionable Privacy
If you're into your privacy, then you will love that OpenBazaar is a peer-to-peer network, meaning one central organization doesn't have total control over the listings. However, OpenBazaar is owned by a company called OB1 and data is big business. When creating your OpenBazaar account, you are given the choice to opt out of data collection, so if you value your privacy we recommend you decline data tracking. Additionally, the only privacy-focused crypto available on OpenBazaar is Zcash, so to shop with care.
Different Options for Merchants
We have great news for merchants, there are tons of fancy features available to use, with some features not even deployed by some of the other mainstream marketplaces yet. You have access to inventory tracking, a live chat application, various shipping options, product variants and order management systems. These features allow OpenBazaar to pack a huge punch and stand out as a heavyweight.
Another among decentralized marketplaces: Particl
Particl is a relatively new decentralized marketplace, but it is one you need to keep an eye on. It's a privacy focused marketplace and uses its own cryptocurrency to ensure maximum privacy when using the platform. Virtually no data at all is gathered about users, and thanks to PART being totally anonymous, transaction data is nonexistent. Particl is developed and guided by experienced online merchants that are looking to shakeup the industry and put power back in the merchant's hands, exactly where the power should be.
Unlike the other marketplaces there is no intermediaries between the buyer and the seller, the potential litigations are handled by the mutual assured destruction theory where the buyer has a power against the seller and reciprocally. This is one of the main added values of this marketplace over the concurrents from a security point of view because there is no middleman which could potentially be corrupted.
Easy and Simple to Use
Downloading and installing the Particl desktop client is quick and easy to do, allowing you to get down to selling and shopping faster than you can say blockchain. Once you're up and running, simply create a marketplace wallet and you can gain access to all of the listings in this snazzy marketplace. We've seen big name items such as Tesla cars and Casascius Bitcoins up for sale on Particl, and they've been going at a discount when compared to other sites too. Particl removes the fees that other platforms charge, allowing merchants to increase their profits by up to 40%, or pass on the savings to their customers.
Fully Decentralized and Privacy-Focused
Particl is fully decentralized and users connect peer-to-peer rather than to a centralized server. This helps keep your data secure and private, and thanks to the use of PART all transactions are hidden and fully anonymous. For now, this is the only payment option that might prove a stumbling point for people without PART, but getting your hands on some is easier than ever thanks to PART being atomic swap compatible. PART utilizes Ring CT and a number of other mechanisms to remain 100% private and secure, unlike the pseudo anonymity of Bitcoin.
Try Out Cold Staking
One interesting feature we've not seen before is cold staking. This feature allows you to stake your PART tokens when you're not shopping from your cold wallet, meaning you don't have to worry about risks coming from hackers or network attackers. Simply turn on cold staking to stake your PART tokens and earn more PART while you're offline and running errands. If you save up your staking rewards, you could bag yourself a sweet discount over on the marketplace!
OpenSea
OpenSea is a decentralized marketplace that's hosted on the clear web. It's a peer-to-peer store that allows users to swap and trade digital goods backed by blockchain technology. By utilizing smart contracts, all transactions are completely safe and you can rest assured that your items won't be going anywhere without you receiving your money for them in return.
Just for Digital Goods
If you are an avid gamer then OpenSea is the first place you should check out if you're in the market for digital items, such as new weapons, armor and animals for your games. However, if you're looking to get your hands on physical goods, then you might need to check out one of the two other marketplaces on this list. While OpenSea is a fantastic looking store, being limited to only digital items is a rather large drawback.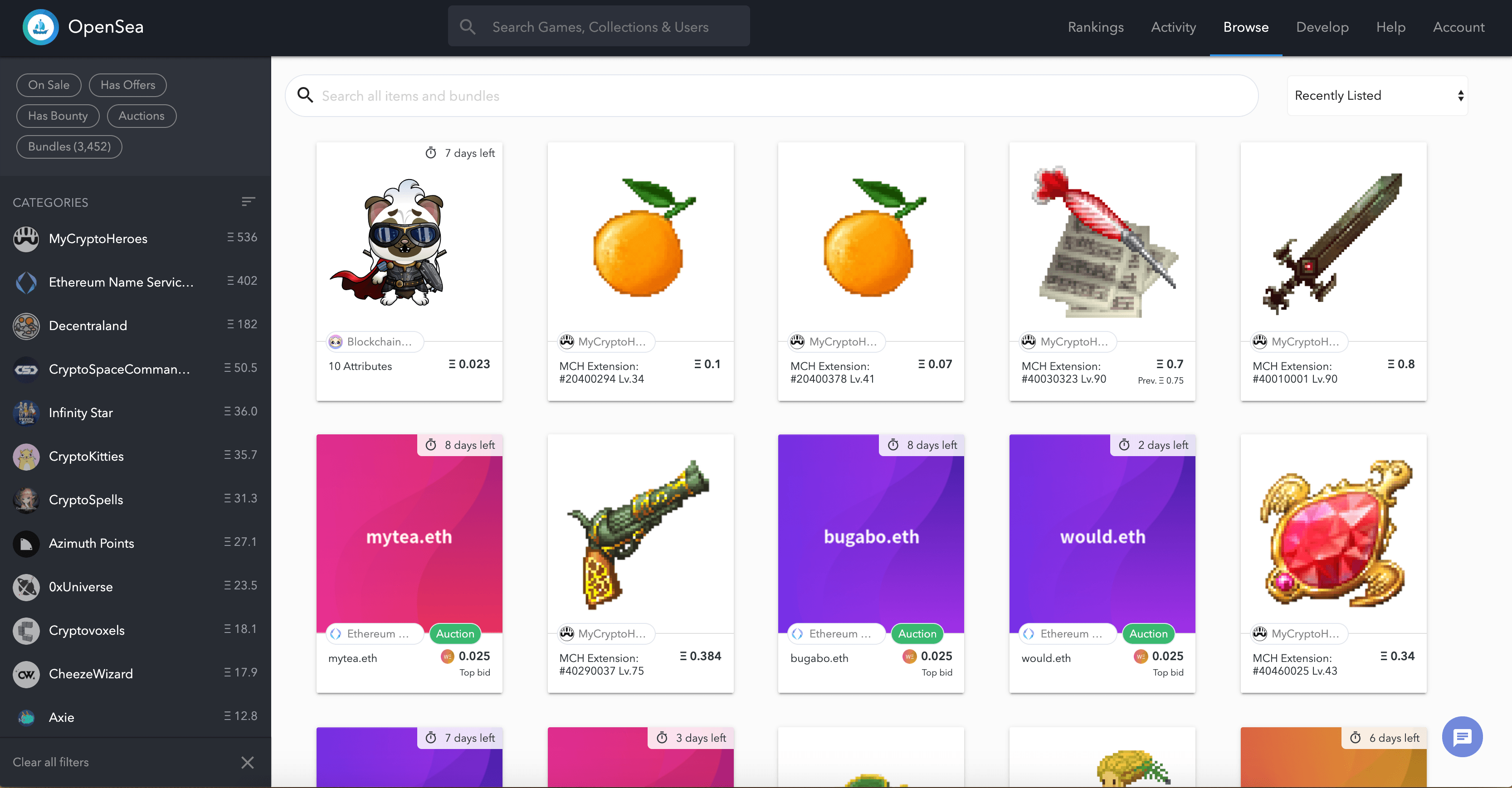 So, if you're after a brand-new and cheaper shopping or selling experience, these three stores might be perfect for you. If you value your privacy and security, then Particl is could be a standout option in my opinion. Each platform offers something unique for its users, so try out the platform tailored to your needs so that you can get the best value for your time and crypto.