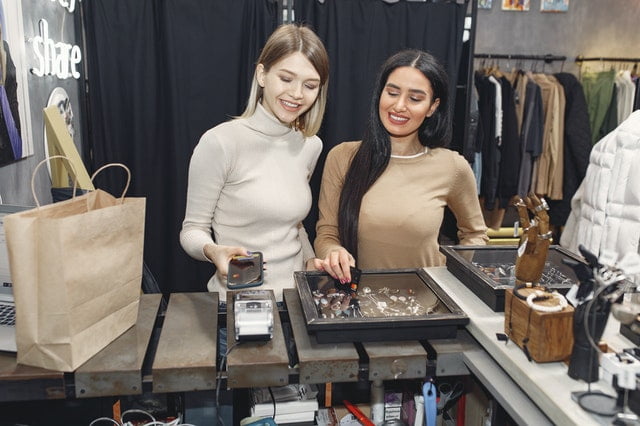 While we have grown used to the shopping experience in a pandemic world, we need to look forward past the pandemic. How will the shopping experience look in a post-pandemic world? Marketers already indicate that 'hygiene' will become the new sustainability across all segments. If you can ensure a safe and hygienic shopping experience, customers will choose your store over another. This starts at the most important locations of your store: the entrance, exit, and the payment process. The payment process is one of the most important areas you can improve, specifically, a mobile card reader is suggested. In this article, we explore improvement points across the store.

Limiting Interaction with Employees
This may seem like a counter-intuitive statement, but to ensure a safe environment, the interaction with employees needs to be limited. This ensures a safe work and shopping environment for both parties. Providing a phone app with product information can improve the customers experience while maintaining safety. For example, customers can scan barcodes of products and receive information and common customer questions. This allows the shopper to make an informed decision without the need to consult an employee.
Non-Intrusive Payment Process
The only moment that does require physical interaction in the store is the payment. This is where a mobile card reader comes in handy. These innovative payment machines can be used to conduct contactless payments. The customer can simply tap their debit card or smartphone on the device and the payment is complete. Customers are now accustomed to using a mobile device as part of a transaction, utilizing newer technology will support new age purchasing as well as providing physical safety.
Fund Manager Profile: Zhang Hui Of China's Southern Asset Management
Historically, the Chinese market has been relatively isolated from international investors, but much is changing there now, making China virtually impossible for the diversified investor to ignore. Earlier this year, CNBC pointed to signs that Chinese regulators may start easing up on their scrutiny of companies after months of clamping down on tech firms. That Read More
Moving Forward with QR Code Payments
Besides that, some options include the use of a QR code. The shop owner can show a QR code on a screen and the customer can scan it with a smartphone. Once scanned, a payment request appears on the screen of the customer's smartphone. The preferred payment method can be selected and the customer can complete the payment. While these payments are already common in Asia they are now gaining traction in Europe as well.
Entrance and Exit Management
A mobile card reader can help you create a safe environment, but it already starts at the entrance. Current regulations may allow a certain amount of people inside the store. Store owners need to properly manage these regulations and technology is here to help. Counting the people inside the store can be easy and having a proper queue system should help. However, making sure people are keeping the required social distance is harder. To enforce this, playful technology can be implemented. For example, showing a green light when people are keeping the appropriate distance, and a red light when they do not. This is an effective method that does not require continuous attention from the shop owner.
Work with Innovative Partners
To make sure your small business stands out in terms of hygiene and safety, it is wise to work together with partners. There are many parties to cooperate with that are worth exploring. Ranging from flow management to payment providers such as SumUp, conduct a strategic analysis of your needs to move forward.
Updated on