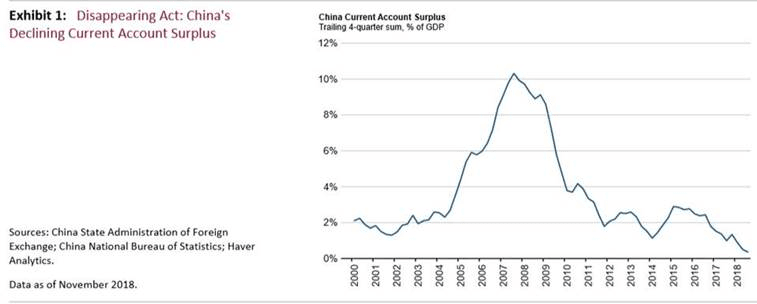 Quietly, without much notice among investors, China's current account surplus, as large as 10% of gross domestic product (GDP) a decade ago, has shifted to a deficit this year. As discussed in a new report by Bank of America, U.S. Trust, this represents one of the most significant global macro shifts of the year and has important implications for investors: less flexibility for economic/currency management in China, and less global capital available for U.S. debtors. 
---
What China's Current Account Deficit Means for Investors
 Amid the whirlwind of data, news and noise that shape market expectations, one metric—China's shift to a current account deficit country—has not received adequate attention, in our opinion. Quietly, without much notice among investors, China's current account surplus, as large as 10% of GDP a decade ago, has shifted to a deficit this year. This represents one of the largest and most significant global macro shifts of the year.
Q3 hedge fund letters, conference, scoops etc
Gates Capital Management Reduces Risk After Rare Down Year [Exclusive]
Gates Capital Management's ECF Value Funds have a fantastic track record. The funds (full-name Excess Cash Flow Value Funds), which invest in an event-driven equity and credit strategy, have produced a 12.6% annualised return over the past 26 years. The funds added 7.7% overall in the second half of 2022, outperforming the 3.4% return for Read More
Why is this important to investors, notably U.S. investors?
First, in the past, China's massive current account surplus (excess savings) gave Beijing the monetary flexibility to drive credit growth and investment at home. The surplus, in other words, gave the Chinese government the necessary countercyclical tools to offset any slowdown or shocks—per the latter, think of the Great Recession of 2008 - 2009 and China's subsequent massive stimulus program to offset the global shock to trade. The stimulus underpinned growth not only at home but also abroad, helping to stabilize the global economy in a time of peril.
Second, and this is where U.S. investors should be concerned, thanks to its massive current account surplus, China has emerged as one of the world's largest and most important sources of global capital, becoming a significant exporter of capital in the past two decades. Where was a large part of the savings being exported? You guessed it, to debt-laden America, which has long used China's excess savings to help fuel growth at home and cover ever-widening federal budget deficits. To wit, China owns some $1.2 trillion of U.S. Treasuries, in addition to owning U.S. equities, bonds, commercial real estate and other assets.
Against this backdrop, as China's current account swings from surplus to deficit, Beijing will have less capital to send to the U.S. at precisely the moment when the U.S. government is issuing more debt to cover its widening deficits and needs borrowers—foreign or domestic—to step up. The bottom line: China's dwindling savings (swing to deficit) reduce China's role as the world's exporter of capital—an untimely swing for the U.S., the world's largest debtor nation.
The Financial Anatomy Of China's Current Account
For the first three quarters of 2018, China posted a current account deficit of $12.8 billion, down from a surplus $102.6 billion during the same period a year ago.1 While part of the decline can be attributed to the timing of trade flows and temporary factors (high commodity prices, front-loading imports in anticipation of U.S. tariffs), we view the downtrend in China's current account surplus as a structural change in China's economy away from export-driven growth and toward more consumption and investment. Another sign of this shift, the savings rate in China has declined, putting downward pressure on its current account.
While growth in exports in the second half of the year may keep China's current account in surplus for the remainder of the year, the structural downtrend is still expected to persist. The International Monetary Fund (IMF) forecasts a current account surplus of 0.7% of GDP in 2018 and just 0.1% by 2023.
As shown in Exhibit 1, the disappearance of China's current account surplus, from highs of 10% of GDP in 2007, represents a fundamental shift in China's growth model and a key change in the balance of the global economy.
Much of the decline has been caused by rising commodities imports and growing demand for services, which we outline in more detail below.
Trade in Goods: Primary Commodities vs. Manufactured Products
Trade in goods is the largest component of China's current account. While much attention has been giving to the large and growing U.S.-China bilateral trade deficit, when it comes to China's balance of trade with the world, the surplus in goods has actually declined in recent years as China's appetite for foreign goods (imports) has increased.
Exhibit 2 shows the breakdown of China's trade balance by type of product. The large deficit in primary commodities reflects the country's growing demand for imported raw materials to provide for over 1.4 billion consumers and support infrastructure development. Indeed, China is the largest consumer of copper and iron ore, and just last year China surpassed the U.S. as the number-one importer of oil, according to the U.S. Energy Information Administration. Given this growing demand for primary goods, China's trade surplus can be especially sensitive to the rise in commodity prices. An overall increase in commodity prices since the 2015 – 2016 global growth slump has been an important contributing factor to the decline in China's current account surplus.
By contrast, China is a net exporter of manufactured goods, with the trade surplus in manufactured products reaching almost $1 trillion last year. An important offset to the trillions of dollars of goods exported each year is the rising share of intermediate imports like semiconductors and other electronic parts that China receives from companies in South Korea, Japan and Taiwan.
Services: Outbound Tourism Driving Chinese Imports 
China's widening tourism deficit has also played a significant role in the deterioration of the current account surplus. Tourism expenditures by Chinese consumers surged from $55 billion in 2010 to over $257 billion last year, according to China's National Bureau of Statistics. Meanwhile, tourism exports, or spending by visitors to
China, have dropped by $13 billion over the same time period. According to Brad Setser from the Council on Foreign Relations, as much as one-third of tourism imports could actually be capital outflows disguised as tourism payments abroad however, even after adjusting for this overstatement, the overall trend toward more service imports in China remains intact. Other categories of consumption that have contributed to growth in China's services deficit over the past decade are transport services and, perhaps somewhat unappreciated, royalties for intellectual property use. All totaled, in 2017 China ran a trade deficit in services of $265 billion with the rest of the world.
Income Payments and Net Transfers
The current account, by definition, is a combination of a country's trade balance plus net income and transfer payments. China has been posting an annual deficit in income payments since 2015, over which time period income payments have exceeded income receipts by an average of $51 billion per year. The net figure is relatively small and has only contributed slightly to the reduction in China's current account surplus.
Investment Summary
The downtrend in China's global trade and current account balances is a sign of a broader economic transformation occurring in China. No longer is the nation deeply dependent on exports for economic growth. Instead, consumption now makes up 78% of China's GDP growth, while net exports have actually dragged down growth in recent quarters.2
As a result, the savings surplus that China's economy has long relied on as a buffer to conduct monetary and investment policy has come down. This has two important implications for investors. First, without the capital flexibility to react to economic shocks, we expect more volatility in economic growth and in China's currency going forward. With the country in deficit, China's government will have fewer tools to counteract global shocks, and managing the currency will become increasingly difficult. Second, a current account deficit in China means reduced capital available for export to the rest of the world. Exhibit 3 depicts China's holdings of U.S. Treasuries against its current account balance. While China remains the number-one foreign holder of U.S. Treasuries, growth in its U.S. debt holdings has slowed in recent years. A key risk to the U.S. fiscal outlook is this reduced global demand for Treasuries, which could push up bond yields and drive up interest payments on the national debt. With government debt issuance ramping up in the U.S. to fund recent fiscal stimulus, a swing to deficit in China comes at a particularly inopportune time for the U.S.
1 Source: China State Administration of Foreign Exchange. Data as of November 2018.
2 Source: China National Bureau of Statistics. Data as of Q3 2018.