A quarter admits to having existing customers cut ties with their organisation as a result of delivering a poor presentation
Almost half say that this happened on multiple occasions
Over a quarter lost a potential customer due to delivering a poor presentation
27% spotted a typo while delivering a presentation
15% delivered a presentation they've never seen before
Almost half of employees have never received any presentation training
Many advertised positions list presentation skills among the desirable qualities required for an individual to be considered for a role. But how many of our employees are actually receiving the training they need to develop those skills, and what knock-on effect might this have on the success of our businesses?
[REITs]
Q1 hedge fund letters, conference, scoops etc
A new survey, questioning 1000 office workers, reveals that 77% are required to deliver presentations as part of their job. 26% of that proportion admitted that their employers had previously lost a potential customer as the result of a poor presentation. What's more, 39% of this group reported that it had happened more than once.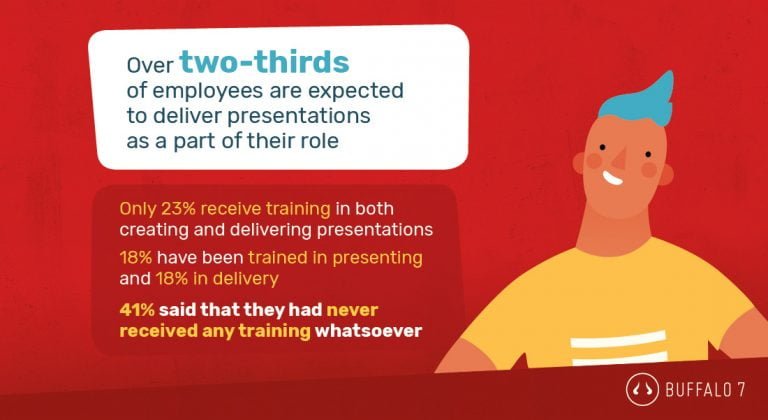 Further to this, it's concerning that 25% had seen an existing customer cut ties with their organisation as the result of a sub-par presentation. Within that particular segment, 44% said that this had happened on multiple occasions.
So, what are the common issues with presentations that cause this loss of business, and what is currently being done to guarantee that employees have the proper skills?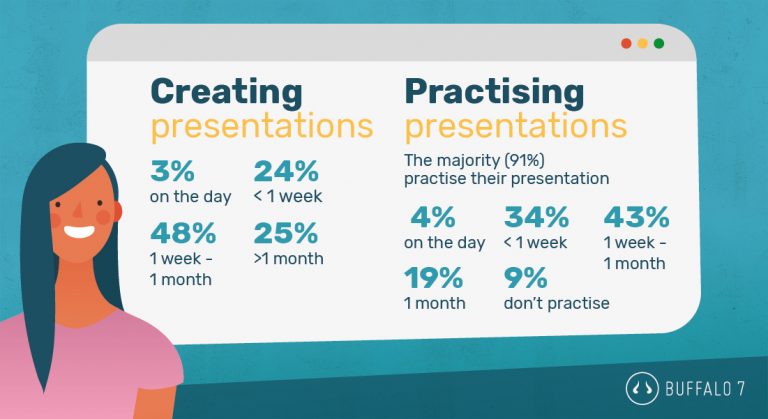 According to the research carried out by Buffalo 7, a specialist presentation design agency, almost a quarter of those surveyed who were responsible for delivering presentations said that they started to prepare their materials less than a week before the date of the presentation. Further to this, 3% admit to starting preparations on the day their presentation was due.
47% of employees said that they always made sure to practice their presentation prior to delivery, with 44% admitting that they only did so sometimes. 9% of respondents never practiced at all.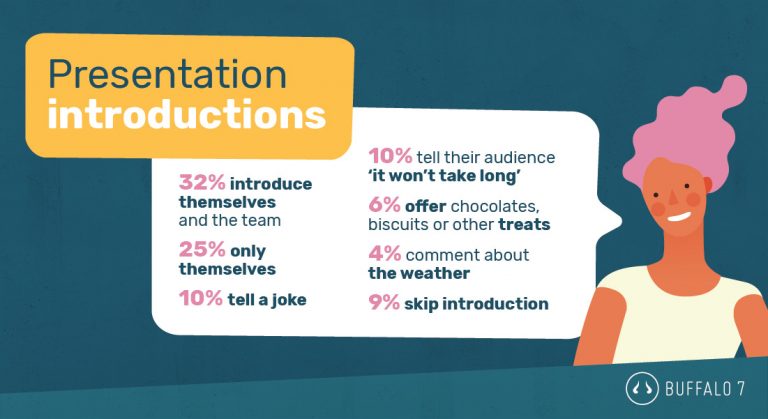 Over a third of those who practised their presentation began less than a week before their presentation was due and 4% practice on the day itself.
Poor preparation can lead to embarrassing slip-ups on the day of the presentation itself, and of the sample group surveyed by Buffalo 7:
    35% of respondents mentioned that they had experienced technical difficulties  such as problems with the computer or projector, or trying to transfer or load a file that was too big
    33% were forced to make last minute changes
    27% spotted a typo on one of their slides while they were presenting
    18% found that members of their audience did not understand the information they were trying to deliver
    Another 18% abandoned their presentation due to nerves
    15% admitted delivering a presentation they had NEVER seen before as someone else created it for them.
    12% experienced an audience member walking out
    11% delivered an incomplete or unfinished presentation
    10% delivered an old version of their presentation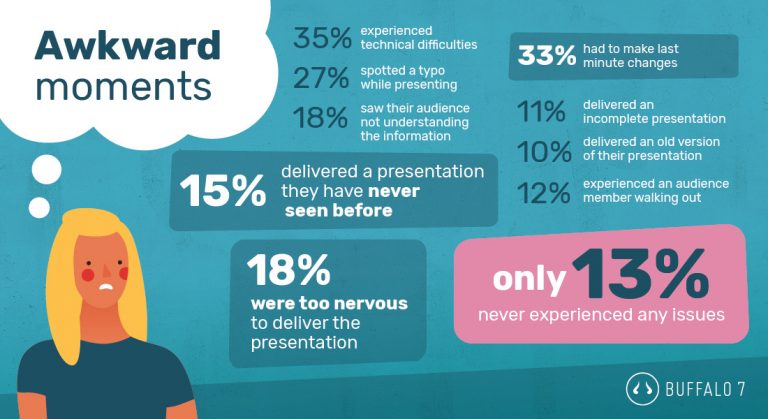 Just 13% of respondents said that they had never experienced any problems at all with their presentations.
Over three-quarters of our workforce are required to deliver presentations to colleagues, customers, and stakeholders, but how well equipped are they for the job?
The truth is that only 23% of respondents had received training on how to create and deliver presentations. 18% of the whole sample group say they'd been training just in presenting and a further 18% just in delivery. 41% of all respondents said that they had never received any training whatsoever.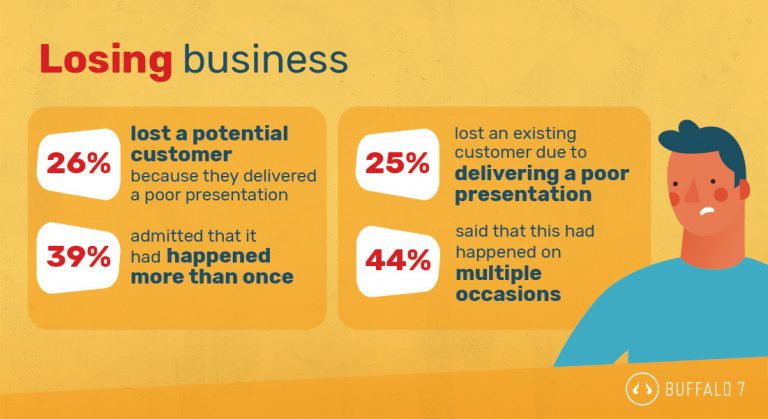 Across the country, it appears that different regions offer varying levels of presentation training.
Northern Ireland offered the least, with 57% of respondents from that area reporting that they had never been trained in any presentation skills. The East of England on the other hand saw 32% of individuals trained in both creating and delivering a presentation.
Richard Barnes at Buffalo 7, said: "In order to improve the confidence and abilities of employees who are required to deliver presentations, we must first provide suitable training.
"Such training will acquaint them with the skills and standards we would like to see demonstrated by individuals who are representing our organisations."