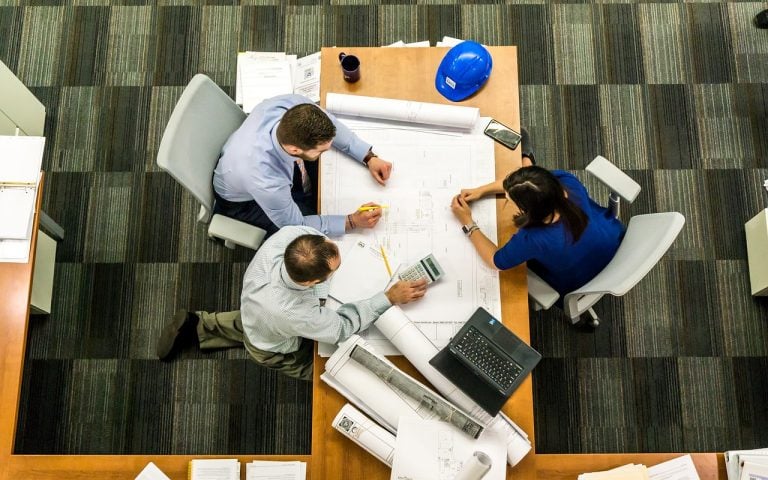 Staying ahead of the competition, especially in the world of B2B, is something that should always be on your mind. Staying relevant, fresh, hip, pertinent, applicable, germane – whatever you want to call it – needs to be at the top of your priority list. Researching the latest industry trends, looking up ranking keywords, listening to your customers and being helpful to others are just a few of the techniques you should employ to help your business stay ahead of the game. We've compiled a list of six tips that can help your business stay relevant in 2018.
#1: Social Media
If you haven't jumped on this bandwagon yet, you need to make this a priority. In 2017, over 40% of marketers reported a significant ROI generated from social media marketing. This number is growing every single year. Only 9% reported an ROI in 2015, just to give you some insight into how fast social media is growing. With everyone walking around with an electronic billboard in their pocket, it pays to have a team dedicated to social media and content marketing in your organization. Consider a branding firm that specializes in B2B and social media if you choose not to hire an in-house team.
Q3 hedge fund letters, conference, scoops etc
Fund Manager Profile: Kris Sidial Of Tail Risk Fund Ambrus Group
A decade ago, no one talked about tail risk hedge funds, which were a minuscule niche of the market. However, today many large investors, including pension funds and other institutions, have mandates that require the inclusion of tail risk protection. In a recent interview with ValueWalk, Kris Sidial of tail risk fund Ambrus Group, a Read More
#2: Mobile Marketing
Having a website that is responsive to mobile devices is crucial. We can't stress this enough. According to BGR, mobile internet usage surpassed desktop usage for the first time in history in 2016. Internet usage is now being dominated by mobile devices and smartphones. If your website is not optimized for smartphones and tablets, it WILL deter potential customers. It would be silly to think otherwise. If your website is hard to navigate, a potential customer is going to click (or touch) the back button.
#3: Evolve Your Products and Brand
It doesn't matter what product you sell. It doesn't matter what businesses you are trying to market to. If your website looks like it is straight-out-of 2005 and your brand has had the same look since 2010, consider re-branding. Very successful companies rebrand all the time. This includes website updates, new slogans, new logos and new avenues of advertising. Look at what the big players in your industry have done, and then do it better.
#4: Protect your Online Reputation
Google your brand and your product often. Browse through comments on social media pages and relevant posts on websites. What are the common complaints? Are there areas that your company is consistently lacking in? If you find weak points, you should address these areas and come up with solutions to fix them. Conversely, if you find that you do something better than everyone else, capitalize on it.
Make sure to hire a very competent team to manage your online brand and presence. Set clear guidelines about how you want your brand to be portrayed online.
#5: Listen to Your Customers AND your Employees
Richard Branson said it well: "Clients do not come first. Employees come first. If you take care of your employees, they will take care of the clients." Don't take this quote the wrong way; making sure your customers are satisfied with your product and/or service is paramount. Don't ever take a customer for granted and always do your best to make sure they are happy with whatever it is you are providing. They are the reason you are in business in the first place. However, listening to your employees' complaints, suggestions and grievances are equally as important as listening to your customer's suggestions.
Your employees are working with customers every single day and they can share common trends or patterns that the customers share. If they are unhappy with their work environment, they will be less inclined to help grow your business and share important information. Keep an open ear and an open heart to both the customer and the employee; not just because it can increase your ROI, but because everyone deserves to be heard and treated fairly.
#6: Do More than You Have to
Even if your business is booming and you've blown through projected earnings for the quarter, don't stop grinding. If anything, you need to work harder and sustain momentum during a particularly good year. Hold local events and fundraisers and make friends with the communities in your area. By doing this, you can turn local customers into friends. Being a good person never hurts either. Always ask yourself the question: "what can I do to improve?"
Online Branding Agencies
Keeping your brand fresh isn't a one-stop shop. It takes thoughtful introspection and innovation to stay relevant. Hanging on to your talented employees, listening to feedback, re-branding, developing a social media presence, boost social traffic to your website and monitoring the behaviors of customers are just a few things to help your business grow exponentially. If you don't know where to start with online marketing and branding, hiring a digital marketing agency is a step in the right direction. There are quite a few words for these types of agencies – branding firms, marketing agencies, creative agencies, and brand consultancy to name a few – and knowing which one to choose can be difficult. If you choose not to hire an in-house team to help snowball your online brand and identity, make sure to do your research.
Article by Hardik Oza