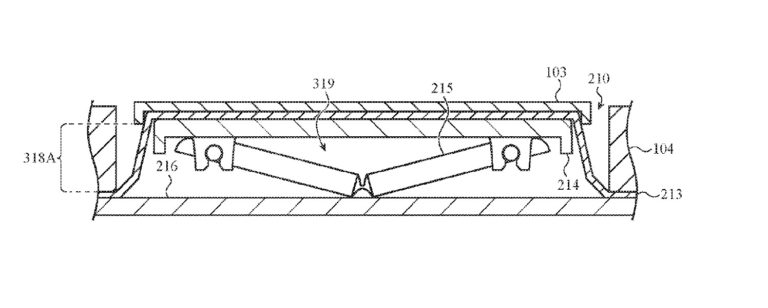 While Apple laptops are certainly incredibly popular, they are not without their issues. Apple is generally recognized as one of the top companies when it comes to the aesthetics of their products, but there are sometimes design flaws that can cause some major frustration for many users. In an ideal world, we would keep our laptop free from liquid and debris, but that's not always possible. However, a new Apple patent may give us the tools we need to do just that.
A Problematic Keyboard
While the Butterfly keyboard technology included in MacBooks helps contribute to the aesthetic and slim design of the devices, it also tends to attract liquid and debris – quickly turning a brand new keyboard into a sticky mess. A newly uncovered Apple patent dubbed "ingress prevention" is focused around preventing the intrusion of liquid and debris that would keep the keyboard from functioning properly.
Gates Capital Management Reduces Risk After Rare Down Year [Exclusive]
Gates Capital Management's ECF Value Funds have a fantastic track record. The funds (full-name Excess Cash Flow Value Funds), which invest in an event-driven equity and credit strategy, have produced a 12.6% annualised return over the past 26 years. The funds added 7.7% overall in the second half of 2022, outperforming the 3.4% return for Read More
In most cases, a full keyboard replacement is necessary when one becomes damaged. This is often incredibly expensive, and there are no doubt a significant portion of users who avoid Mac laptops in order to save on costs should it become damaged. If a new Apple patent has the ability to prevent liquid and debris damage, the company may be able to make the cost of their models a little more palatable.
A Promising Patent
The Apple patent is actually from 2016, but as with most patents it was only made public a good while later. The ingress prevention is set to block liquid from seeping in around the keys and will protect the internal electronics. Residue from sugar can also corrode and block electrical contacts which can also have a large effect on the movement of keys.
Dubbed "ingress prevention," the patent's most important feature is its ability to prevent things like liquid and debris from damaging a keyboard, effectively preventing the keys from moving freely. Your favorite chips might taste great, but getting crumbs underneath the keys can have a similar effect by blocking contact and making keys stick or even stop working entirely.
In the Apple patent, it describes preventative mechanisms like gaskets and membranes in order to prevent the intrusion of liquid and debris. Wipers, flaps, or brushes around the key caps could also have a similar effect.
Untapped Potential
The Butterfly keyboards that come standard in both the MacBook and MacBook Pro lineups are convenient and add to the aesthetic and design of the company's premium computers. If the technology from this Apple patent comes to fruition, it may be a little less risky to use your MacBook. Liquid and debris are a fact of life, and even those that are extremely careful will sometimes deal with keyboard issues. The technology detailed in the Apple patent would no doubt be a large improvement to the design and functionality of their popular products.