We decided to focus on new, largest, and increased positions of the fund in the second quarter. Some of the long positions disclosed in the SEC filing include Citadel Advisors Q2 holdings in put options – for the purposes of simplicity and this analysis we disregard this (summing total values of all parts of the position). Investors should exercise caution and check specific position because the existence of put option might mean that Citadel Advisors actually has a negative view on the stock. In addition, investors should remember that SEC filings show only long positions.
Q2 hedge fund letters, conference, scoops etc
Citadel Advisors Q2 Holdings - New Positions:
Broadcom (NASDAQ: AVGO) 0.33% of the portfolio. The stock trades 22% below the January 2018 high of $272.3. Of note here is that Citadel Advisors also increased by threefold the position in semiconductor equipment manufacturer Applied Materials (NASDAQ: AMAT) to a total of $694 mil or 0.34% of the portfolio. Applied Materials also trades at a price which is 22% below its March 2018 highs. Both positions combined represent 0.67% of Citadel's total portfolio.
AXA Equitable Holdings (NYSE: EQH) 0.16% of the position. This is May 2018 IPO of the American operations of French insurance giant AXA SA. In addition to AXA's U.S. Life & Savings business, the company owns a 64% stake in asset manager AllianceBernstein Holding. This gives its profitability a more balanced profile and this might be perceived well by investors. Company has a low free float as this is a carve-out and it might exercise an extra pressure on shares.
Of note here also is that Citadel Advisors increased by 50% position in Capital One Financial Corp (NYSE: COF) to $632 mil or 0.31% of the portfolio. Citadel also increased a number of positions in other companies of the financial sector:
According To Jim Chanos, This Is The Biggest Story No One Is Talking About
When a liquidity crisis struck China's Evergrande Group in the summer of 2021, it shook the global markets. Debt payments by China's second-largest property developer by sales were estimated in the hundreds of billions of dollars, and the company missed several payments. Those missed payments led to downgrades by international ratings agencies, but the Chinese Read More
All these positions, if combined, have a market value of $2,306 and represent 1.14% of Citadel's portfolio.
IPOs: In addition to AXA Equitable Holdings, Citadel initiated a number of new positions in companies which started to trade recently: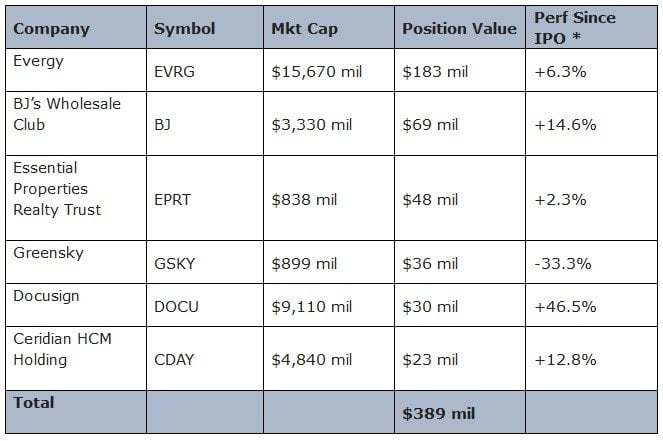 * Performance since IPO is calculated based on initial market price, not the price at which shares were sold to IPO investors (IPO price).
We believe that from the perspective of a conservative investor, shares of BJ's Wholesale Club, Essential Properties Trust, Greensky warrant further research and monitoring.
Increased Positions:
This list includes positions which were significantly increased in the second quarter, excluding certain industries. This discretionally-composed list includes stocks with an emphasis on consumer goods/staples and industrials: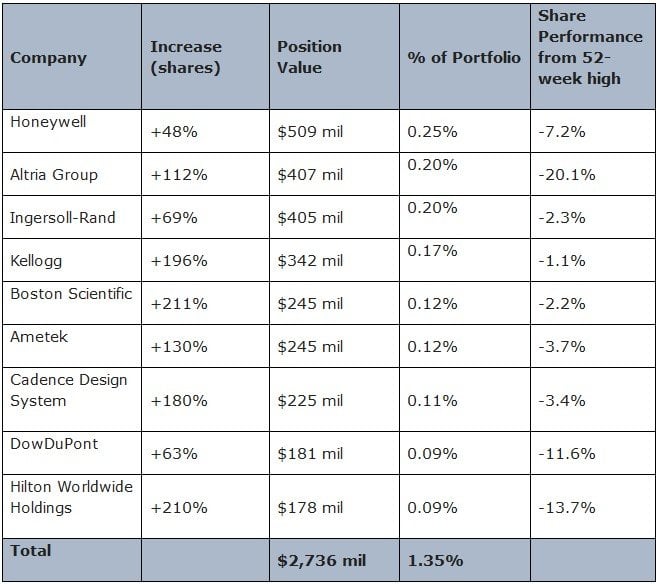 We believe that this list presents a good starting point for further research. Honeywell and DowDuPont deserve special attention as these companies have ongoing restructuring processes and have announced spin-off plans. Altria Group trades at a price which is 20% below its one year high of $73.9 and also warrants additional attention.
Decreased Positions:
This list includes largest positions by market value and which were decreased by at least 30% during the second quarter: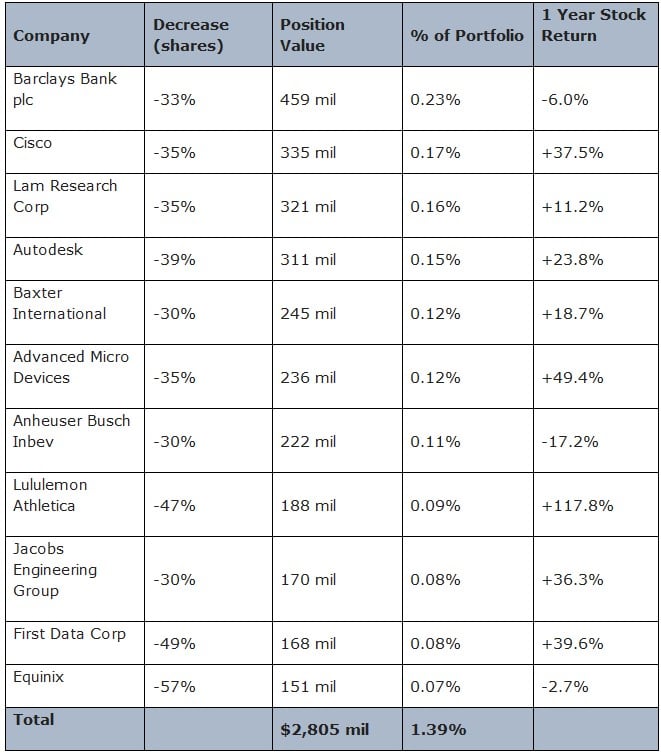 We believe investors should pay special attention to shares of Lululemon Athletica, Equinix and First Data Corp as these holdings were significantly decreased during second quarter.
Article By Alex Gavrish, Etalon Capital Ltd; author of "Story Investing"