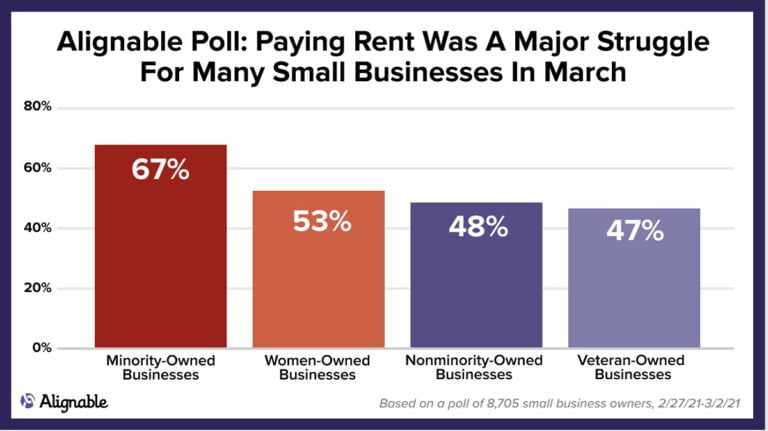 Alignable's March Rent Poll demonstrates that small business owners' economic woes are only increasing as nearly half of all SMBs can't afford their rent this month. Despite encouraging changes to the 2021 PPP, the ability of SMBs to pay their rent has gone from bad to worse so far this year. Expedited and streamlined relief is imperative to the survival of many of these businesses.

Q4 2020 hedge fund letters, conferences and more
Alignable's March Rent Poll was conducted this week (2/27/21 -- 3/2/21) among 8,705 small business owners throughout the U.S. and it marks the third month in a row where the percentage of SMBs unable to cover their rent has escalated.
Fund Manager Profile: Zhang Hui Of China's Southern Asset Management
Historically, the Chinese market has been relatively isolated from international investors, but much is changing there now, making China virtually impossible for the diversified investor to ignore. Earlier this year, CNBC pointed to signs that Chinese regulators may start easing up on their scrutiny of companies after months of clamping down on tech firms. That Read More
In January, 33% couldn't cover their rent.
In February, that figure jumped 5% to 38%
Now in March, it's up another 11% to 49%. 
High Anxiety For Minorities, Women, Landlords & More
And the story is even worse for the most vulnerable small business owners: minorities and women.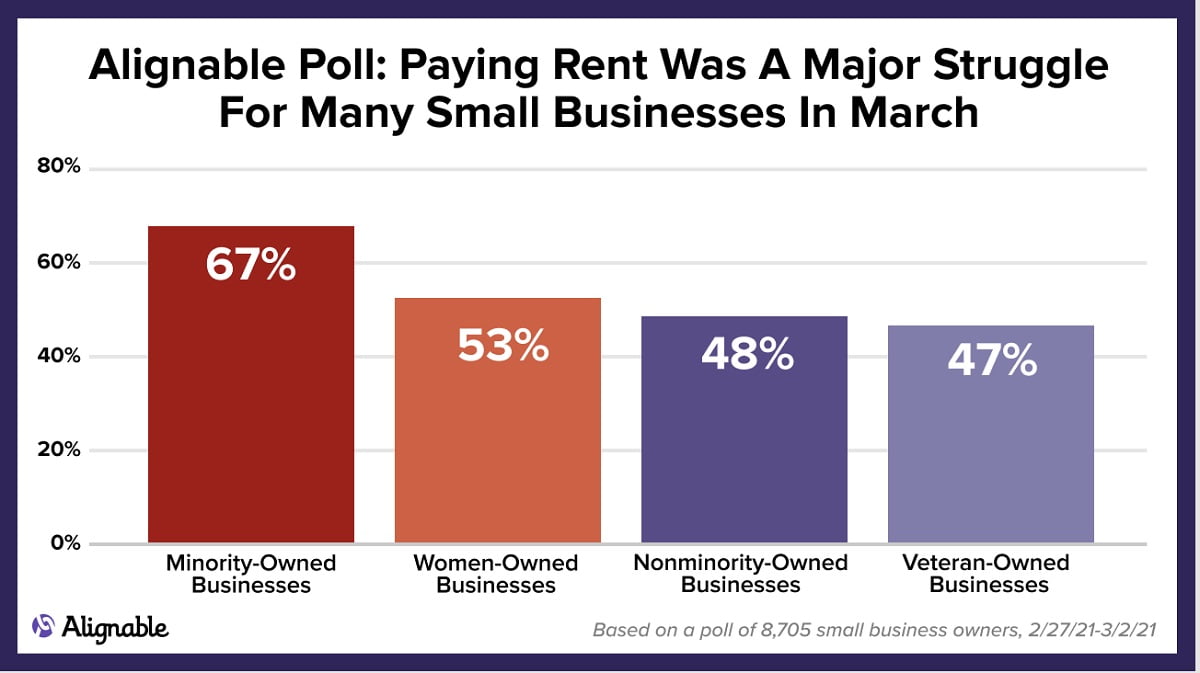 This kind of staggering trend not only shows the desperation many small business owners continue to face, it also begs the question: how long can this go on before landlords (often small business owners themselves) are forced to sell their buildings and pursue other options to generate income?
Beyond that, it reinforces worries among many that the commercial real estate market in the most-affected areas is on the verge of collapse and could take years to recover.
States In The Worst Shape -- NJ, GA, NV, NY, CA, & FL
All of the following states have passed the 50% mark, where, sadly, at least half of the small business owners say they couldn't pay the rent in March. Topping the list is New Jersey, where 63% of small business owners could not pay their rent in full this month.
Here are several other states with alarming numbers:
GA -- 58%
NV -- 56%
NY -- 55%
CA -- 54%'
FL -- 54%
MD -- 53%
TX -- 52%
KY -- 52%
MI -- 51%
VA -- 51%
While rent problems for small businesses are widespread and increasing in most states, when you look at key industries, the situation is just as acute.
Restaurants, Caterers, Beauty Salons & Massage Therapists Are In Trouble
Let's compare Alignable's Industry Rent Chart from January with our new one based on this week's poll. Just two months ago, most of the most-troubled industries were in the 40% range, with one over 50%, as you can see below.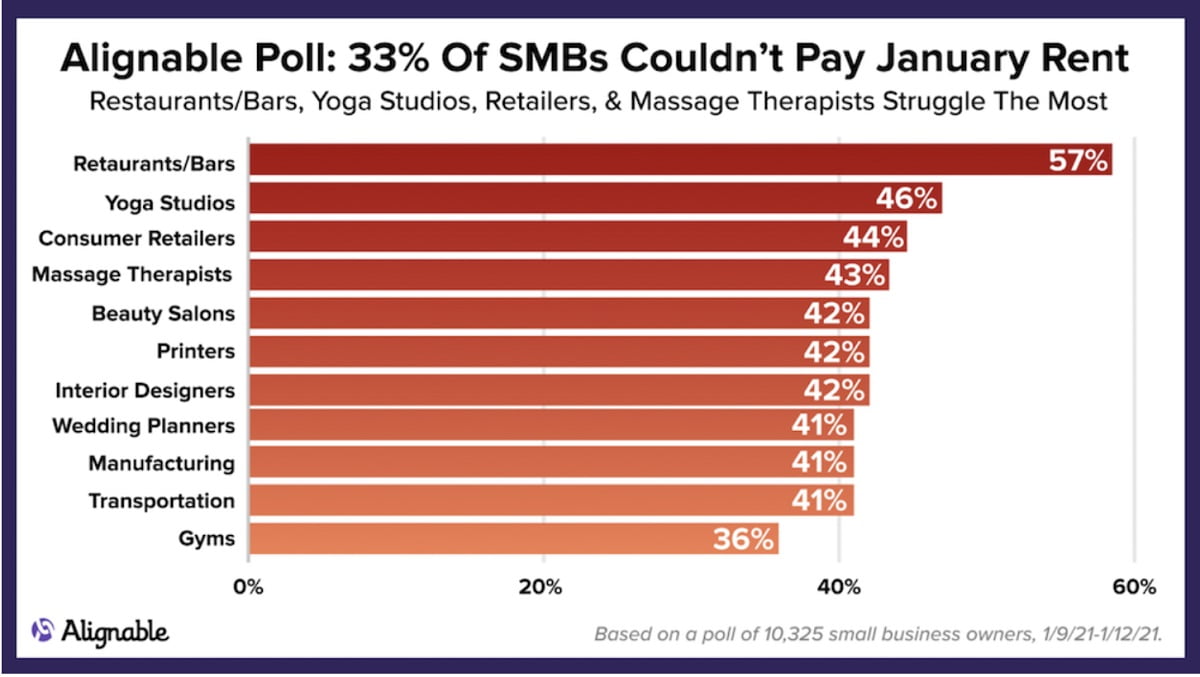 But now, just two months later, as our new chart below indicates, most of the industries are in the 50% range, if not higher, reaching beyond 60%.
Beauty salons and gyms are up 17%, message therapists are up 13%, and retailers, as well as restaurants are up 6%.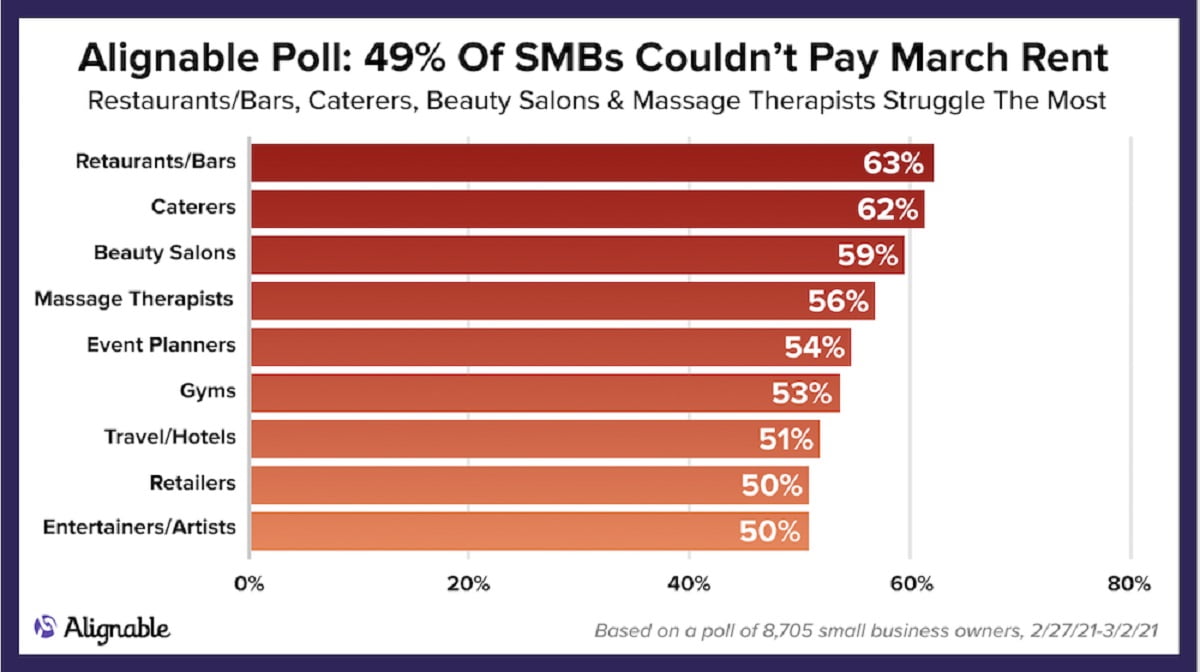 Looking at this week's statistics, 63% of restaurants/bars could not afford to pay rent in March, as many other industries were not far behind, including caterers (62%), beauty salons (59%), massage therapists (56%), event planners (54%), gyms (53%), travel and hotel professionals (51%), retailers (50%), and entertainers/artists (50%).
Stepping back and reviewing these numbers and the dramatic increase in the percentages of small businesses that can't pay their rent, PPP funding needs to be put on the fast track, before the country suffers another wave of permanent closures.
Based on the most conservative estimates, hundreds of thousands of small companies have had to shut down for good already, and many others are on the brink this month.
To really help these small businesses, the administration might also need to extend the March 31st PPP deadline, expand funding for the 2021 PPP or offer new alternatives that reach even more people in need.
To see other Alignable polls conducted since March 2020, please visit the Alignable Research Center.
---
About The Alignable Research Center
Alignable is the largest online referral network for small businesses with over 6 million members across North America.
We established our research center in early March 2020, to track and report the impact of the Coronavirus on small businesses, and to monitor recovery efforts, informing the media, policymakers, and our members.
For more details about any of these findings, including the methodology behind our latest polls, please contact Chuck Casto at chuck@alignable.com.
Updated on