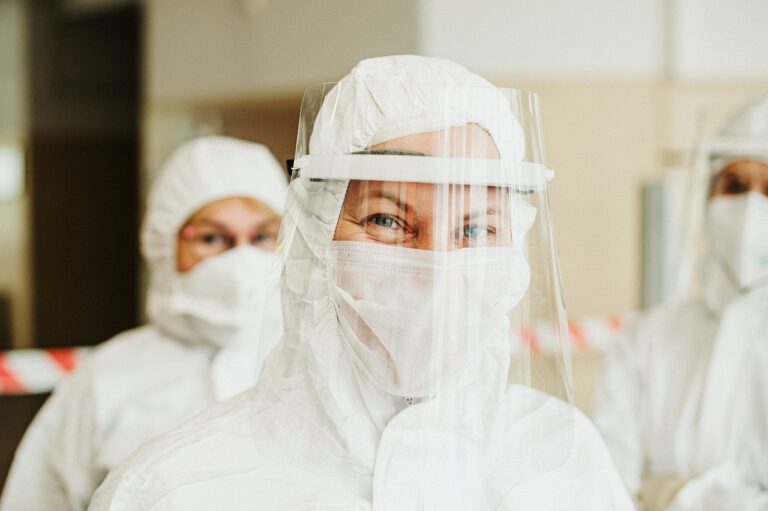 Like the rest of the market, private equity (PE) has also been affected by COVID-19. Mergermarket and Dechert surveyed 100 executives with PE firms about how the COVID-19 pandemic has affected their operations. Although the deal volume is much lower this year than last year, there are plenty of signs of life in the private equity market.

Q3 2020 hedge fund letters, conferences and more
PE market picks back up amid COVID-19
Mergermarket and Dechert found that the pandemic quickly bumped most auctions off course, but the effect was momentary. Already many of the transactions that were put on hold in March and April have been completed. Buyout activity has climbed above last year's third-quarter value, and the number of deals announced in September indicates that the PE market is healthy in the fourth quarter despite COVID-19.
London Quality Growth Investor Conference: Buy Dassault Systemes
At this year's inaugural London Quality Growth Investor conference, Denis Callioni, analyst and portfolio manager at European investment group Comgest, highlighted one of the top ideas of the Comgest Europe Growth Fund. According to the speaker, the team managing this fund focus on finding companies that have stainable growth trajectories with a proven track record Read More
Total buyout value declined 22% year over year in the first six months of 2020 to $234.7 billion. Mergermarket and Dechert noted that financing was available at almost pre-pandemic levels and terms, and the private equity industry had historic levels of unallocated capital. Thus, it's no surprise that PE activity picked back up again.
Deal value surpasses last year
By the summer, the COVID-19 crisis had stabilized, so PE houses turned back toward deals again. During the third quarter, total value rebounded to $148.1 billion, which is 10% higher than the third quarter of 2019.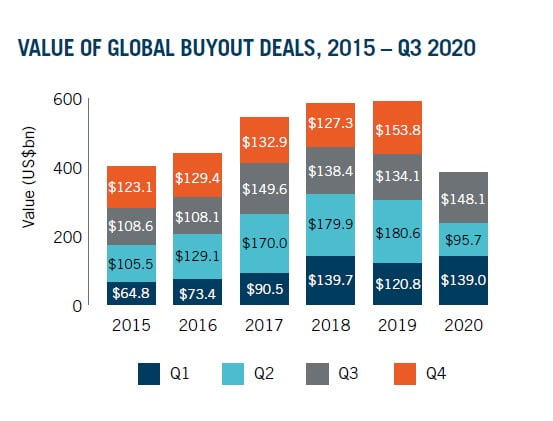 The total number of deals is much lower, however. In the third quarter of this year, the survey found 750 deals, compared to 989 deals in last year's third quarter.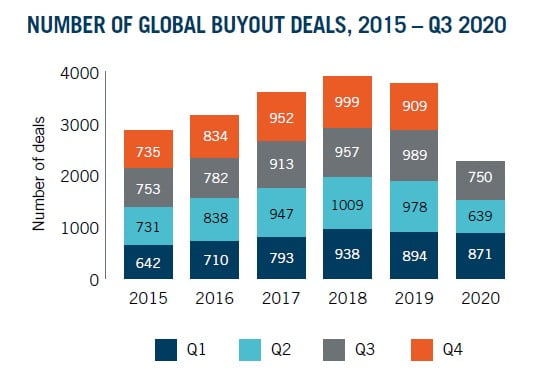 Mergermarket and Dechert said the industrial and chemicals sector, pharmaceuticals, medical, biotechnology, and the technology, media, and telecom sector have especially seen strong private equity activity. Their total value over the first three quarters increase versus last year.
Bright outlook for PE despite COVID-19
It's unclear whether the current pace of private equity deals will continue, but there are some challenges. Mergermarket and Dechert noted that protectionism in trade and foreign direct investment has reached heights never seen in the current generation as tensions between the U.S. and China have worsened. The elections and Brexit were also potential dampeners of activity, as is a second wave of the pandemic, which has led to new lockdowns in many countries.
Investors have looked to riskier investments because government and central bank stimulus to support the world's economies have surpassed what was seen during the Global Financial Crisis, suppressing yields in the process. The fastest bear market and recovery ever resulted.
Mergermarket and Dechert believe private equity will benefit from the sustained low-rate, low-yield environment, just as it has following the Global Financial Crisis. They added that PE has outperformed public markets during previous downturns, and they expect the current one to be no different, especially since the industry has a war chest amounting to $1.7 trillion in dry powder.
Private equity fundraising on a roll
Mergermarket and Dechert said fundraising in the PE market has been strong despite the COVID-19 pandemic. Annual aggregate capital raised over the last 10 years has reached new heights never seen before. In each of the last three years, funds surpassed $600 billion, according to Preqin. In total, PE funds now manage $3.8 trillion in assets, including both invested capital and dry powder.
Although the pandemic has certainly been felt in PE fundraising, it hasn't taken as big of a bite out of the fundraising as one might expect it to. The first quarter was mostly unaffected by the pandemic, although the second quarter saw only $116 billion raised, which is the lowest amount since the first quarter of 2018 when $110 billion was raised, according to data from Preqin.
The $116 billion that was raised was shared across 225 fund closes, which was the lowest number looking back at least five years. Mergermarket and Dechert said it makes sense to expect that full-year 2020 will be below average compared to the heights of recent years. However, they also said this year might not be as weak as widespread lockdowns and economic distress would suggest.
Updated on