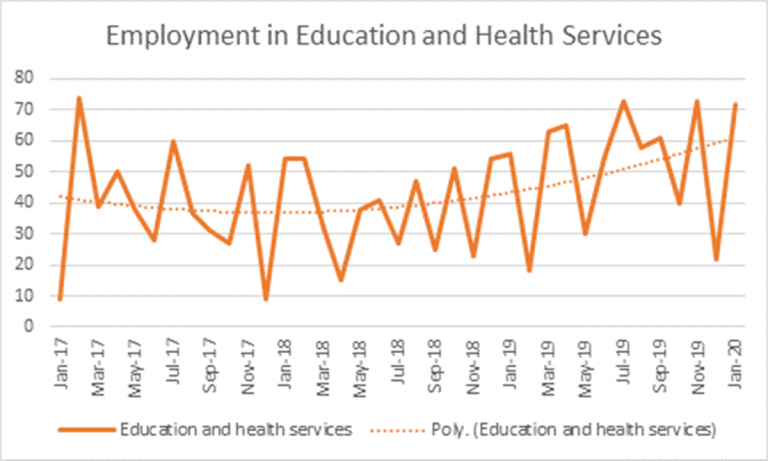 Following today's release of the January 2020 US jobs report, Jeoff Hall, Managing Economist, Refinitiv, assigns a 'B+' grade to the overall report.  Data-driven commentary related to employment rate, hourly earnings and more below.

Top-line nonfarm payrolls growth of 225k was solid, and about 40% above market expectations. Some 19k of that was in the government sector, though state government education payrolls fell by 15.6k. Private payrolls rose 206k, which was slightly above trend and raised the 3-month average to 211k (from 198k). About 35% of that increase however, came from a 72k augmentation to education and health services payrolls, growth in which was well above trend.
Q4 2019 hedge fund letters, conferences and more
[Exclusive] ExodusPoint Is In The Green YTD Led By Rates And EM/ Macro Strategies
The ExodusPoint Partners International Fund returned 0.36% for May, bringing its year-to-date return to 3.31% in a year that's been particularly challenging for most hedge funds, pushing many into the red. Macroeconomic factors continued to weigh on the market, resulting in significant intra-month volatility for May, although risk assets generally ended the month flat. Macro Read More
Factory employment dipped another 12k in January after losing 5k in December. Most of the net loss in manufacturing jobs last month came from decreases among motor vehicle and parts producers.
Unemployment Rate Rises And Soft Growth In Average Hourly Earnings
Two dimensions of the latest jobs report perhaps leave markets wanting a bit: the unemployment rate rose and growth in average hourly earnings was soft. It's easy to put a positive spin on the first development. The unemployment rate rose last month because more Americans entered the labor force. In fact, the labor force participation rate rose two-tenths of a percentage point to 63.4%, the strongest engagement since June 2013. The employment-to-population ratio climbed to 31.7%, the best since October 2008. These two metrics express a high degree of labor market mobility and confidence in finding higher-paying jobs.
We can't so easily accept the disappointment in wage growth in January. The 0.2% m/m increase in average hourly earnings was a downside miss to market expectations (+0.3% m/m), though just barely, as the unrounded increase was +0.247%. Nevertheless, these downside misses have become somewhat common in recent months and the annual pace of wage growth appears to be slowing at a time when the Fed is looking for inflation to hasten.
Year-on-year growth in average hourly earnings was +3.1% in January, which was up from +3.0% y/y in December, but down from the expansion peak of 3.5% y/y in February 2019 (repeated in July and August of 2019). Over the last two months, average hourly earnings in private service-producing industries (affecting 89% of employees) rose only four cents (0.2%), just a 1.8% annualized rate.
Earnings For Education And Health Services Sector Drops
Earnings for employees in the education and health services sector, which had the strongest increase in payroll employment last month, fell five cents between December and January; they are down a net three cents since November, a -0.2% annualized rate. Earnings for wholesale trade workers rose nine cents in January but they fell 18 cents in December.
Earnings for leisure and hospitality employees have risen 4.4% over the last 12 months, while earnings for retail trade employees (up just a penny in January) have risen 4.2% from January 2019. Notice that earnings growth has been greatest among jobs that pay the least.
Over on the goods-producing side, employment in construction rose by forty-four thousand, but average hourly earnings in the industry increased only a penny. Meanwhile, employees in durable goods manufacturing lost a penny from their pay packet.
The Bottom Line: On its own, the January jobs report had enough strengths but, enough shortcomings to leave the Fed's monetary policy stance neutral through at least March. Of course, the coronavirus does pose downside risks to global growth from which the U.S. economy (particularly the manufacturing sector) is not immune.
Updated on