Many of you may have across a situation where you need to forward multiple emails to a specific person. The solutions until now were to forward each mail separately or download each email and then attach it to a new email. Google, now, has come up with a simple way to forward emails in Gmail, which is to send emails as attachments.
A useful feature
This new Gmail feature allows you to attach emails without the need to download or copy them first. The attached emails will appear as .eml files, and will open in a new window when clicked by the recipient. A user can attach as many emails as he or she wants.
This feature is available to all G Suite editions, and is enabled by default. There is no limit to how many emails can be attached. Gmail email attachments are available for all G Suite editions.
This AI-Powered Emerging Hedge Fund Manager Is Blazing A New Path
Investment strategies used by hedge funds have evolved over the years, although the biggest changes have come in the use of computers to develop portfolios. Rosetta Analytics is a woman-founded and woman-led CTA that's pioneering the use of artificial intelligence and deep reinforcement learning to build and manage alternative investment strategies for institutional and private Read More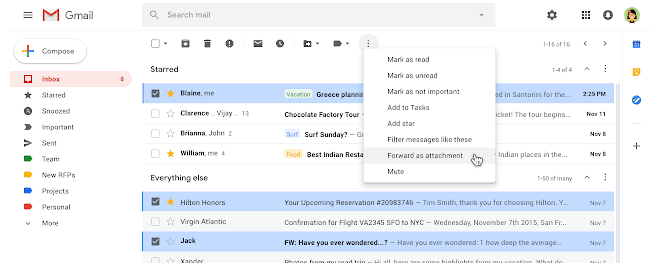 "Sending emails as attachments allows you to write a summary email message to your recipients, and attach the set of supporting emails that recipients can directly open in their mail client," Google says in a blog post.
Google is rolling out the feature gradually, so it may take some time before it actually reaches you. Some users may not get it until next year. You will know if this new Gmail feature is available to you if "Forward as attachment" option shows up in the overflow menu.
How to send emails as attachments
This new Gmail feature is pretty easy to use. Here's how you can send emails as attachments:
Open a new draft email.
Select the emails that you want to send as attachments.
Drag and drop all the selected emails into the open draft window.
That's it!
You can also choose the emails from within the draft window as well. In the open draft window, click on the overflow menu and then select "Forward as attachment."

Additionally, you can send emails as attachments even when you are replying to any email. All you have to do is pop out of the draft window, select the emails that you wish to send as an attachment and then drag and drop emails to the email that you were drafting.
New Gmail features
Sending emails as attachments is one of the new Gmail features that Google rolled out recently to ensure that it stays ahead of the competition. A few weeks back, Gmail was updated with the "dynamic email" feature to make emails more interactive. Previously when you clicked any link in an email, it opened up in a new browser. With dynamic emails, you won't have to leave Gmail.
You can interact with the calendar invites, respond to questionnaires, browse catalogs and do more from the email itself. One very handy use of the feature is when you need to comment in a Google Docs thread from the email. Thus, the feature helps you to save a lot of time as you won't have to open the full app.
The dynamic email feature also makes messages more current. For instance, you get the latest job listing or order statuses each time you open Gmail. Other senders that support this interactive format are Freshworks, Doodle, Nexxt, Despegar, Ecwid, Booking.com, OYO Rooms, Pinterest, and redBus.
Google first rolled out the feature in July for the web users, and last month added support for the Android and iOS apps as well. Those who don't want this dynamic email feature can disable it by going to the settings. To disable it:
Open Gmail on the web or the Gmail app.
Sign in to your Gmail account.
Tap the Settings in the upper right of the screen
Under the "General" section, look for "Dynamic Email.
To disable the feature uncheck the box next to "Enable dynamic email."
How to enable Gmail dark mode
Another new Gmail feature that users got recently was the dark mode. The feature has long been in development, and was finally rolled out to Android and iOS users a couple of months back.  The dark mode is one of the most popular features currently, and is available on all major apps such as Slack, Reddit, Facebook Messenger and more.
Using dark mode allows you to save battery life. As well, it makes your phone's screen easier on your eyes. Now many Android apps use dark mode as the default setting. Apple's iOS also applies the dark theme broadly across many apps.
If you don't yet know how to enable Gmail dark mode in Android 10, then follow the below steps:
Open the Gmail app and tap the hamburger menu in the top left.
Go to the bottom of the list and tap Settings.
Tap General settings and from the top of the list, tap Theme.
If you already set the dark theme as system default, tap System default, or else tap Dark.
To enable Gmail dark mode in iOS 13, follow the below steps:
Go to the Gmail app and tap the hamburger menu on the top left.
Go to the bottom and then tap Settings.
Tap on Theme and then tap Dark.
That's it!