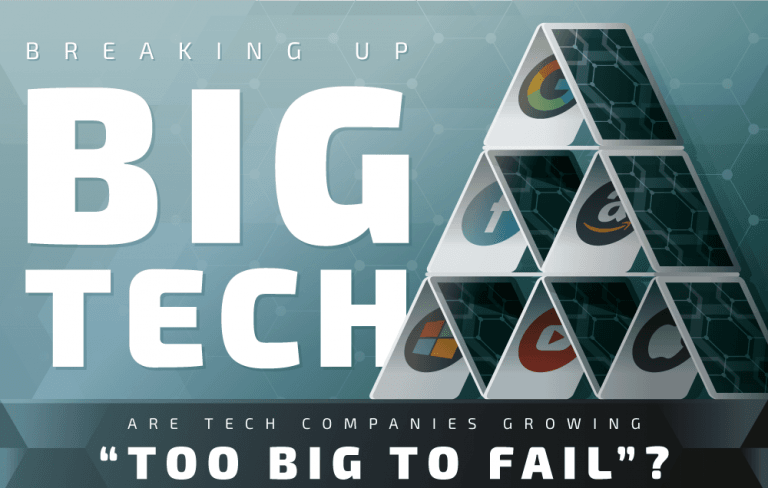 What happens when a corporation starts to control speech? If they aren't charging you to use their platform and it's a publicly traded company, you have to play by their rules, right? Some people are starting to question that in an age where just five companies are responsible for nearly 70% of GDP growth. When almost everyone uses a certain platform to communicate, does that platform have an obligation to allow free speech? And when do companies that are used by 70-90% of Americans need to be broken up into smaller companies in order to protect a free marketplace? Should we enforce antitrust laws in regards to big tech?
FAAMG, which stands for Facebook, Amazon, Apple, Microsoft, and Google, are some of the largest and most powerful companies in America today. Nine in ten people use Google for searches, two in three have purchased something from Amazon, and seven in ten have a Facebook account. From an accounting perspective these companies don't quite reach the 50% benchmark needed to declare them a monopoly – Amazon's ecommerce sales are only 49% of the market, while Apple's smart phones are 41% and their smart watches are 46%. The global internet traffic of FAAMG and Netflix is 43%. Money and traffic-wise these companies are all just short of the DOJ's benchmarks, but when you look at the numbers of people who use them it's far more than half.
Qualivian Investment Partners July 2022 Performance Update
Qualivian Investment Partners performance update for the month ended July 31, 2022. Q2 2022 hedge fund letters, conferences and more Dear Friends of the Fund, Please find our July 2022 performance report below for your review. Qualivian reached its four year track record in December 2021.  We are actively weighing investment proposals. Starting in November Read More
FAAMG and antitrust laws
During the Presidential election cycles of the last couple of years, candidates have been flagged for unusual spending patterns during crucial times and ads have been pulled that criticise certain platforms for targeting certain types of speech.
Antitrust laws were put into place at a time when one oil company owned all the oil production, refining, and distribution, edging out any competition from smaller companies in the marketplace. The same went for one steel company that had the market cornered. Later, the antitrust laws were strengthened to prevent companies from merging in order to corner the market and prevent competition. The FTC was created to enforce these laws.
These laws were used to break up Microsoft into one entity that would control the operating system and another that would operate the Office Suite of software. The ruling was later softened, but it had already caused Microsoft to lose ground to competitors.
There is precedent to break up big tech companies before they stifle both free speech and competition within the marketplace. Learn more about breaking up big tech below.
Q3 2019 hedge fund letters, conferences and more
Updated on