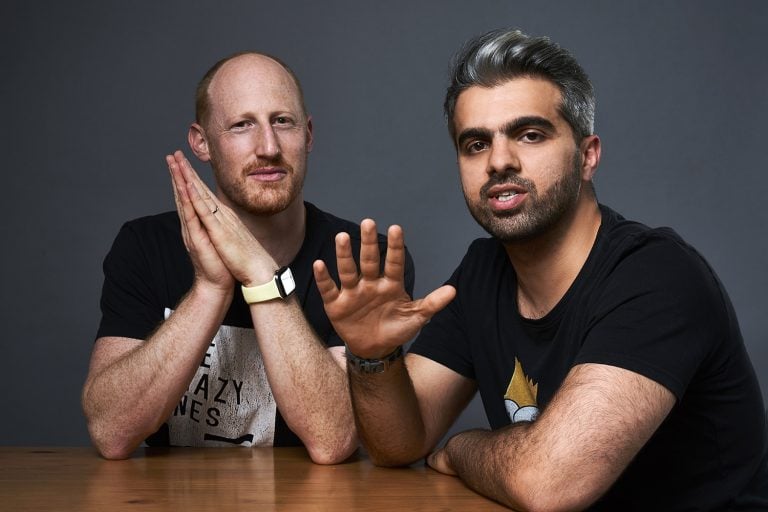 Value Walk Q&A from Flip Fit co-founders and co-CEOs Jonathan Ellman and Nooruldeen Agha.In this interview, Jonathan and Nooruldeen discuss their company's background, why returns are a big problems in a fashion industry, how their company is revolutionizing the issue of retail returns, what Gen Z and millennials have to do with this problem, enabling validation at the heart of the buying decision, the future of the industry, and the 360 degree cycle for buying clothes.
What is Flip Fit?
Flip Fit (Flip) is the first-of-its-kind Social Shopping platform, creating a "fitting room in your living room." Users receive several pieces and sizes to choose from and easily return – at no cost – the pieces they don't like. Shoppers also receive much-needed peer validation through the Flip social platform which encourages interaction among users to determine which pieces look best and to curate the virtual closets of users. The goal is to enable customers to buy only what they will actually use.
Qualivian Investment Partners July 2022 Performance Update
Qualivian Investment Partners performance update for the month ended July 31, 2022. Q2 2022 hedge fund letters, conferences and more Dear Friends of the Fund, Please find our July 2022 performance report below for your review. Qualivian reached its four year track record in December 2021.  We are actively weighing investment proposals. Starting in November Read More
Q3 2019 hedge fund letters, conferences and more
Flip provides customers with inspiration and validation for what clothes to buy while on the back end managing the full logistics cycle of picking, packing, shipping, support, returns and refunds - the full shopping experience.
Flip sends a box of 10 products that our users requested through our app to try on in the form of a bracket (one size up, one size down, blue, black, this style, that style). After they try on the clothes, we incentivize our users to share selfies of themselves with people whose opinions they care about so that they might vote for whether they should buy the item or return it in our box.
You say returns are becoming a big problem in the industry - why is that?
Today, people purchase fashion products they want and not necessarily products they will use.  The ability to decide what you "want" is a function of trying on multiple sizes and finding products that fit you and that you like.  Deciding what you will "use" is a function of receiving validation from a third party that the item looks good on you.
Due to the fact that people today make purchases online before trying clothes on AND before validation is received results in returns accounting for 50 percent of items purchased in the US – and amount to a cost of $350 billion a year with five billion pounds winding up annually in landfills in the US alone.
The fashion industry is currently flying in the dark, with returns that are hitting an all-time high and crippling businesses.
In short, the industry has been in a downward spiral with no real lifeline in sight.
How is Flip Fit attempting to change this and revolutionizing the way returns are approached in retail?
Flip is revolutionizing the issue of retail returns by accepting it as a fact of shopping and implementing it as a necessary part of the business model. For Flip, returns are the default. Every box comes back, and we make this process seamless for our users with the return label pre-printed and UPS coming to your door on the day/time you request.
While the rest of the industry is fighting returns, we are leaning in to the concept. Almost half of all fashions shoppers bracket their online purchases, buying multiple pieces to try on at home with the intention of returning what they don't like or what doesn't fit.
Because of this trend, we believe returns should be as easy as the purchase.
What do Gen Z and millennials have to do with this problem?
Gen Z is shifting the landscape due to their care for the environment and sustainability in general.  They would much rather spend $50 on a "good" t-shirt than $10 on 5 "good enough" t-shirts that they will discard after 1 or 2 months of wear. They also grew up with the Instagram and Snap generation where validation was easier to receive from their community.
Millennials on the other hand, grew up with the Amazon generation, and took advantage of lax return policies to hack the online ordering for fashion products, knowing full well that when they purchase 10 items online, that they will be returning 8 or 9 of those items after trying them on and receiving validation.
You mention returns are truly a $700 billion problem in this industry - why hasn't this space been disrupted before now?
Many have tried to disrupt this space by putting a "band aid" on the problem and trying to solve the return issue.  Flip on the other hand, leans into returns as a "fact" of how business is done, and thereby has built their logistics in such a way to accommodate this phenomena.  In addition, our customers do not "purchase" items that we send to their house - they instead get a box of products to "try on" and an app experience that helps to validate those purchases before a purchase happens.
How do you see buying decision shifting in the future?
Sustainability will be at the core of the buying decision.  Along with platforms like Flip that will enable validation at the heart of the buying decision - not before or after as it is today.
Is it not a catch-22 if returns are much easier? Won't that hurt sellers?
Sellers will get multiple "tries" of their product during a fashion season. Today, a brand or marketplace can effectively "flip" their product at most two times a quarter. With Flip, our boxes come back after five days, and therefore we are able to "flip" products 10 times a quarter, providing a far greater likelihood that a brand/seller will have their product find a home and a happy customer.
How does Flip Fit differ from similar existing platforms, subscriptions, etc?
We are not a subscription service; our customers request a box only when they are ready to receive products to try on.
We embrace bracketing - meaning we send multiple items, sizes, colors, styles to our users, as opposed to an "outfit" with only one specific item. By doing so, we maximize the potential that our customers will find what they want.
Flip provides an in-app validation experience at the heart of the buying decision so our customers not only, through the bracket of clothes we send them, find what they want/like but also (and more importantly) what they will actually use.
Any final thoughts on this new technology and buying decision trend?
The iconic companies of this next decade will combine transactions and social into one holistic environment, thereby creating the full 360 degree cycle for buying clothes - from awareness, to targeted audiences, checkout, logistics and returns - and enabling the ultimate shopping experience for our customers.
Updated on