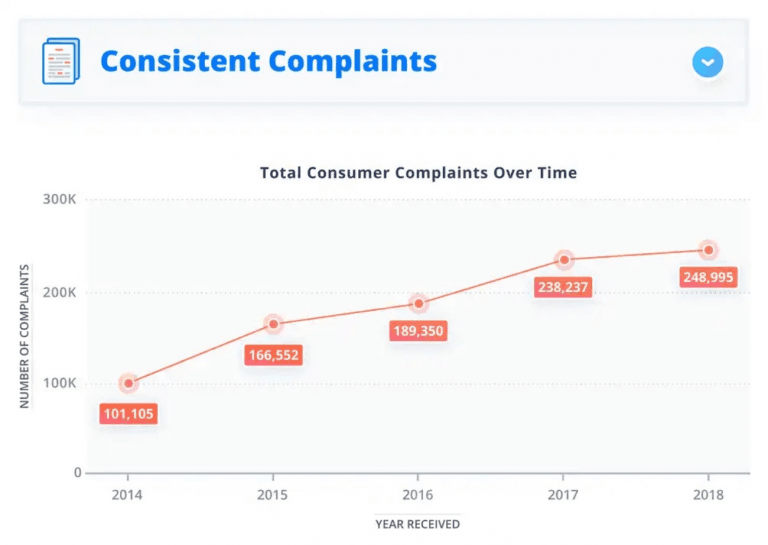 Across social media and online review platforms, customers are taking the saying "the customer is always right" to a whole new level. Research shows that not only do 90% of consumers read online reviews before visiting a business but also what real customers have to say is nearly 12 times more powerful than what businesses choose to say about themselves. Ratings and reviews matter and a bad review can leave your business in an uncomfortable situation.
For these reasons, the Consumer Financial Protection Bureau created a database where consumers can file complaints and communicate with financial institutions. After a company responds to a review left by a consumer, or after 15 days without a response, the comment is made public. For a closer look at these reviews, FundRocket released a report analyzing all CFPB complaints between 2014 and 2018. Here's a summary of what they uncovered.
David Einhorn: This NJ Deli With One Location And Little Revenue Is Trading At $100M+ Valuation
In his first-quarter letter to investors of Greenlight Capital, David Einhorn lashed out at regulators. He claimed that the market is "fractured and possibly in the process of breaking completely." Q1 2021 hedge fund letters, conferences and more Einhorn claimed that many market participants and policymakers have effectively succeeded in "defunding the regulators." He pointed Read More
Q3 2019 hedge fund letters, conferences and more
The total number of complaints reported to the CFPB more than doubled from 101,105 complaints in 2014 to 248,995 complaints in 2018. Overwhelmingly, the majority of concerns were directed at credit reporting, credit repair services, and other personal consumer reports. In contrast, complaints about debt collection, credit cards or prepaid cards, and bank accounts decreased after 2017.
More than 1 in 5 complaints between 2014 and 2018 were related to debt collection, including credit card debt, medical debt, student loans, and auto debt. Nearly 17% of the total CFPB complaints related to mortgages, followed by credit cards (10%) and bank accounts (9%).
On the topic of credit cards, FundRocket found the number of complaints more than doubled from 2016 to 2018, rising from 1,470 to 3,240. Perhaps as a result of the more than $100 billion Americans paid between 2017 and 2018 in interest fees, frustration toward credit card companies has been on the rise.
When FundRocket dug into the companies included in consumer complains, Equifax took the top slot with over 106,000 complaints between 2014 and 2018. The two other credit-reporting bureaus, Experian and TransUnion, weren't far behind with roughly 93,000 and 88,000 complaints, respectively. Two banks, Wells Fargo and Bank of America, rounded out the top five.
When it comes to fees charged by financial institutions, Citibank and Capital One were named in the most complaints, although roughly 30% of all fee-related complaints were closed with some form of monetary compensation. Sixty-six percent of fee-related complaints were closed with just an explanation. Synchrony Financial and Bank of America were the most likely to close a complaint by providing monetary compensation to consumers.