Whitney Tilson's email to investors discussing Uber's lock-up expiration; Pinterest and Peloton get whacked; Avoid the unicorns; Airfare trick; Norwegians Told to Pee in the Shower to Save Water.
1) As I mentioned in yesterday's e-mail, today is the lock-up expiration from the IPO of ride-sharing app Uber Technologies (UBER). This will make 1.5 billion shares available to trade, increasing the float by an estimated 2 to 4 times.
Q3 2019 hedge fund letters, conferences and more
There's some historical precedent for a situation like this, with social media company Twitter (TWTR) and Chinese e-commerce giant Alibaba (BABA).
Twitter went public in November 2013. The lock-up expired on May 6, 2014, releasing 500 million shares to trade, versus the 82 million shares sold at the IPO.
Here's what the stock did around that time...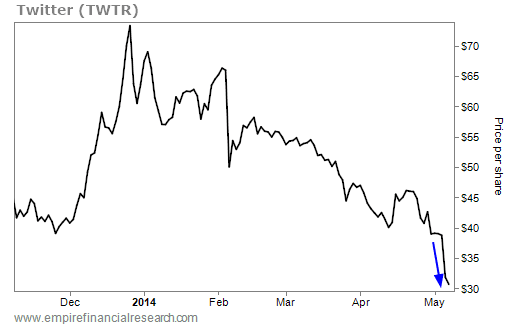 As you can see, like Uber in recent weeks, Twitter's stock was weak leading up to the lock-up expiration... Then it got hammered another 20% in the next few days afterward (though it eventually recovered).
Alibaba went public in September 2014. Its lock-up expired on March 18, 2015, releasing 437 million shares versus the 368 million shares sold at the IPO. Alibaba's stock didn't get hit as badly as Twitter's upon expiration, but it still sunk almost 20% over the next six months. Take a look...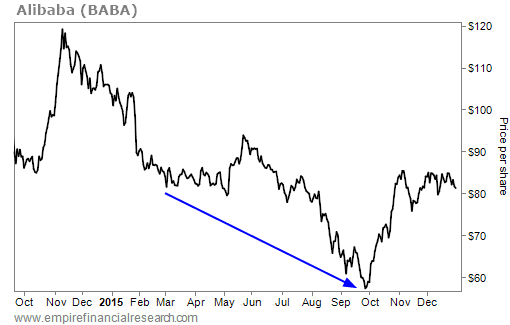 It's unclear exactly how many shares of Uber were unlocked today, but estimates are between 750 million and 1.5 billion – a gargantuan number compared with the 180 million shares issued at the IPO.
I have to assume that most investors are well aware of Uber's lock-up expiration... But 1 billion shares is 1 billion shares. Between this and the company's disappointing earnings results on Monday, I repeat: Stay far away from Uber's stock. (Sure enough, the stock is down big today...)
For some great insight on Uber, I recommended this interview that CNBC did with Richard Kramer of Arete Research, the only analyst with a "sell" rating on Uber.
2) Regular readers know that my colleague Enrique Abeyta and I have been highlighting the terrible performance of the "Super Unicorns" – like Uber.
We have warned investors about these companies – all of which raised at least $1 billion of capital in the private market – both in Empire Financial Daily and at recent investor conferences.
In addition to Uber, some of the other Super Unicorns have reported earnings recently, and it's been ugly across the board. Enrique sent me the following observations:
Last week, social networking site Pinterest (PINS) reported its first full quarter as a public company.
Back when I originally analyzed the stock performance of the Super Unicorns, Pinterest had been one of the few stocks in this group that was trading higher than its post-IPO price. No longer!
The company reported a significant deceleration in U.S. advertising and customer additions, which caused Wall Street analysts to significantly lower their forward revenue estimates.
Similar to Uber, the company also saw a big lock-up expiration this past Monday of 2.5 times its current float. All of this pushed shares 22% lower last Friday. Take a look...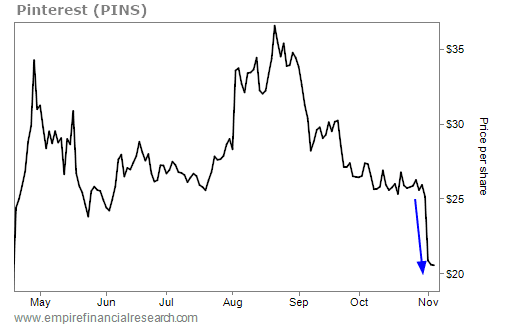 3) Unlike Pinterest, fellow Super Unicorn Peloton (PTON) recently reported good earnings. But like Pinterest, shares still got crushed. More from Enrique:
Unlike Pinterest, Peloton's stock stumbled right out of the gate when it went public in late September, breaking its deal price of $29 on the first day and closing at $25.76.
Peloton reported strong results yesterday that Wall Street widely praised. Revenue and connected subscribers grew 103% year over year, and gross margins were 46%, all well above analyst expectations. The operating loss was half of what analysts expected, and management raised guidance across the board.
Normally, such results would result in a 10%-plus surge in the stock. Instead, shares fell nearly 8% yesterday.
We're now at a point where not only do the Unicorns that report disappointing earnings see their stocks get crushed, but even those that solidly beat expectations are getting crushed as well.
Why is this happening?
Because there was a huge bubble in the valuations of these companies. Despite having dubious business models, private equity overfunded them, and then tried to foist them off onto public investors (who fortunately are having none of it).
These companies are damned if they do (beat earnings, like Peloton) and damned if they don't (miss earnings, like Pinterest).
As with Uber, Enrique and I strongly recommend staying far away from all of these companies. Given their lack of profitability and sky-high valuations, we think they still have much further to fall...
4) Here's a cool little travel "hack"...
I recently bought a flight from JFK Airport in New York to London Gatwick. As always, I booked it on Norwegian Air, which has three flights a day each way using new Boeing 787 Dreamliners, because the price is almost always far lower than any other carrier.
But here's the trick: You can save almost 20% (I paid $455 instead of $550) if you book on the company's local website in Norway and pay in kroner. Just use the Chrome browser to translate the pages and make sure to pay with a credit card that doesn't charge a foreign-transaction fee.
Best regards,
Whitney