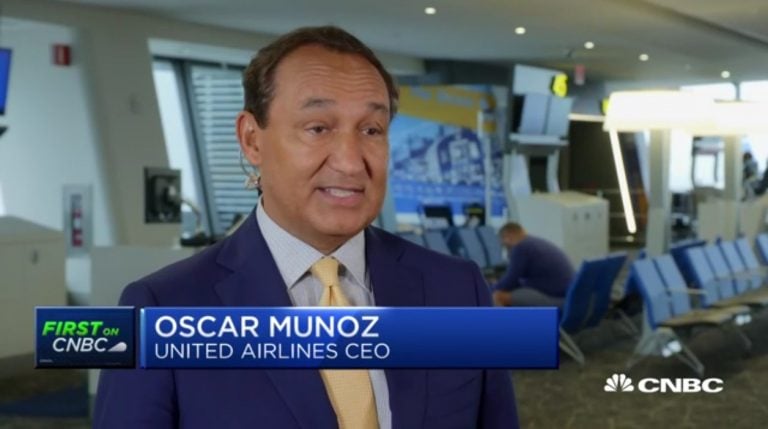 CNBC Exclusive: CNBC Transcript: United Airlines Holdings Inc (NASDAQ:UAL) CEO Oscar Munoz Speaks with CNBC's Phil LeBeau Today
WHEN: Today, Wednesday, October 16, 2019
WHERE: CNBC's "Squawk Box"
Why The Term 'Value Investing' Is Redundant
What does value investing really mean? Q1 2021 hedge fund letters, conferences and more Some investors might argue value investing means buying stocks trading at a discount to net asset value or book value. This is the sort of value investing Benjamin Graham pioneered in the early 1920s and 1930s. Other investors might argue value Read More
The following is the unofficial transcript of a CNBC EXCLUSIVE interview with United Airlines CEO Oscar Munoz and CNBC's Phil LeBeau on CNBC's "Squawk Box" (M-F 6AM – 9AM) today, Wednesday, October 16th. The following is a link to video of the interview on CNBC.com:
Q3 2019 hedge fund letters, conferences and more
United CEO Oscar Munoz on quarterly earnings, full year guidance and more
ANDREW ROSS SORKIN: United Airlines reporting better than expected sales and profit in the latest quarter. Also raising its earnings outlook on the year in a surge in bookings. Phil LeBeau joins us with a Squawk exclusive interview with CEO Oscar Munoz.
PHIL LEBEAU: Good morning, Andrew. Oscar, congratulations on the third quarter.
UNITED AIRLINES CEO OSCAR MUNOZ: Thank you.
PHIL LEBEAU: You beat by a dime. What's working right now for United?
OSCAR MUNOZ: You know, what's working? Gosh, our team is doing an amazing job across the board. You know, a few years ago we started this journey and our strategy, our focus on customers and our focus on our people. And just great efforts around the whole course. It's great to have yet another quarter.
PHIL LEBEAU: You have raised your guidance for the full year this year a hefty amount. You've said basically, 'Look, we're going to meet or exceed what we're expecting for next year.' What's working more right now, the leisure bookings or the corporate bookings?
UNITED AIRLINES CEO OSCAR MUNOZ: Well, across the board – so, internationally is fairly strong. Pacific region is softer, mostly because of Hong Kong. The domestic market is strong. The regional network and catchment area and strategies that we laid out in 2018 is really working remarkably well. Our product offerings. Our customer investments have really proven to be a big deal. And so, it's across the board. Like—and this is a difficult business. And a lot of times, historically, people have either focused on the top line or on costs individually.
I think we've focused on profits. And we said that when we announced our earnings – or our guidance on capacity, that it's not about the growth, it's about the EPS goals and really proud of the fact that we can meet our numbers for this year. And more importantly that we can project for next year and meet or exceed for that three-year goal.
PHIL LEBEAU: How much not having the Max is hurting United right now?
OSCAR MUNOZ: You know, clearly it hurts. I think at this point we would have 80 to 100 flights that would be in the air. But, again, it's just -- the important part about that conversation is that that aircraft will return safely. And that's all we really care about. So, we await the FAA and the regulators to do their thing.
PHIL LEBEAU: Last week they pulled it off the schedule until early January. But let's be honest, if you talk to people in the industry, and I know you do all the time, there is increasingly less confidence that this will be certified and returning to service by the end of the year. The Southwest pilots are saying, 'Look, we don't expect it back until at least February.' Do you really have confidence in that early January start date?
OSCAR MUNOZ: You know, no one knows, right? We've been doing this for seven months. The important part is that it's returned safely. The aspect for us at United is I have great confidence in our pilots, in our training, in our Max product when it does return. We will do it when it's safe to do so.
PHIL LEBEAU: Hong Kong is a mess now. You even said that before we started this interview.
UNITED AIRLINES CEO OSCAR MUNOZ: It is.
PHIL LEBEAU: How much is that spilling over and impacting corporate bookings for China, whether it's Shanghai or Beijing?
UNITED AIRLINES CEO OSCAR MUNOZ: Well, as I said, Tokyo is the predominant driver of the impact on the Pacific region for us. Both Shanghai and Beijing are softer but not noticeably so. It clearly is a Hong Kong market. The rest of Asia is great. I mean, we think it's Taipei, Tokyo, all the other regions are actually doing pretty strong. So, it's a collective region. But Hong Kong is definitely the driver. And we've seen in the recent bookings, a little bit of stabilization out there. So, hopefully that continues into the fourth quarter.
PHIL LEBEAU: Are you seeing hesitancy by CEOs or executives to fly in to Hong Kong right now?
OSCAR MUNOZ: Again, Beijing and Shanghai, where there is the predominant level of travel, we're seeing a little softness but not anything noticeable.
PHIL LEBEAU: Overall, when you look at this economy right, we have people doing the hand wringing over whether or not we start to see things slow down heading into next year. Are you seeing any of that right now?
UNITED AIRLINES CEO OSCAR MUNOZ: You know, we talked about this constantly because everyone's always talking about it. I think the collective wisdom of my team, as we discussed this yesterday, was we've never seen a bigger gap between the headlines and our actual physical data that we have about our business. So, no, we are not in agreement that we are in a slowdown of any sort.
Our bookings into the fourth quarter are really, really strong. And again, we've been saying that over the course of the year. I am confident in our business and market and what we have done strategically to align ourselves for this.
Now, having said that, of course, there's always softness around the corner. One of the things we've learned as well is to be flexible. And we have a lot of contingency plans, what we can do with various things, to make sure that, again, we make that EPS number that we set for 2020.
PHIL LEBEAU: Oscar, Becky has a question for you. Becky.
OSCAR MUNOZ: Hi Becky.
BECKY QUICK: Hi Oscar, good to see you. We had Ed Bastian on last week with his earnings too for Delta. The point he made is that he is taking market share, he thinks, from United and some of the other carriers that do have the 737 Max just because they've been able to add flights, they've been paying their pilots overtime to try and get some of those up. He seems to think that those market gain shares will stick. What do you say to that?
OSCAR MUNOZ: Well, it's a competitive business. And I think our competitors are allowed to say what they want. I say good luck to them. But, I think we like to earn our customers by giving them great service, not because of something that happened to somebody else. So, we're confident in our own markets that the places we fly and the way we make you feel on the flight will be a significant benefit. So, not completely worried about that.
BECKY QUICK: Lee Cooperman is here too.
LEON COOPERMAN: Shout out. I want you to know that I have three 5% positions in the family office. You're one of the three. You've done a great job for me and I appreciate it. I wanted to let you know but my wife and I flew back from Rome. Your Polaris project is fabulous. The best seat in business first class I've ever been in. Tomorrow morning, I will be flying to Florida in coach. My rule is under 3 hours I go coach. Over three hours I go business first. And I just want you to feel good about yourself because you're doing god's work basically.
UNITED AIRLINES CEO OSCAR MUNOZ: Wow.
LEON COOPERMAN: I'm giving pledges to Mr. Buffett. I'm giving all my money back to charity. And the more money I can make the more I can give away. And that makes me feel good. So, thank you.
UNITED AIRLINES CEO OSCAR MUNOZ: Well, Mr. Cooperman your fiscal policy and philosophy is always something we've aligned with. And we've talked more than a few times about your views on our business and I'm glad you're continuing to be a supporter and I'm glad that you enjoy our product and thank you for your philanthropy as well.
PHIL LEBEAU: Oscar, one last question for you—
LEON COOPERMAN: Just keep beating and raising, beating and raising, beating and raising, that's the secret. And keep doing capital management—
OSCAR MUNOZ: That's eight quarters in a row we've done that, by the way.
LEON COOPERMAN: By the way, these guys –
PHIL LEBEAU: Oscar, one last question—
LEON COOPERMAN: -- 35% of their company in the last three or four years, the stock is 50% higher than the average price they paid. And they have an authorization to buy back another 16% on the books. They've done a great job in capital management.
ANDREW ROSS SORKIN: If Bernie Sanders has his way they won't be able to buy back anymore stock.
LEON COOPERMAN: Well, I don't think Bernie Sanders has the chance of being the next president. I thought he looked pretty good last night. I congratulate him. I'm happy he's healthy. I'm happy he's back on the trail. But I would like to have him relax a little bit. I was told I was in a list of ten people he wouldn't take money from. He doesn't have to worry, there's no chance I'd ever give him any money.
BECKY QUICK: Hey, Phil?
PHIL LEBEAU: Oscar, one last question for you.
UNITED AIRLINES CEO OSCAR MUNOZ: Sure.
PHIL LEBEAU: You guys talk about the costs and the expectation is that they're going to be rising in the fourth quarter. Are you worried that that trend line continues into next year?
OSCAR MUNOZ: First and foremost, we always manage costs. And we have I think the best sort of performance over the last three years. 0.3 when we finished the year over three years of our costs which is significant and leading. But, as costs go up, the reason they're going up is because our profits are going up, right?
We're investing in our customers, in our people and that's creating that EPS line. So, it's important to, again, focus on the bottom line. But of course, we'll always worry about costs. We'll be guiding on our call later this morning.
PHIL LEBEAU: Oscar Munoz, the CEO of United Airlines, the day after they post better than expected earnings for the third quarter and raise their full-year guidance. Guys, back to you.
BECKY QUICK: Phil, thank you. Oscar, thank you. Good to see both of you.