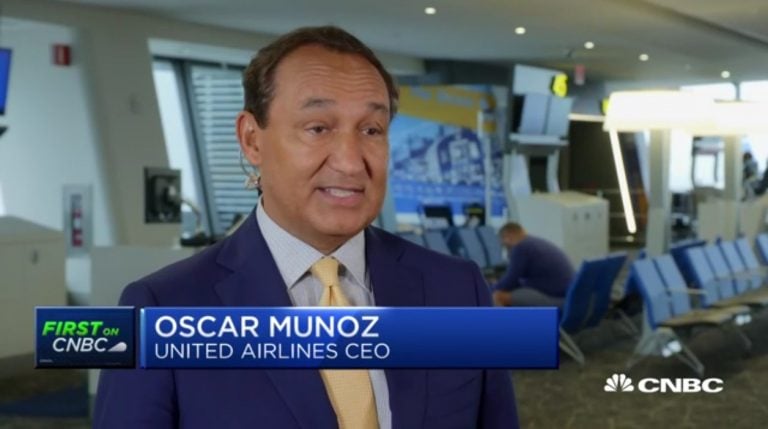 CNBC Exclusive: CNBC Transcript: United Airlines Holdings Inc (NASDAQ:UAL) CEO Oscar Munoz Speaks with CNBC's Becky Quick Today
WHEN: Today, Tuesday, September 24, 2019
WHERE: CNBC's "Squawk Box" – Live from CNBC Evolve Chicago in Chicago, IL
Choice Equities Fund March 2021 Performance Update
Choice Equities Fund generated a net return of 29.2% for the 1Q 2021 resulting in annualized returns of 31.7% per year since inception of January 2017. Q1 2021 hedge fund letters, conferences and more Choice Equities Fund, LP Overview Choice Equities Fund ("CEF" or the "Fund") is an investment partnership that seeks to generate market-beating Read More
The following is the unofficial transcript of a CNBC EXCLUSIVE interview with United Airlines CEO Oscar Munoz and CNBC's Becky Quick on CNBC's "Squawk Box" (M-F 6AM – 9AM) today, Tuesday, September 24th. The following is a link to video of the interview on CNBC.com:
Q2 hedge fund letters, conference, scoops etc
Watch CNBC's full interview with United Airlines CEO Oscar Munoz
BECKY QUICK: Hey, Joe. Thank you, guys. Joining us right now is Oscar Munoz. He is the CEO of United Airlines. And Oscar, you are somebody who has evolved this company, I think, three or four different times in the five years you've been running it. How do you do that and how do you keep handling this stuff? How do you keep coming up with it? And where is United now, versus when you took over?
CEO OSCAR MUNOZ: Well, thank you for that. And I appreciate being special as a guest, like all of us. You know, this is a labor of love. We have 95,000 employees worldwide. And one of the things that I think we've all felt for a long period of time is the pride and professionalism in serving you as a customer. We just hadn't been able to unlock it with tools, with culture, with involvement or engagement and listening to them. And I think that's been a huge factor in the things that we have done. It's not magic, it's just really hard work.
BECKY QUICK: I mean, when you came in, I remember. I fly United often. You guys are my hub. You're my home. I remember when you came in not particularly liking flying on United because it seemed to me that the employees were always grouchy and grumpy. I know that was the first constituency head you listened to. But then, Dr. David Dao, that made you kind of hit the shift gears a little bit. You really had to get into the idea where you were listening to customers, too.
CEO OSCAR MUNOZ: Well, we accelerated the program, is what it ended up doing. People always ask me about that event and we're hoping it goes into the distance in our history. And I hope it doesn't to some degree because it reminds us constantly every day of how important and how critical our everyday treatment. We have a saying, 'Every customer, every day, on every flight,' which is a really tall task. We fly 160 plus million folks. The majority, the vast majority of those flights are on time without incident. But even a small percentage of that large number has an issue.
And of course we do live in a world where everything is very visible and transparent and people will communicate via their own devices and stuff. And that's just an aspect of what we have to worry. Just like our business model, right? Things happen all the time in our business. And we can stand around and say, 'Oops, oops, oops.' We'd prefer to actually just deliver and continue to deliver on the promises we make to investors and to our customers.
BECKY QUICK: Alright, let's talk about some of the issues you're facing on a daily basis. A lot of issues the street is thinking about, too. Probably first up is what's happening with the 737 Max. We just heard the new head of the FAA saying he's not going to certify this thing until he flies it and he's satisfied with it. He's a pilot so he knows what he's talking about. What's the latest you've heard? What's your best guess?
CEO OSCAR MUNOZ on FAA regulations
CEO OSCAR MUNOZ: Yeah, we were just with them the other day. And I think it's exactly as you said. I think the process has to happen. All the people in the world have to be assured and made confident that this is an aircraft that's safe. We've said from day one that I would fly the first one on United but more importantly, that the safety and the security of our employees and customers is paramount. So, we won't move on that aircraft until the FAA has certified, certainly. We hope other people around the international space also do it and in very closely knit because I think that will be helpful. But other than that, I think the work has to be done.
BECKY QUICK: What does that mean in terms of when you're planning on putting it back in your schedule? How far off have you said, 'We know it's not going to be—'
OSCAR MUNOZ: There's a lot made up of, 'Well, you did this date,' and somebody else did two weeks later, or two weeks before that, and all that. There's -- nobody knows exactly. We have change over periods in our schedule that are just internal to us. So, we will – for instance, we have it in the middle of December, December 19th. I think others have it a few weeks later. That's nothing important. We don't know anything more than anyone else. It's just an appropriate schedule aspect for us. And if that turns out to be not the date, like we have done over the course of the year unfortunately, we'll move the date.
BECKY QUICK: And I guess the reason people are so eager to try and figure out when it's going to happen is because it does matter to the bottom line. What's the impact if it gets moved back another two or four weeks?
Security
CEO OSCAR MUNOZ: It sounds like this, you know, this CEO talk about the safety and security of employees and customers. It is all about the safety and security of our customers, period. The commercial aspect, the operational aspect we've been dealing with all the course of the year. You haven't seen us change our guidance. You haven't seen things. We are, towards the end of the year, we'll be canceling about 100 flights per day.
BECKY QUICK: Wow.
CEO OSCAR MUNOZ: But our team has done an amazing job of using different aircrafts, upgauging aircraft, adjusting our schedules. So, we can actually take care of as many customers as possible as opposed to canceling. Yeah, it's not optimal. But, again, safety and security become paramount.
BECKY QUICK: Have you talked to Boeing about any potential make goods, any discounts down the road? Where are you in those conversations?
CEO OSCAR MUNOZ: Yeah, I think those conversations are going on across the industry. Nothing of any particular specificity, other than the fact that we'd all like to get the aircraft back safely and soon.
BECKY QUICK: Let's talk a little bit about what's happening around the globe in terms of what you see from demand --
CEO OSCAR MUNOZ: Where do we start?
BECKY QUICK: Really. It seems like we're in a pretty good economy here in the United States. But you are traveling internationally, you're taking people for business, you're taking consumers. Where have you seen pockets of strength and pockets of weakness?
CEO OSCAR MUNOZ: Well, gee, let's go around the world. Central and South America: Argentina not so good. Brazil pretty good. So, overall Latin, strong. The – we talk about Europe. I think the outbound to Europe is very strong. A little weak coming in. Brexit and other things are probably affecting folks. So, you know, the political winds do affect the economy, obviously, and customers' desire to travel. The far East, overall East is hanging in there. China has been a bit softer. Hong Kong in this last quarter was awful. It's as simple as that. For obvious reasons.
We take-- make adjustments to our schedule. We've done so to Argentina. We've done so to Hong Kong. And we will continue to do that. But overall, our data is strong. Our bookings are strong. Our yields are strong and our operational things—and our plan is solid. I know we try to use the R word a lot and it's a big conversation in some place. And I know we often say let's not talk ourselves into it.
BECKY QUICK: Into a recession. The R word -- this is like Voldemort – the word that you won't say.
OSCAR MUNOZ: Let's not talk ourselves into it. Again, we watch the data and it's so critical to watch and if we don't get it right and adjust our schedules accordingly, our bottom line does get impacted.
BECKY QUICK: You probably can see out for months, just based on bookings and consumers. I mean, you would seem to be a leading indicator.
CEO OSCAR MUNOZ: Well, you know what, I used to be in a railroad business. That was a leading indicator by and large. Much more so than ours. We have a lot of close end bookings, folks like you, bankers, lawyers who have to get to a certain place. They're often told, 'Hey, listen. I need you in London Friday.' And so, that close end booking is a big part of our business. We have a very segmented airline.
But at the same time, we live in the largest business markets. So, that's a big portion to us and so, we don't have as much insight. So, we watch all of this closely. We're watching a few weeks out. We have all of these wonderful charts that indicate strength or weakness or trends. And again, most of that data continues to suggest a strong thing and we just reaffirmed our guidance for both the quarter and the full year, despite fuel prices. You want to talk about fuel as well, I suspect.
BECKY QUICK: We do.
OSCAR MUNOZ: But – so, we're in a good place.
BECKY QUICK: Let's talk about fuel. Because we did see oil prices spike pretty significantly at the beginning of last week. Just based on what we saw with Saudi Arabia and the tax effects there. How are you dealing with it? Prices didn't stay as elevated as some people expected. How do you handle kind of handle it?
CEO OSCAR MUNOZ: Well, it's a couple of things. The geopolitical tensions in that area and issue are really important and really serious. And we hope most of that gets worked out. With regards to -- I'll talk about our industry as a whole. We've become infinitely more resilient to those things. That kind of impact would have historically hit ourselves and over the last couple of spikes in oil that we've seen, the stocks tend to drop in the first day. We dropped about 3% which wasn't too bad, but then rebounded the following day. Fuel prices didn't move as much. They also rebounded. I think the folks in Saudi did a nice job of recovering that capacity and managing the crisis and the issue. But, right now, again, we've reaffirmed our guidance after we saw the fuel prices spike.
BECKY QUICK: When you say that you did a better job in the industry of managing, does that mean you're hedging it more? I mean, part of it is the United States is just producing more.
CEO OSCAR MUNOZ: I think it's a concept of what we do in the marketplace. I think, by and large, we've learned to accept that fuel has volatility. Hedging, some people do but most people do not. Over the long run, that has mixed records, I'll say. So, no, it's just running a business with volatility. We have weathe and we have lots of weather. We have to get better at managing weather.
In fact, one of the new initiatives you'll hear from us over the next few months is how we're sort of -- want to try to revolutionize how do we deal with weather. Because telling you there's bad weather, and you can't fly, you don't like it, you're upset. And some point in time we have to tell you – it's like, Listen, we can tell you ahead of time. Whatever it is that we need to do to not make you as uncomfortable as weather currently does for people.
BECKY QUICK: What's your biggest complaint with the stuff you can't control right now?
CEO OSCAR MUNOZ: The stuff we can't control, you can't control. You know, we all wish mother nature was on our payroll.
BECKY QUICK: I just think about some of the things at the FAA, air traffic control, some of those issues. I mean, those are out of your hands. Or TSA, trying to get people through lines faster.
OSCAR MUNOZ: Yeah, this is an industry and a business and a job where there is very few areas that don't affect you. And we can't walk around saying, 'Oh, woe is me.' We just educate. We educate. We -- constantly. Very transparent about everything. I mean, I can't tell you – I will stand up -- I was diverted recently and I stood up --
BECKY QUICK: You were?
CEO OSCAR MUNOZ: Yes. Happens to everybody, which is the great part. Because people are like 'No, this can't happen.'
BECKY QUICK: Where were you going? Tell me this.
OSCAR MUNOZ: We were coming -- I was coming to Chicago. We went to Grand Rapids. It was one of those days in Chicago where it was difficult.
BECKY QUICK: That's hilarious. You feel our pain.
OSCAR MUNOZ: And everybody gets upset. And I'm sitting in the back. And it was a great event. I got up and talked to folks and we explained questions. Somebody wanted to get off the plane there on a live tarmac and get an Uber because it was closer to where they were going than Chicago was. And I said, 'Yeah, we're not going to do that and here's the reason why: it's a live runway.'
BECKY QUICK: And you might get run over.
CEO OSCAR MUNOZ: People want to get off. But it's often better to stay on the aircraft, and wait it out, and just get in line to get back. It's all these kinds of questions come up. People shared food. They brought out bags of Taffy. It was a wonderful event. You can make difficult issues easier.
BECKY QUICK: You were in the back of the plane, did I hear that right?
OSCAR MUNOZ: Well, 24 or something.
BECKY QUICK: You were?
OSCAR MUNOZ: Short flight.
BECKY QUICK: Did anybody know who you were when you got on the plane?
CEO OSCAR MUNOZ: You know, it's interesting, in our business and I think all my peers would say the same thing. The more to the front of the cabin you are the more people know you and recognize you. Towards the back, there is a very high percentage of people that don't fly very often. That's part of the issue. If you haven't flown in a year, things have changed on bag size, a host of things. So, that's some of the frustration. Which is why we say, 'Every customer, every flight, every day.' We have to make sure people who don't fly often are communicated to in a way that's practical, reasonable, logical. And that they know what to expect.
BECKY QUICK: You're like undercover boss. Oscar, thank you. We really appreciate your time. Oscar Munoz is the CEO of United. And thanks for your time.
OSCAR MUNOZ: Thank you.