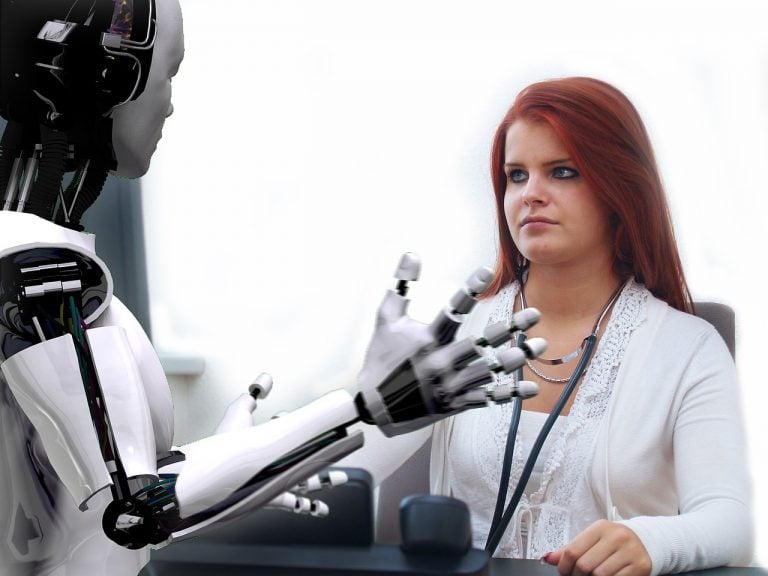 The idea of technologies like artificial intelligence (AI) and robot doctors conjures up images of all-powerful machines taking over our lives. But the reality is quite different from this.
These advances and breakthroughs often have a favorable effect on people's lives and the world, though they're typically introduced at a breakneck pace and can leave your head spinning as you try to comprehend them. With this in mind, here we explain four of the most exciting and world-changing technologies.
Q2 hedge fund letters, conference, scoops etc
Marathon Partners: There Is A "Compelling Opportunity" In US Cannabis
Marathon Partners Equity Management, the equity long/short hedge fund founded in 1997, added 8.03% in the second quarter of 2021. Q2 2021 hedge fund letters, conferences and more According to a copy of the hedge fund's second-quarter investor update, which ValueWalk has been able to review, the firm returned 3.24% net in April, 0.12% in Read More
1. Big data and AI
Big data helps organizations better understand, target, and serve customers through the creation of predictive models and adaptation to customer preferences.  Additionally, big data in the form of real-world location data can also give businesses, especially those in the retail sector, deep insights into customer behavior.
Additionally, massive volumes of data can be efficiently processed to enhance supply chains, production, operations, cost reduction, planning, and forecasting. Big data is also invaluable for creating smarter, more liveable cities with effective infrastructure and reduced congestion.
On the other hand, AI enables businesses to connect more successfully with customers. This is because it helps businesses create personalized content and real-time targeting so they can promote the most relevant product or service offers.
Behavioral targeting and automatic AI-enabled messaging could give consumers a streamlined buying experience. The customer experience can be further enhanced with AI tools like 24/7 chatbots, self-service ordering, and automated queue management.
2. Driverless cars
While the odd accident involving autonomous vehicles receives extensive media coverage, autonomous vehicles will likely significantly reduce car-accident-related deaths. By 2050, autonomous vehicles could also cut annual road tolls by as much as 90%. In addition, intersections and roads will probably become safer for pedestrians and riders alike.
Driverless cars could lower car ownership, making low-cost, on-demand private car travel possible. This would reduce the tens of dollars car owners currently pay for their cars, insurance, licensing, maintenance, and repairs. Additionally, people that are housebound due to disability or illness could enjoy more independence, mobility, and employment options thanks to cheap, abundant paratransit services.
Urban centers could be transformed from the car-focused hubs they are today into pedestrian-friendly spaces. Other impacts of driverless cars could be a reduced need for parking spaces and less time wasted on trying to find parking.
3. Robot doctors
According to research, 71% of seniors suggest that technological advances allow them to be more independent, yet 35% find technology more frustrating than fun. But what about technology that gives seniors better healthcare and health outcomes? If the idea of a robot doctor sounds far fetched, rest assured it's likely only one or two decades away.
AI-powered robot doctors could soon be diagnosing and treating patients successfully - and far more effectively than human doctors. In fact, AI is already widely used in healthcare, especially for pulmonary disease and radiology. AI is also used in spinal surgery, prostate cancer treatment and diagnosis, heart valve surgery, predicting life spans, and detecting diabetic retinopathy.
Due to their ability to process massive amounts of data, robots are already used to create health management plans for oncology patients based on millions of reports, journals, clinical trials, and patient records.
Robot therapists are also already used for millions of therapeutic conversations with patients. Eventually, robots doctors could be used to make more accurate diagnoses for diseases like pneumonia, breast and skin cancers, eye diseases, and heart conditions.
4. 3D printing
3D printing has been described by some as the future of manufacturing, ushering in a new industrial revolution. It works by printing successive layers of materials like plastic to create a specific object, whether from a software design or a scan of an existing object.
3D printing is already encouraging local production and manufacturing close to or at the point of consumption. Consumers could enjoy more customized items for everything from car parts to home interiors. 3D-printed houses, hamburgers, and aerospace equipment are already a reality.
Even the healthcare sector is making use of 3D printing, with printed body parts like jawbones used for implants. Eventually, 3D printing could be used to print drugs and create highly personalized chemical compounds.
The impact on business
It's probably human nature to be somewhat skeptical about new technology, but when it comes to these four trends, they come with genuine positive impacts. Used correctly, big data, AI and 3D printing can enhance our cities, allow consumers to get the products and services they need, which help businesses capitalize on resources. Likewise, driverless cars and robot doctors could eventually save a lot of lives and improve living standards.
Ultimately, these four technologies have this degree of positive impact because they allow organizations to replicate and automate important processes. They're capable of using and applying data in new ways, often at volumes and speeds not feasible for humans, and they utilize insights to achieve resource efficiencies, a high level of personalization, and considerable accuracy. As such, they could represent the best of what technology can do for humans.