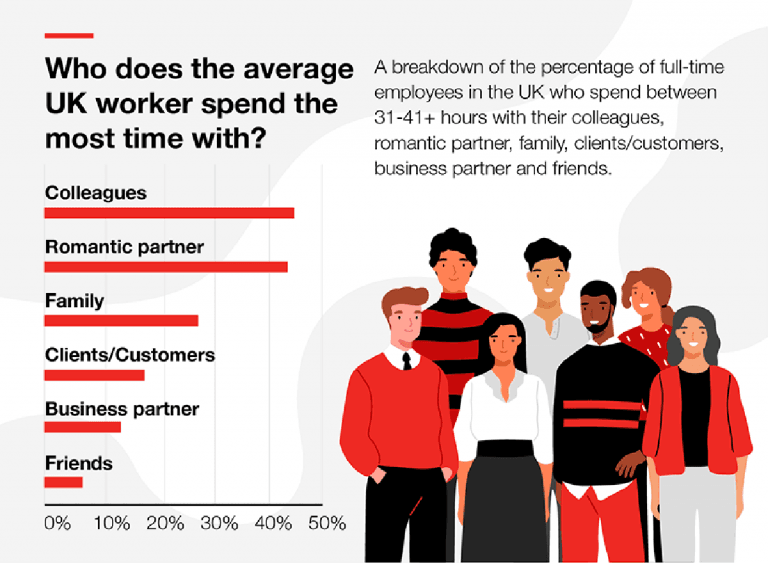 9 in 10 People Believe That Work Friends Improve Job Satisfaction & Boost Productivity
Popular belief may suggest that bonding with a desk buddy will result in low productivity, however new research by small business insurer, Hiscox suggests the opposite as it reveals the importance of friendships in the workplace. The study found that getting on with the people you spend the most time with is what makes employees happy and therefore, more efficient at work.
Q3 2019 hedge fund letters, conferences and more
Despite 60% Loss On Shorts, Yarra Square Up 20% In 2020
Yarra Square Partners returned 19.5% net in 2020, outperforming its benchmark, the S&P 500, which returned 18.4% throughout the year. According to a copy of the firm's fourth-quarter and full-year letter to investors, which ValueWalk has been able to review, 2020 was a year of two halves for the investment manager. Q1 2021 hedge fund Read More
Here's what the study unearthed:
Having friends at work = job satisfaction
With the majority of the day spent at work, it shouldn't come as a shock that Brits are spending more time with colleagues than anyone else in their lives. By working full-time jobs at around 35+ hours a week, it's inevitable that friendships will form in the workplace. Turns out, this is a good thing as 92% of employees believe that having friends at work improves their job satisfaction.
When workers are happier and more satisfied, it can bring a load of benefits to a business including better productivity and an improved rate of staff retention. Naturally, people want to stay where they feel content and safe, meaning businesses are less likely to go through the costly re-hiring process, training and integration of new members. And, more companies are starting to understand the importance of ensuring fulfilment among their ranks by creating opportunities for workers to socialise, such as free drinks after work, dedicated games or social areas and team outings. By taking this time to create connections with others on more than just a professional level, it creates a sense of belonging within the team. This can have a positive ripple effect across the business with employees being more productive in the long run.
Raghav Parkash, a Business and Life Coach expert, agrees, "friendships at the workplace can increase our job satisfaction, as the working environment becomes more enjoyable. It also creates a sense of familiarity and safety, similar to what we feel at home surrounded by our family and loved ones."  Unsurprisingly, 44.4% of Brits spend more than 31 hours a week with the people they work with, compared to an average of just 1-10 hours spent with friends and family. This time at work adds up to a minimum of 67 full days a year that people are spending in the office, so job satisfaction can play a vital role in employee happiness.
Teamwork makes the dream work
Feeling at ease with colleagues in more than just a professional sense can lead to people being more open and willing to lend a hand to others. This is cemented by 90% of Brits saying that being friends with colleagues makes it easier to work with them cooperatively. By creating a strong support system at work, employees find it easier to communicate with others.
The proverbial 'I'll scratch your back if you scratch mine', when it comes to sharing the workload is beneficial for workers, as issues are likely to get resolved faster, making problems seem more manageable. Parkash adds that, "there will be many discussion points that seem daunting or challenging to bring up with a manager, but having a friendly dynamic really helps to make those difficult conversations and moments even easier." Establishing strong and open communications with co-workers can mean that when problems do arise, they can lean on that personal connection to fix the issue quickly, without adding too much stress.
The secret to productivity
The study indicated that creating friendships in the office is not detrimental to productivity. In fact, it suggests quite the opposite, with 95% of Brits responding that they share work ideas more freely when they are around people they get along with. Having friends at work can give employees confidence to share thoughts with others and help hone ideas.
Efficiency also increases when friendships are encouraged in the working environment as people tend to have lower stress levels if they feel at ease. This can lead to constructive criticism from peers and can relieve pressure on management. "Positive and genuine relationships amongst employees become the catalyst of a good company culture, providing effective support systems as an alternative to turning to your manager/director," advises Parkash.
having friends at work and also outside of it
Friendships that form inside the office walls don't always stay that way. Many consider a friendship cemented when people begin to contact each other outside of working hours. In fact, the study found that 2 in 5 people have had a romantic relationship with someone they have worked with. Marisa Guthrie, a Business Coach, explains, "when we invite anyone into our lives and deepen our emotional connection with them then we are asking them to become a friend, so this might mean spending time with them outside of work or introducing them to significant people in our lives."
From afar, it may look unproductive to see a group of employees lingering a little too long by the coffee machine or unnecessarily chatting across computer screens, but those friendships forged through commination is something to be encouraged. The solidarity and closeness that comes through friendship not only boosts job satisfaction but improves output, which is something worth investing in for every business.