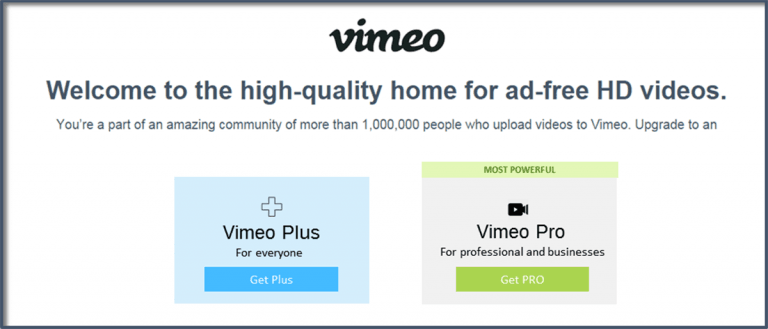 There is a slew of video hosting services on the internet. With both free and paid platforms available, users are often tempted to save money. However, premium options like Vimeo's Plus and Pro entice marketers with some added features.
Below, I will explain the different versions of Vimeo and how you can utilize their many offerings.
Let's begin.
Carlson Capital Thinks The SPAC Boom May Be Over [Q1 Letter]
Carlson Capital's Black Diamond Arbitrage Partners fund added 1.3% net fees in the first quarter of 2021, according to a copy of the firm's March 2021 investor update, which ValueWalk has been able to review. Q1 2021 hedge fund letters, conferences and more At the end of the quarter, merger arbitrage investments represented 89% of Read More
[REITs]
Q2 hedge fund letters, conference, scoops etc
Vimeo Plus or Vimeo Pro: Head to Head Comparison
Vimeo Plus provides 5GB weekly and 250GB annual storage capacity. It lets the users analyze advance statistics and offers them priority support. It costs $5 per month which is a reasonable price. It's a simple package that lets subscribers benefit from Vimeo's high-quality streaming capability.
Comparatively, Pro has a 20GB weekly and 1TB yearly storage. Another appealing feature of Pro is that it comes with prioritized support and privacy protection. Professionals can make players customization and get priority while converting videos to proper formats. Of course, this version is costlier as you will need to pay $17/month. But you can cut down this price by using Vimeo Pro promo codes. Regardless, there are some exceptional features in Vimeo Promo that make up for the steep price tag.
With Vimeo Pro, marketers gain stats reports and advanced analytical tools unlike anything provided by other video hosting sites. You will be able to see exactly where you're losing viewers and will be able to adjust your content accordingly. It provides customization options where you can replace Vimeo's logo with your brand name. What's more, Pro has room for collaboration as you can add up to 3 team members. It also allows you to sell the videos worldwide.
Of course, none of the above features are available in Vimeo Plus.
Why Not Go For the Free Option?
Most of the readers will be familiar with the basic version of Vimeo which serves as a platform for independent producers and artists to promote and showcase their art. It is a social media platform that allows users to surf, curate and give feedback on the work of other creators.
Although it's similar to YouTube, there are some noticeable distinctions. Vimeo is basically a community of users who are there for high-quality streaming, clean and simple interface and the quick response from eagle-eyed viewers. Filmmakers and graphic artists use Vimeo to get inspiration for their work and generate new ideas.
However, companies that want to use this version for hosting promotional videos will find themselves violating Vimeo's Terms of Service, unless they're artists or producers involved in the video itself. And given the nature of the site, YouTube might provide a better audience anyway.
Another hindrance for the companies will be the 500mb weekly and a 25GB yearly storage allowance. This will put a cap on how much high-quality content you can upload.
Free version is not something I would recommend. If the paid versions don't fit under your budget, look for promo codes. As coupon statistics show, people are now using more discounting opportunities than ever before. So there's no real reason for you to lag behind.
The Final Decision on Vimeo pro
Before you make the final decision, here's what some questions you need to ask:
How often do I make videos?
Evaluate how valuable are the stats to my business
How much collaboration do I need?
When you have clear answers, weigh your options and choose the appropriate plan. It all depends on your specific video hosting needs.
Generally, organizations favor Vimeo Pro as it makes video marketing all the more convenient. With extra storage, analytical insights, collaboration tools and the ability to sell your videos, Vimeo Pro is a holistic package for business. Meanwhile, people who work within small capacity prefer pro for the limited perks it has to offer.
The buck stops with you. Take your budget, business model and video strategy into consideration and make the final decision.
Article by Evie Mason