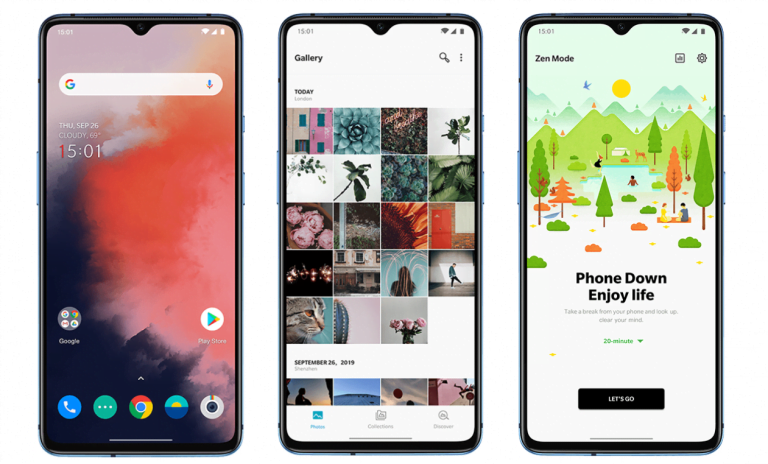 The OnePlus 7T has been launched with a simplified design and a new set of wallpapers to go with it. The device combines the OnePlus 7's premium features like the 90Hz display and triple-lens rear camera with a streamlined form factor that lacks the curved display on the OnePlus 7. The device also has a taller screen and a smaller notch than its predecessor, and its performance has received a boost with the updated Snapdragon 855+ chip. Even if you aren't yet ready to buy the new device, you can still download the OnePlus 7T wallpapers. We've got the links you need below.
Where to download the OnePlus 7T wallpapers
Artist Hampus Olsson created the wallpapers and shared them on his website in a blog post. He created the three static wallpapers, although there are also some live wallpapers that come with the OnePlus 7T.
Olsson used Blender 2.8 to make the main part of the wallpapers. After rendering them, he added the fine details in Photoshop. He used the keywords "still," "borderless" and "speed" as inspiration for the style of the wallpapers. That continues the approach put in place for the OnePlus 7. Olsson designed the wallpapers to avoid distracting attention away from the home screen while "becoming a vibrant extension of the device itself," he explained in his blog post.
Roubaix Composite February 2021 Net Return +7.87%; YTD Net Return +11.34%
The February 2021 monthly tearsheet for the Roubaix Fund Composite, a fundamental long/short equity strategy focused on small and mid cap U.S. stocks. Q4 2020 hedge fund letters, conferences and more Roubaix Composite Performance Roubaix generated a net return of +7.87% in February relative to the long-only benchmark Russell 2000 Index total return of +6.23% Read More
He also created an app called Abstruct, which contains 300 of the wallpapers he created, including the OnePlus 7T wallpapers. To download the OnePlus 7T wallpapers or any of the other papers he has in Abstruct, you can get the app here. It's only available for Android right now, but it will be coming to iOS at some point.
Live wallpapers also available
Olsson didn't create the live wallpapers for the OnePlus 7T, so he didn't offer download links for them. However, XDA Developers did manage to pull the live wallpapers from the device. They should work with other devices running on OxygenOS 10.
You can download the live wallpapers here.