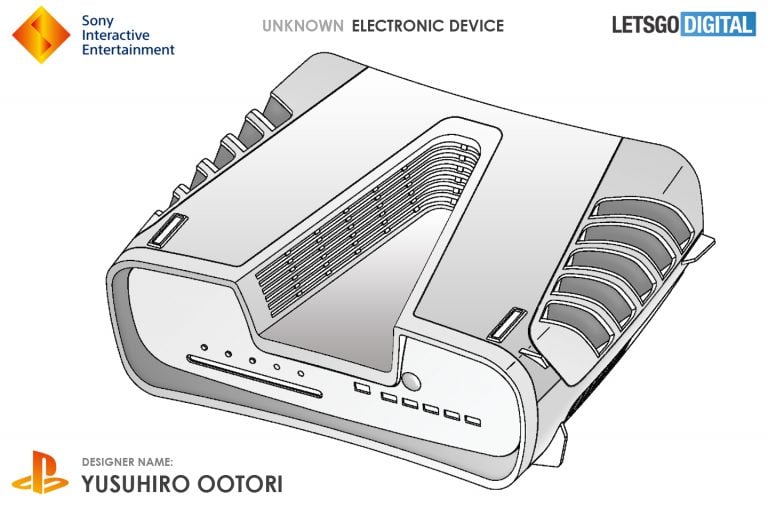 A new patent from Sony has surfaced, and it could show us what the PS5 will look like. The PlayStation 5 patent reveals a very interesting design, to say the least, although not everyone is convinced that this is the final version of the console that will be landing in households around the world.
The Dutch-language site Let's Go Digital spotted the PlayStation 5 patent. Sony applied for it at the Instituto Nacional da Propriedade Industrial in Brazil in May. The patent was then registered with the World Intellectual Property Office this month.
The diagram of the console in the patent document show what looks to be a large V-shape design. The description merely states that the device is a "configuration applied to / in electronic device," which tells us nothing. The device is categorized as "data processing equipment and peripheral equipment," which includes game consoles. Since this is where the PS4 was patented last year, it's being assumed that this device is the PS5, which is expected to be revealed in February 2020.
Alluvial Fund May 2021 Performance Update
Alluvial Fund performance update for the month ended May 2021. Q1 2021 hedge fund letters, conferences and more Dear Partners and Colleagues, Alluvial Fund, LP returned 5.4% in May, compared to 0.2% for the Russell 2000 and 1.0% for the MSCI World Small+MicroCap . . . SORRY! This content is exclusively for paying members. SIGN UP Read More
The device in the PlayStation 5 patent features a number of air ventilation holes. The V-shaped design could be a reference to the Roman numeral for five. It sports a slot on the front, which is likely a disc drive. Let's Go Digital suggests that if the device in the diagram isn't the PS5, it could be a smaller variant of it. The design also features what appear to be several connectors and buttons.
Metro suggests that the images in the PlayStation 5 patent could actually show what the developer kit will look like rather than the actual console. It would seem rather strange if Sony launched a console that's as overdesigned as the one in the patent's diagram is.
Console makers release developer kits before the actual console comes out so developers have a chance to create games for them. Developer kits also feature several modifications that don't end up in the final consumer version of the product. There have been unconfirmed rumors that developers have already had their devkits since early last year. With a February 2020 reveal expected, it's almost certain that they have their kits now.
For now we have now way of knowing whether or not the patent reveals the devkit or the final consumer design, but gamers are probably hoping this won't be the final product because it's anything but sleek.