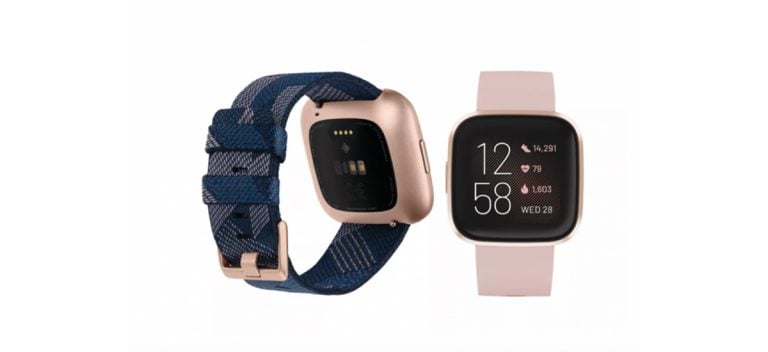 Fitbit appears to have struck a chord with consumers with its first Versa smartwatch, and if a new set of leaked photos is anything to go by, the Fitbit Versa 2 could be heading in the same direction. Twitter tipster Evan Blass posted some images he said are of "the next Versa-class smartwatch from Fitbit." The images show a device that looks quite similar to the Apple Watch in many ways.
The design suggests the Fitbit Versa 2 will ditch the LCD in favor of an AMOLED display. The Fitbit logo that was on the display is gone, and it blends with the black bezel around it. The device also features a curved glass cover and updated case with a single button instead of the three buttons that were on the original Versa.
One of the images suggests the Fitbit Versa 2 could have support for Amazon's Alexa, which would be a significant leap forward for the company's wearables. This is one particular area of weakness for Fitbit versus other smartwatches, especially the Apple Watch. By supporting Alexa, Fitbit may even come out a bit ahead of Apple in terms of specs because some might consider Alexa to be better than Siri. Inclusion of Alexa would also mean that a microphone and speaker would have to be added so the device can send and receive voice commands.
Alkeon expects data growth to surpass 5G's capabilities by 2028 [Q4 Letter]
Alkeon Growth Partners wrote at length on tech stocks and why they are defensive in their recent letter to investors, which was reviewed by ValueWalk. The fund also highlighted 5G and other advanced technologies and the investment opportunities they offer. Q4 2020 hedge fund letters, conferences and more Artificial intelligence and machine learning The Alkeon Read More
Everything else appears to be roughly the same as the original Versa smartwatch, but we would expect the Fitbit Versa 2 to have some improvements in the software and possibly fitness sensors. Such improvements wouldn't necessarily be obvious in photos like those shared by Evan Blass. The Versa 2 hasn't been announced yet, so there's no guarantee that Fitbit is even planning to call its next smartwatch by that name. There is always a chance that it will get a different name, but the company may want to build on the success it enjoyed with the first Versa model (while dismissing the catastrophic Versa Lite released earlier this year.