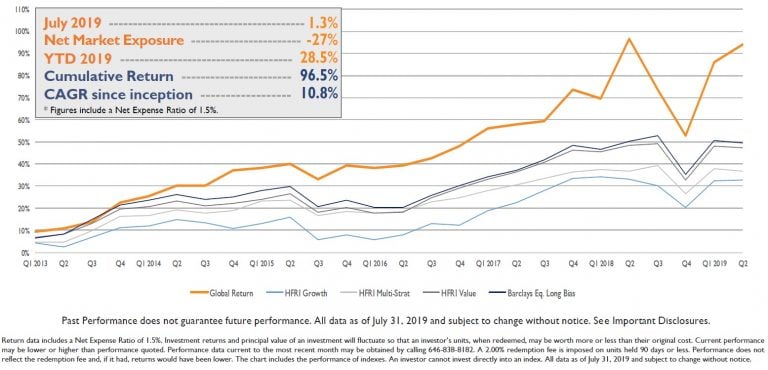 Global Return Asset Management commentary for the month ended July 31, 2019 on a stock with company's intrinsic value highly uncorrelated to macro conditions.
Dear Friends and Partners,
Exclusive: Dan Loeb's Two New Stock Picks [Q1 Letter]
Third Point's Dan Loeb discusses their new positions in a letter to investor reviewed by ValueWalk. Stay tuned for more coverage. Loeb notes some new purchases as follows: Third Point's investment in Grab is an excellent example of our ability to "lifecycle invest" by being a thought and financial partner from growth capital stages to Read More
In July we generated a net return of 1.3%, bringing our year-to-date net return to 28.5%.1
Q2 hedge fund letters, conference, scoops etc
We ended the month with 26% of assets in Cash and a net market exposure of negative 27%.
Expanded Commentary on Risk
Global Return has a differentiated view of Risk, which is demonstrated in our risk-adjusted returns.
Last month I provided commentary on how our risk management process minimizes our portfolio's exposure to broad market systemic risks, such-as trade wars, corporate debt levels, and interest rates. This month I'm providing an example illustrating how our risk management process identifies investment opportunities that will perform irrespective of these systemic risks.
The company in this example, which was added to the portfolio last quarter, is an industry-leading medical technology device manufacturer. Its revolutionary product alleviates a painful condition that impacts 28% of Americans ages 50 and older.

Last week the company reported year-over-year revenue and earnings growth of 19% and 60% respectively. But the company's growth is only just beginning. For example, the aging population in the U.S. will be expanding year-over-year for decades, which places the company in a large and growing addressable market. Plus, the company is just now beginning to expand its geographic footprint, having recently received government approvals to operate in 34 countries. Add to this a sales force that's growing 30% per year and exclusive coverage with 33 insurance companies. And finally, defending the company's many growth prospects is an intellectual property portfolio of 67 existing patents and patents-pending, and a management team with a proven track-record of execution.

From a broad market perspective:
Will a trade war with China erode this company's intrinsic value? No.
Will U.S. corporate debt levels decrease the company's intrinsic value? Not at all.
Could interest rate expectations diminish the company's intrinsic value? Doubtful.
Is the U.S. population aging? Absolutely.
Do aging people want pain relieving medical devices? Probably most do.
You get the point...
That said, could the company's stock price be pulled down with the broader markets? Of course. No company is immune to the markets, but part of our criteria is selecting companies with intrinsic values insulated from these systemic risks. As a result, when markets do decline, we have an opportunity to buy more stock with less money, which is a key aspect of how I've generated the long-term risk-adjusted returns I have.