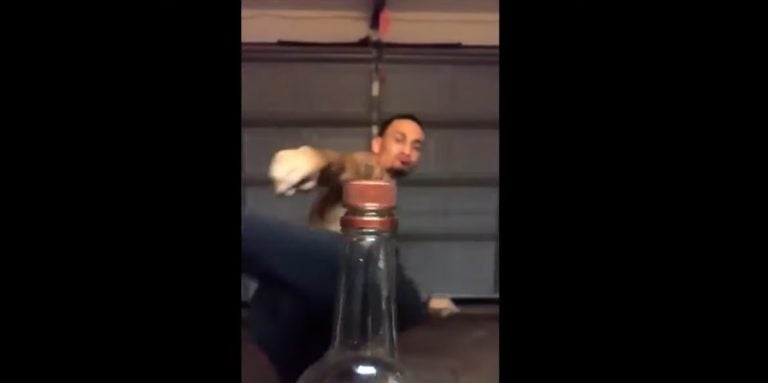 The Bottle Cap Challenge is making its way across social media. Professional and amateur participants in mixed martial arts (MMA) are challenging each other to spin-kick caps off bottles. Although the origins of the challenge are unclear, it became popular recently when ACRONYM designer Errolson Hugh challenged reigning UFC Featherweight champion Max Holloway.
In the Bottle Cap Challenge, MMA fighters challenge each other to perform a spinning back kick to open a bottle. Martial artist Farabi Davletchin challenged Hugh, who performed the challenge himself before passing it on to Holloway. After performing his spin kick to take the cap off a bottle, Holloway then passed the challenge on to singer-songwriter John Mayer via Twitter.
Be curious my friends! #challengeaccepted #bottlecapchallenge Passing this on to our guy @JohnMayer …. hey John if you can't complete this challenge @erlsn and I decided you have to come to Hawaii after your tour and kick it with us until you complete it! ??? ?⚡? ? pic.twitter.com/gLWn0dpOzV

Jim Chanos Unveils Lastest Short As Fund Manager Bets On Further Market Declines

Jim Chanos has a new short target in his sights. Earlier this week, the hedge fund manager disclosed that he is betting against "legacy" data centers that face growing competition from the trio of technology giants, which have previously been their biggest customers. The fund manager, who is best known for his winning bet against Read More

— Max Holloway (@BlessedMMA) June 28, 2019
When Mayer completed the Bottle Cap Challenge, he not only spun the cap around but sent it flying.
He accepted @BlessedMMA's challenge! ??

(via @JohnMayer) pic.twitter.com/B3l8jGWWKU

— UFC (@ufc) June 29, 2019
Completing the Bottle Cap Challenge takes a lot more technical effort than most of the other challenges we've seen. The Ice Bucket Challenge, which benefited the ALS Association, only required participants to allow a bucket of ice-cold water to be dumped on their head. The Bottle Flip Challenge required some talent, but comparatively less than the Bottle Cap Challenge. Participants merely had to flip a bottle and get it to land upright.
Among the others who have participated are actor Jason Statham, MMA fighter Conor McGregor and boxer Floyd Mayweather. Some children are even participating in the challenge.
Some people also had fun with the challenge because they knew there was no way they would be able to perform it.
when i try it pic.twitter.com/12ybP1Vkji

— MacMally? (@MacMallyMMA) June 28, 2019
The trend is all the rage on Twitter and other social networks as users challenge each other to either complete the challenge or at least have fun trying.
Updated on