Driving abroad can often be very confusing and knowing the laws of a country can be the small difference between a holiday to remember and one to forget.
So, just imagine, your road trip is booked, you've planned your route, ordered your hire car and have everything in place. But very often we forget to give a thought to the drink-driving laws of the countries we are going to visit. It's vital you know how much alcohol might put you over the limit.
Q2 hedge fund letters, conference, scoops etc
How Warren Buffett Uses Discount Rates To Value Stocks
Warren Buffett has never detailed the process he uses to value the businesses he acquires for Berkshire Hathaway. However, over the years, he has provided some limited insight into his methods. Q3 2020 hedge fund letters, conferences and more Based on these comments, it is widely assumed that Buffett uses a discount cash flow model Read More
Alcohol laws and legal drink-driving limits vary greatly from one country to the next, leaving unwitting tourists vulnerable to hefty fines or even a prison sentence if they are caught over the limit - so it pays to know the law.
Recent research by DiscoverCarHire.com has found that blood alcohol concentration (BAC) limits differ so much around the world that sometimes even driving over a border could inadvertently put you over the limit.
Here are a few examples.
If you are planning a road trip around the Indian subcontinent, be aware that Pakistan, Nepal and Bangladesh all have zero tolerance. But Neighboring India allows a blood alcohol concentration of 0.03%.
Big problems can arise if you drink drive around the Gulf states. Whilst alcohol is often available in hotels or resorts, Saudi Arabia has a total ban on alcohol. Qatar and the United Arab Emirates have zero tolerance approach.
Also, for example, Scotland has a lower legal limit than England. Crossing the border sees the limit drop from 0.08% to 0.05%.
Even though the legal limit in Northern Ireland stands at 0.08%, drivers crossing into the Republic of Ireland need to exercise caution. The legal limit here was recently lowered to 0.05%.
Savvy drivers on the continent should be aware of the different rules and regulations for each country that they drive through. Much of western and central Europe has a legal limit of 0.05% - but this can be lower if you're a commercial driver or under 21. France, Italy, Spain, Portugal, Croatia and Greece all share a 0.05% limit.
However, travel to Poland and the limit is much stricter; drivers here cannot have a blood alcohol concentration of more than 0.02%
Many countries have either a total ban on alcohol or a zero-tolerance approach, where it is illegal to have any alcohol detected in your blood. So, it's essential you know the law before you travel.
To help drivers navigate the legal limits around the globe, DiscoverCarHire.com has produced this map so that drivers can see at a glance what the limits are.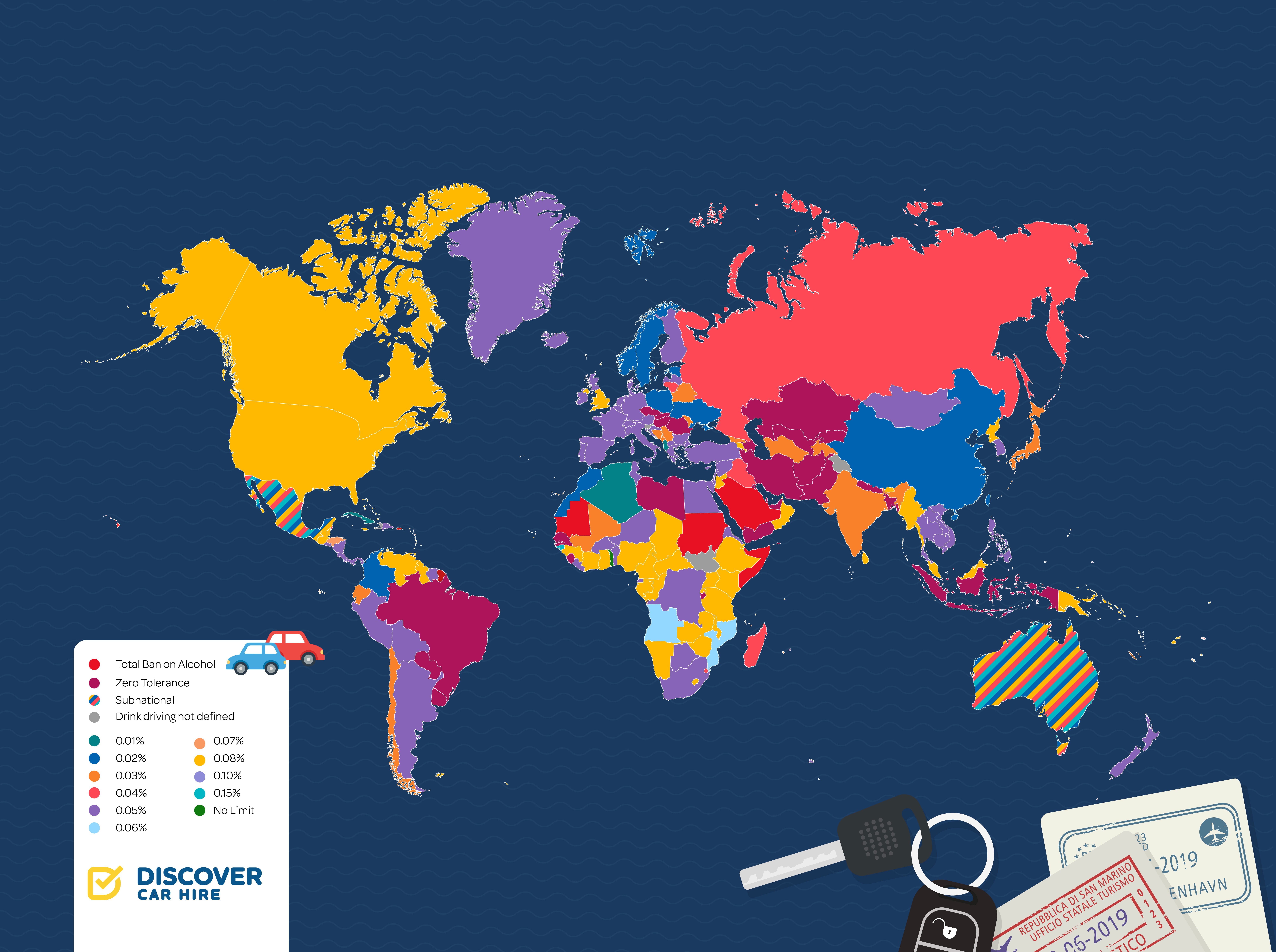 Punishments
The punishments for being caught over the limit can range from large fines to having your driver's licence suspended - and even time behind bars.
For example, in South Africa, being convicted of drunk driving could land you up to six years in prison. In Sweden, the drink-drive limit is 0.02%, drivers caught exceeding this limit face a hefty fine and up to six months in jail.
Interestingly, if you are convicted of drink driving in Malaysia your spouse can be jailed too, even if they weren't in the car at the time!
Some countries don't have any limits at all - but you can still be arrested if you're driving dangerously.
In Barbados, there's no blood alcohol concentration limit, but there is a law for driving without due care and attention. For African adventurers, Togo has no drink-drive limit, but cross the border to neighbouring Ghana and the drink-drive limit is 80mg of alcohol per 100ml of blood. On the Marshall Islands, there's no limit and drink driving amongst locals is common, especially on weekends.
In some countries, the legal limit is often lower if you're a young or commercial driver, and penalties can be more severe.
If your journey takes you across a border, then you should make sure you're aware of that country's laws, too. A perfectly legal blood alcohol concentration (BAC) in one country may be over the limit in a neighboring one. A twelve-hour road trip from Tromso in Norway to Murmansk in Russia will take you through four countries with three different alcohol limits.
So, be aware of the law and especially drink driving limits of countries you are planning to visit.