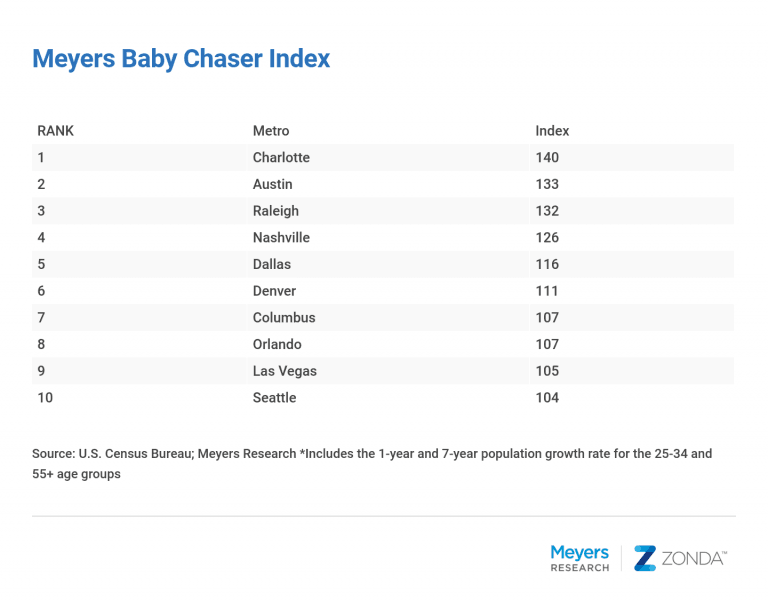 Meet the "Baby Chasers:" New Meyers Index Shows 25% of Baby Boomers Moving to Be Near their Grandchildren
Meyers Research has just released a report showing that 25% of Baby Boomers are planning to retire near their grandchildren, even if in another state. These so-called "Baby Chasers" are changing housing dynamics across the country and our Director of Economic Research, Ali Wolf, explored the markets most impacted.
Q2 hedge fund letters, conference, scoops etc
Why The Term 'Value Investing' Is Redundant
What does value investing really mean? Q1 2021 hedge fund letters, conferences and more Some investors might argue value investing means buying stocks trading at a discount to net asset value or book value. This is the sort of value investing Benjamin Graham pioneered in the early 1920s and 1930s. Other investors might argue value Read More
To capture the overlap between Baby Boomer and Millennial migration patterns, we created the Meyers Baby Chaser Index. Our index considers longer-term migration patterns as well as current trends for both demographics. The index shows:
Charlotte, Austin, Raleigh, Nashville, and Dallas are the top Baby Chaser markets
Charlotte's appeal is high for both demographics looking at the current data and longer-term trend. Nashville's relative growth, in comparison, is more recent
Dallas' growth decelerated in the latest data for both age groups but remains among the highest in the country
Florida, a magnet for retirees, has not gained as much traction by younger families. Tampa is the only Florida market in the top 15
Baby Boomers are often looked at as moneybags, but affordability is a top factor for homebuyers regardless of age. For those leaving their current city, retirees are often looking to sell their home, relocate, and pocket some money. That success depends on where they are coming from. In our top Baby Chaser market, Charlotte, for example, Rust Belt state relocators more frequently enter with less equity than those from New York. That's why it is important to measure not only where people are moving to but also where they are coming from.
"The "secret sauce" for this homebuyer connects back to key drivers for the active adult market: 1) the ability to move down in size but not quality, and 2) pay for the new home with proceeds from the sale of a previous home with some cash left over. What differentiates the Boomer buyer from their parents' retirement process is that the Boomer is moving to, not away, from the kids," explains our Senior Managing Principal, Tim Sullivan.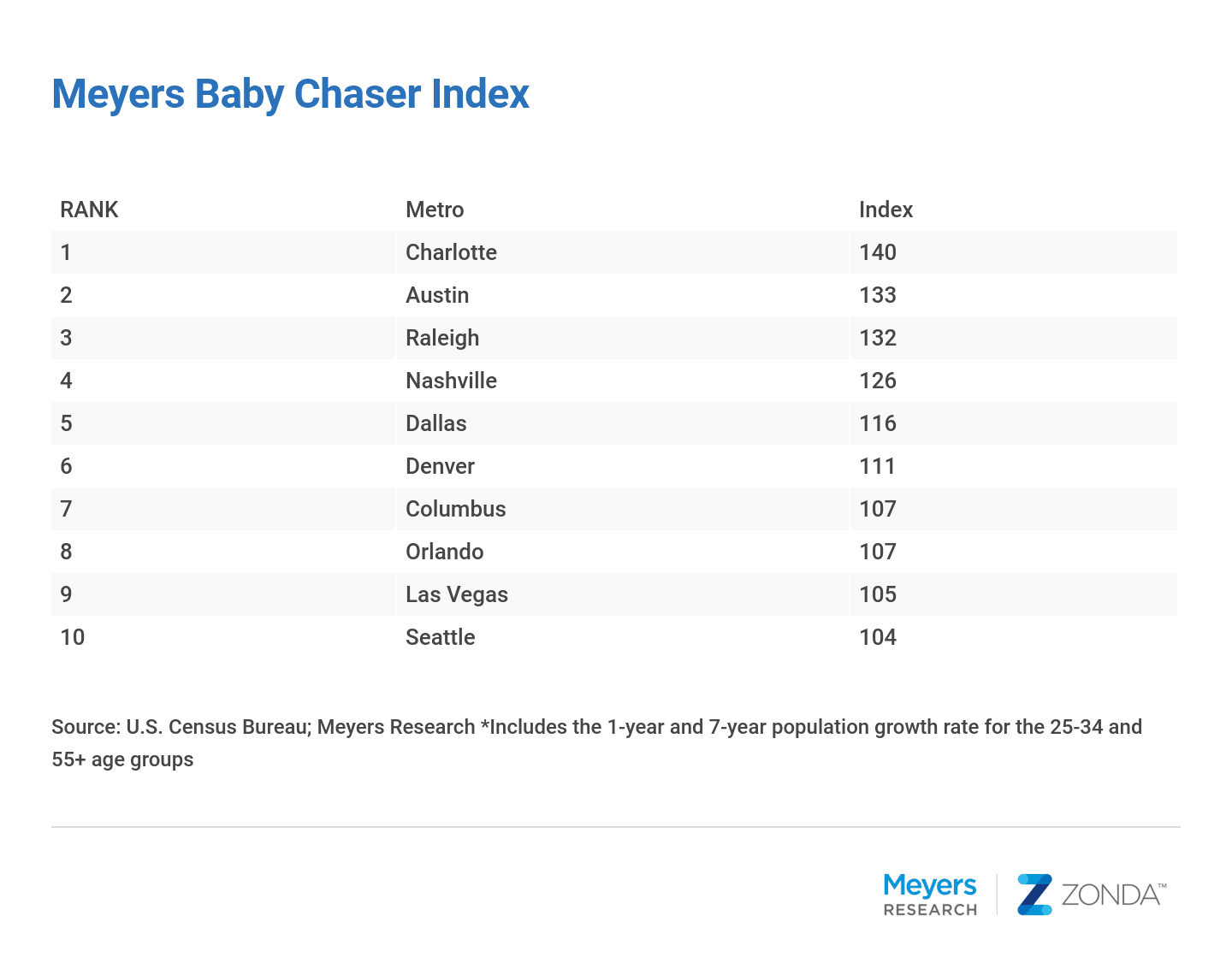 A Winning Combination In Charlotte
Across the country, we are seeing Baby Chasers scoop up homes adjacent to family-friendly locations. A great example of this is Lancaster County in Charlotte. Lancaster County is part of the greater Charlotte CBSA but is across the state line in South Carolina. "The county is a real hotbed for Baby Boomers in Charlotte," explains Shaun McCutcheon, our Senior Manager of Advisory based in the Southeast. "Lancaster has the second-highest share of active adult projects in the metro according to Zonda, which isn't surprising. The county offers affordability, recreation options, a concentration of like-minded individuals, and hits the desired sweet spot of being within a 15- to 20-minute drive to their grandkids."
Lancaster County is attracting Baby Boomers for many reasons:
Developer friendly. Planning departments are willing to work with developers by fast-tracking project approvals and allowing for density.
Sandwiched between good family options. Because of the aforementioned preferred drive time to kids and grandkids, Baby Chasers often end up either in a good school district or near one. In Lancaster County's case, the area is sandwiched between Union County to the East and York County to the West, both of which offer excellent schools and a reasonable commute to employment concentrations in Charlotte.
Favorable tax environment. South Carolina ranks a notch higher than North Carolina for retiree tax friendliness offering both some of the lowest property taxes in the country without a hit to Social Security benefits.
From our research, here are the top three things we've observed from Baby Chasers:
Smaller but not small. The top preferred size of Baby Boomers is under 2,500 square feet, according to our Consumer Sentiment and Product Insights Survey 
Make room for the grandkids. Consider larger living areas, spare bedrooms, and outside activities to keep the young ones entertained
Promote tax benefits. If your state is retiree-friendly or can benefit a buyer moving from a market negatively impacted by the changes to state and local income taxes, make that front and center on marketing materials
Thanks to technology and programs like FaceTime, moving to see grandkids grow up isn't the only option anymore. But those looking to move to the same town as their adult children often have specific needs.