Whitney Tilson's email to investors discussing the second issue of the Empire Investment Report; Short idea: Treasury Wine Estates Ltd (ASX:TWE); Travel tips: Headphones.
1) The second issue of my new newsletter, the Empire Investment Report, is being sent to subscribers this afternoon. In it, I share my in-depth analysis of one of my favorite ideas – a stock that's a good bet to double in the next two or three years. I also update my thoughts on Lumber Liquidators (LL), Berkshire Hathaway (BRK-B), Alphabet (GOOGL), Amazon (AMZN), and Facebook (FB). To subscribe and take advantage of our special offer (including a 30-day money-back guarantee), click here.
Q1 hedge fund letters, conference, scoops etc
This Tiger Cub Giant Is Betting On Banks And Tech Stocks In The Recovery
The first two months of the third quarter were the best months for D1 Capital Partners' public portfolio since inception, that's according to a copy of the firm's August update, which ValueWalk has been able to review. Q2 2020 hedge fund letters, conferences and more According to the update, D1's public portfolio returned 20.1% gross Read More
2) Since I'm in Beijing right now, I figured I'd share a stock idea from the other side of the world... At the Sohn Investment Conference last week, Angela Aldrich of Bayberry Capital (a spinoff from the legendary Blue Ridge Capital, making it a Tiger grand-cub!), gave a compelling short pitch for Australian wine-maker Treasury Wine Estates (ASX: TWE).
TWE is the world's No. 3 producer of wine and owns a number of well-known brands, including Beringer and Beaulieu. The company has enjoyed recent success with its Penfolds brand in China and its 19 Crimes wine in the U.S.
Investors have been rewarded, as the company's stock is up more than 330% over the last five years. But Aldrich warns all might not be as rosy as it seems... She points out that TWE is trading at a high valuation (28x forward EPS and 17.5x forward EBITDA), just as demand for its products is collapsing.
The bull thesis for the stock depends on three developments:
Growing wine consumption per capita in China – where its Penfolds brand is the best-selling wine in the country
Continued popularity of the 19 Crimes brand in the U.S.
Stability in the mature markets of Europe and Australia
However, Aldrich believes the company faces acute challenges that will prevent the bull case from playing out.
Most acknowledge that global wine consumption is in secular decline. The principal driver is lower consumption of wine by millennials, who prefer alternative alcoholic beverages, as shown in this chart she presented:
But Aldrich says that what's less understood is that TWE's principal segment – wines priced between $10 and $15 – is declining much faster than the overall market.
The bulls believe China's wine market is in its infancy and will grow to many times its current size. They expect China's per capita consumption of less than five liters per year will move toward Western country levels (per capita consumption of wine in the U.S. is some 10 liters per year, while that in France and Italy is more than 30). This, they claim, will allow the Chinese wine market to grow at high rates for a long time...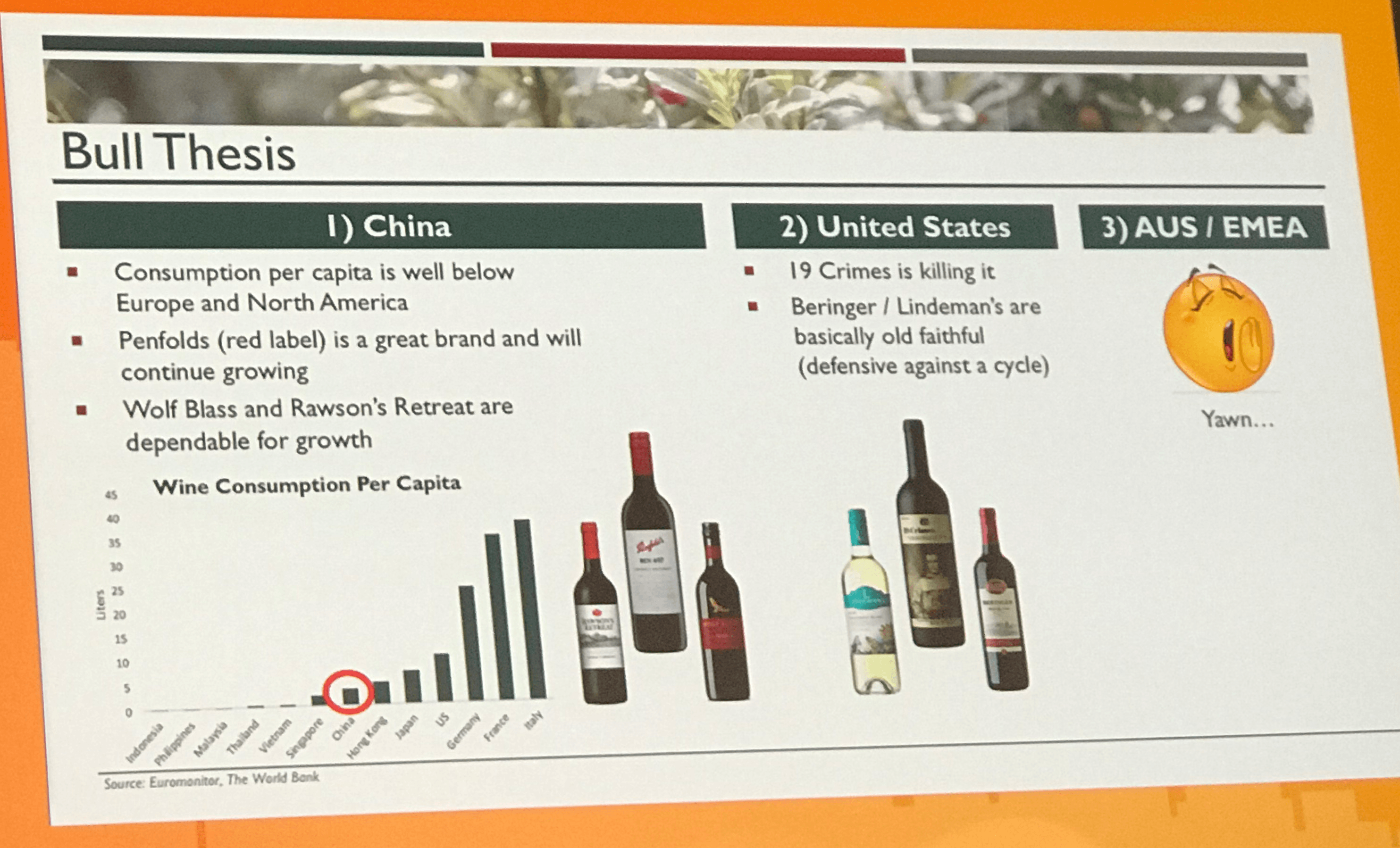 But Aldrich says this assumption is flawed. She believes the relevant market for comparison isn't the U.S. or France, but instead Hong Kong. Hong Kong is a mature wine market with cultural aspects closer to those of Chinese mainland. But Hong Kong's per capita wine consumption is only around five liters per year, with no indication it's going higher. In fact, a Chinese wholesaler told Aldrich that per capita consumption in China will never reach Western levels.
Worse yet, demand for TWE's products in China is waning. The only reason the company has been able to sell its less-desirable wines to Chinese wholesalers is by bundling them with the popular Penfolds brand. These customers have been left with warehouses full of wines they don't want and can't sell. So, they're looking for alternative brands to Penfolds to balance risk. This will cause declines in sales for the whole bundle of brands.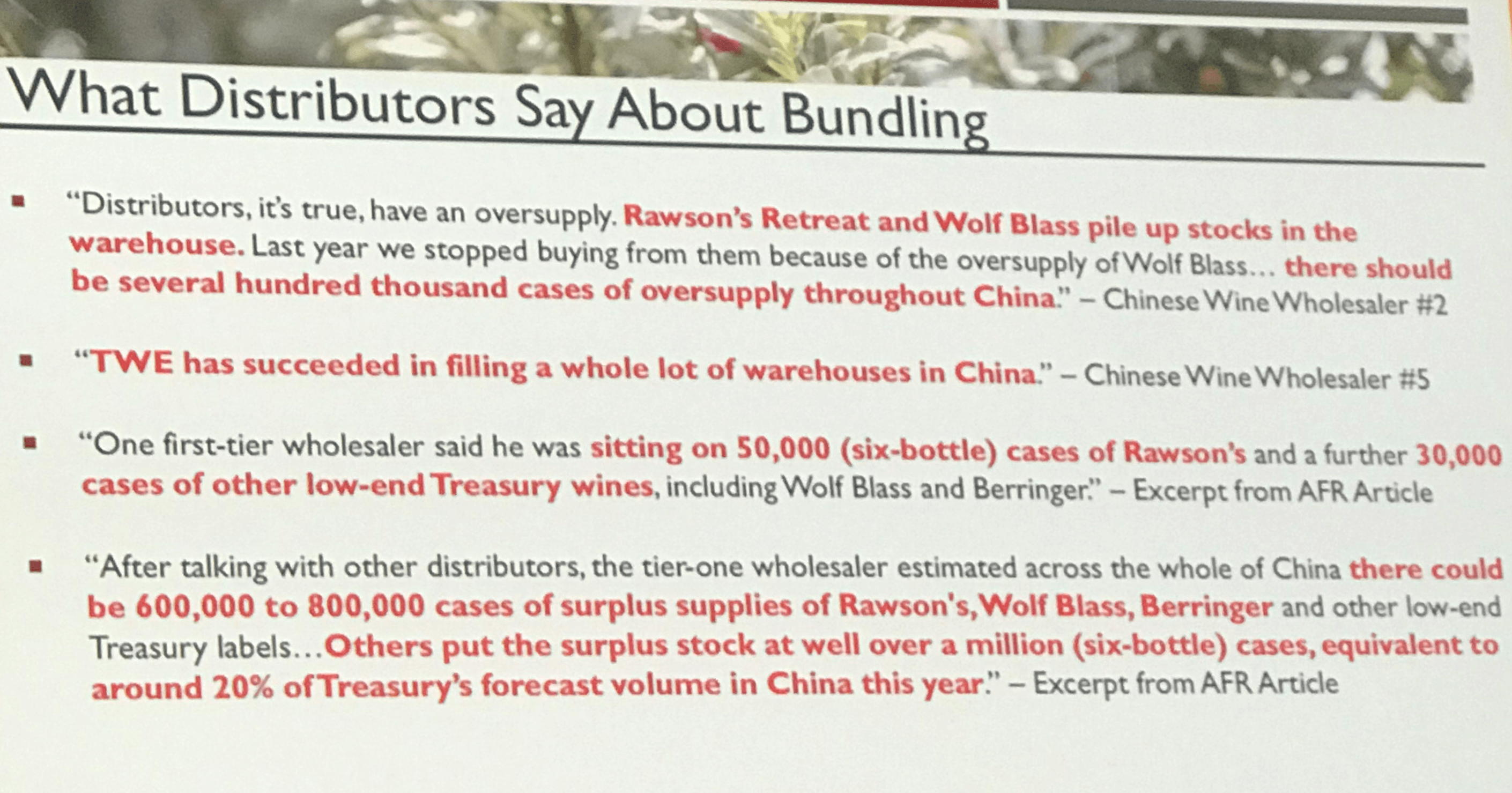 In the U.S., a wine market in secular decline, TWE relies on its 19 Crimes brand for growth. The bulls believe 19 Crimes will keep growing, but Aldrich points out that its growth is decelerating and its brand equity is fading rapidly. She presented evidence that store shelves at liquor stores are full of 19 Crimes inventory. To grow revenues, the company expanded distribution of 19 Crimes to low-end retail outlets, like 7-Eleven. The strategy requires cutting the product's price, which in the long run hurts the brand.
As further evidence that its distribution points are tapped out, TWE management decided to bring distribution in-house. But this is a risky move in a market where wine distribution is dominated by a few large companies.
In fact, E. & J. Gallo – the country's largest wine producer – failed with this strategy just a few years ago. By trying to bypass the establishment, Gallo simply lost access to many outlets for its product. The same is happening to TWE today. One wine distributor told Aldrich, "If [Gallo] can't pull it off with their mass, no one else can."
Aldrich also noted that high-level executives are leaving the company. In the last five years, TWE has lost five division heads, three global executives, and four chief financial officers.
So what does all this mean for the company's financial performance going forward?
Aldrich predicts that earnings per share – which grew 30% in each of the last two years – will show little to no growth through 2021. This should cause the market to re-rate the shares to a lower multiple. She points out that at an 18x price-to-earnings multiple (closer to that of the S&P 500), TWE shares would trade below $12, or 32% below their current price.
Here's her summary slide: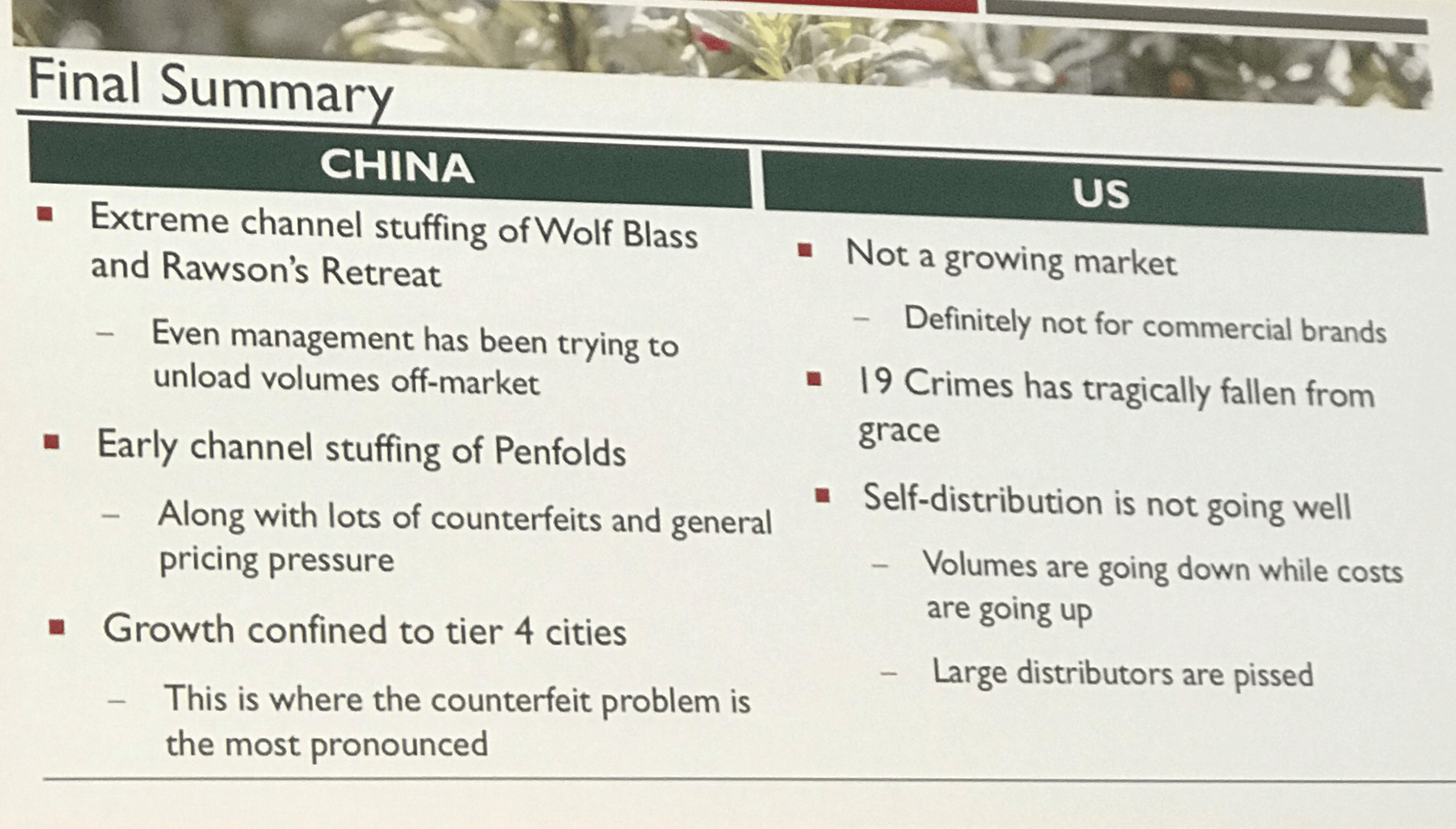 3) As you may have noticed, I travel a ton, about equally for work and for pleasure. Over the years, I've picked up all sorts of travel tips, which I'll be sharing with my readers – many of whom I suspect also do a lot of traveling...
As background, my parents were the third couple to meet and marry in the Peace Corps in 1962 and have done international development work for their entire lives (they've retired in Kenya), so from a young age I lived and traveled all over the U.S. and the world.
We bought this VW bus, which we call the Green Bean, in 1979...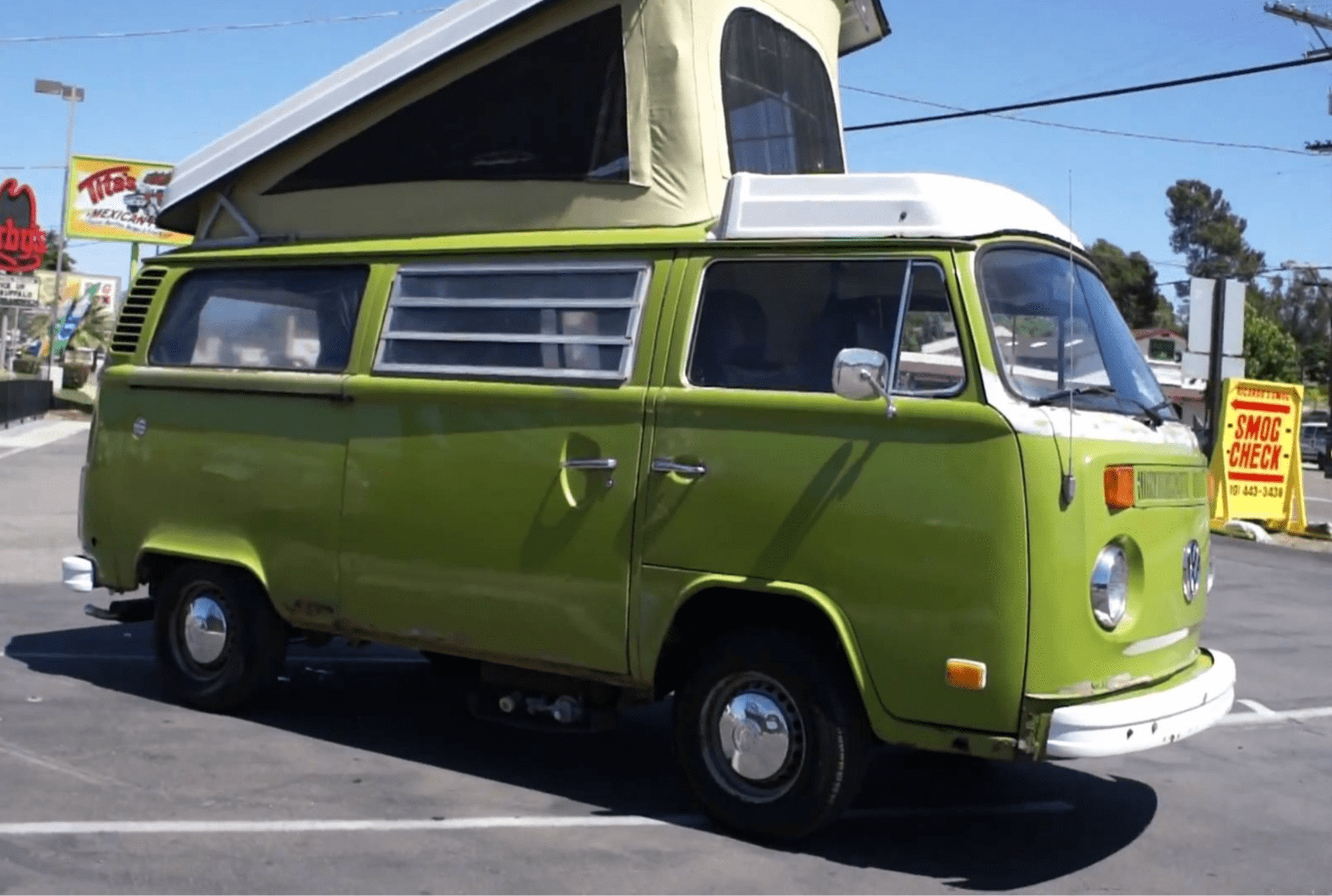 My parents are both educators, so every summer when I was 11-15 years old we'd drive across this magnificent, spectacularly beautiful country, visiting friends, seeing every national park, etc. My parents slept in the bottom bed while my sister and I slept in the bed in the pop top.
Believe it or not, my parents still own this 40-year-old bus and drive it when they come back to the U.S. every summer. It attracts a lot of attention...
In addition to traveling all over the U.S., I spent more than half of my childhood living three years each in Morogoro, Tanzania (where my sister was born) and Managua, Nicaragua. At last count, I've visited 70 countries – and am adding Australia to the list in December when we visit my daughter, who's doing a semester at the University of Sydney. (Glaring omissions, which I hope to rectify in the not-too-distant future, include India, Japan, Vietnam, Myanmar, Ireland, Scotland, Finland, the Baltic states, and most of eastern Europe.)
Today's travel tip is to buy the Bose QuietComfort 20 Acoustic Noise Cancelling Headphones.
They're pricey at $249, but are totally worth it. (Don't be tempted by lousy cheap knockoffs – trust me, I've tried them.) They're compact (unlike my over-the-ear noise-cancelling headphones, which are so big that I never travel with them), yet the noise-cancelling is outstanding. I wear them on trains and planes, even when I'm not listening to anything, to block the noise. They're also good for talking on the phone in a loud area. Here's a picture of them.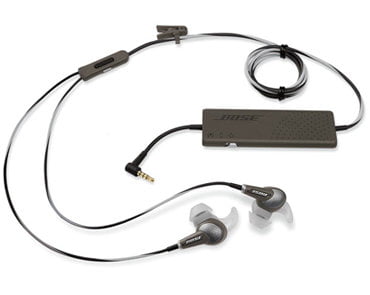 As you can see, you need a jack to plug them into – they're not wireless. Some folks may not like this, but there are no small wireless headphones that have true noise cancellation. Also, the plug allows you to watch movies on airplanes.
(For wireless earbuds, I recommend the Jabra Elite 65t – no wires and they don't fall out, even when I'm doing hard exercise, unlike the Bose SoundSport headphones. Here's a WSJ article on The Best Truly Wireless Headphones – Besides AirPods.)
Best regards,
Whitney