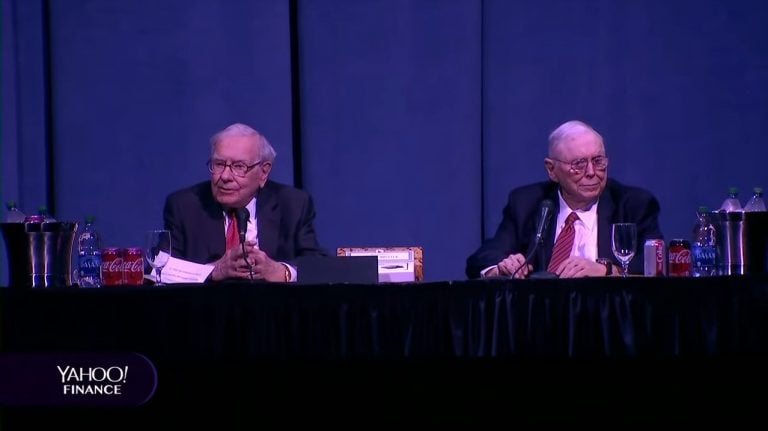 Yahoo Finance coverage of the 2019 Berkshire Hathaway Annual Meeting with CEO Warren Buffett and Vice Chairman Charlie Munger.
H/T Dataroma
Warren Buffett And Charlie Munger Chair The 2019 Berkshire Hathaway Shareholders Meeting
This Tiger grand-cub was flat during Q2 but is ready for the return of volatility
Tiger Legatus Master Fund was up 0.1% net for the second quarter, compared to the MSCI World Index's 7.9% return and the S&P 500's 8.5% gain. For the first half of the year, Tiger Legatus is up 9%, while the MSCI World Index has gained 13.3%, and the S&P has returned 15.3%. Q2 2021 hedge Read More
Q1 hedge fund letters, conference, scoops etc
Transcript
I understand that in the room adjacent that Charlie has been conducting a little insurgency campaign. I don't know whether you've seen these but these are the buttons that are available for those of you who keep asking questions about succession and Charlie wants to answer that question by getting your vote today. So it says This one says maturity experience why accept second best. Vote for Charlie. I however. Have appointed the monitors who. Collect the votes so. I feel very secure. The first thing I'd like to do. Charlie is my partner of 60 years. Director and Vice Chairman and we make the big decisions jointly. It's just that we haven't had any big decisions so so.
We haven't. We've been keeping him available for the next big one. Now at the foot of the formal meeting today will. Will like double. 14 directors.
And you're looking at two of them. And I'd like to introduce. The twelve. That will be. On the ballot at three forty five and I'm going to proceed. Alphabetically and I'll stand if you would hold your applause because someone get sensitive of certain people will get more applause than others. And if you withhold until I'm finished then you can applaud or not as you see fit. Having looked at these directors. So we'll start on my. Left. Greg Abel who's both a chairman and a director. GREG Yeah. Oh there we are right. Okay. And going along alphabetically Howard Buffett. Steve Burke. Sue Decker. Bill Gates. Sandy Gottesman. Charlotte Goldman. Gee Jane who is also a vice chairman Tom Murphy. Ron Olson. Walter Scott. And Meryl Witmer. Now you're going to applaud. Now this morning we posted on our Web site. The quarterly the 10 Q that's required to be filed with the FCC. We published it at 7 o'clock Central Time. And we also publish an accompanying press release and it we'll put slide one up. These figures. As usual require some. Explanation. As we've mentioned in the annual report. The new rather than. The new. Gap rule generally accepted accounting principles. Require that we mark our securities to market. And then. Report any unrealized gains in our earnings and you can see. I've warned you about. The distortions from this sort of thing in the first quarter of 2019 actually was much like the first quarter of 2018. And I hope very much. That newspapers do not read headlines saying that we made twenty one point six billion. In the first quarter of this year against the loss of last year. These the bottom line figures are going to be. Totally capricious and what I worry about. Is that not everybody studied accounting in school or they can be very smart people but that doesn't mean that I've spent any real time on accounting and I really regard these. Bottom line figures particularly if they're emphasized in the press. As doing.
As potentially being harmful to our shareholders and really not being helpful. So I encourage you now and I encourage all the precedents here.
To focus on what we call our operating earnings which were up a bit and forget about the capital gains or losses in any given period now they're enormously important over time.