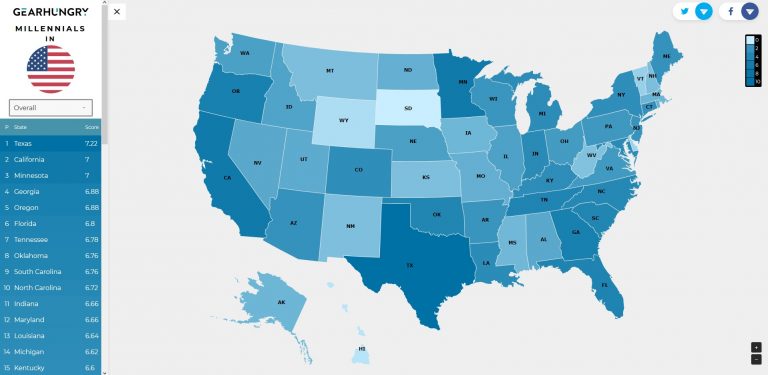 2,500 millennials asked to rate their respective states on a variety of factors: How did each state compare?
In what started as a somewhat off-the-cuff remark to describe those from within the younger generation bracket, millennials will soon dominate the global workforce. In fact, according to a recent study by the U.S. Bureau of Labor, millennials will make up more than 75% of those in employment by the year 2030.
David Einhorn At The 2021 Sohn Investment Conference: Buy These Copper Plays
There's a gold rush coming as electric vehicle manufacturers fight for market share, proclaimed David Einhorn at this year's 2021 Sohn Investment Conference. Check out our coverage of the 2021 Sohn Investment Conference here. Q1 2021 hedge fund letters, conferences and more SORRY! This content is exclusively for paying members. SIGN UP HERE If you Read More
[REITs]
Q4 hedge fund letters, conference, scoops etc
As such, the team at GearHungry decided to conduct a study to unravel the thoughts of more than 2,500 millenials to find out how they felt about a variety of different factors pertaining to their respective states. This included the likes of career prospects, entertainment, food and ultimately, how happy they were living in their state. Let's find out how each state faired up.
Long-term job prospects and opportunities
When it came to asking the participants how they felt about their long-term job prospects, the results yielded some very interesting results. Closer analysis of the results reveals that there is a significant disparity between those that feel their state offers favorable job opportunities, to those that felt their prospects were more bleak. For example, at the very top of the list was the District of Columbia, which yielded an average rating score of 8.7.
In other words, 87% of those based in the District of Columbia felt that their state offered them the required framework for long-term job prospects. Next in line was South Carolina, which came in at 7.8. At the other end of the spectrum, participants based in Nevada were substantially more pessimistic, coming out at 1.3.
Just in front of Nevada in the job opportunity rankings was that of Massachusetts and Wyoming, which scored adverse ratings of 2.8 and 3, respectively.
So now that we've covered job prospects, let's take a look at what the participants thought about the food available within their respective states.
Food
Whilst those based in Wyoming felt that their future job opportunities were somewhat bleak, sentiment towards the food available within their state was not much better. Coming in with an medium rating of just 5.5, Wyoming sits in 39th place for food.
The GearHungry study resulted in a dead heat for first place, with those in Arizona and West Virginia showing positive sentiment towards the food on offer in their states. Both yielded an overall score of 8.3, with Rhode Island in third place at 8. Right at the very bottom of the list for food ratings was South Dakota, which scored a rather unimpressive 3.7.
Next up in the GearHungry survey, the team looked at what millenials thought about the availability, quality and frequency of entaininment within their states.
Entertainment
When it came to entertainment, the GearHungry study did not yield any average scores that exceed the 8 mark. This indicates that on the wider front, American millennials feel that entertainment options are limited. There is no immediate explanation as to why this might be, however those based in the state of Massachusetts scored the highest at 7.6.
This provided some interesting reading, not least because Massachusetts scored the lowest in the job opportunity segment of the study. As such, whilst participants based in Massachusetts feel that their long-term job prospects are bleak, they scored the highest in the entertainment section.
Not far behind Massachusetts was that of Louisiana, which scored in at 7.5. After that, the medium score drops down to 6.9, which is held by participants from the state of Florida. At the very bottom of the entertainment segment, West Virginia scored a medium rating of 3 for entertainment, subsequently illustrating a hugely unhappy viewpoint for entertainment options in their state.
Pet Friendly
In a more lighthearted segment to the GearHungry survey, the platform also wanted to find out what participants felt about how pet friendly their states were. In total, 8 states scored a rating of more than 8. At the very top of the list was Minnesota, scoring an average rating of 9.1. Not far behind in the pet friendliness segment was Maryland, Nevada and Connecticut, who each scored 8.6, 8.5 and 8.4, respectively.
These results showed that whilst participants based in Nevada were really unhappy with the level of career opportunities available within their state, with a rating of just 1.3, they were at the very least ultra-positive when it came to pet friendliness!
Happiness
In the final part of the GearHungry survey, the 2,500 participants were asked about their overall happiness. This was potentially one of the most important segments to the study, not least because it took in to account every area of the participant's quality of life.
However, results from the happiness segment of the survey did not yield any notable correlation to other parts of the study. For example, whilst South Carolina scored the second highest in the job opportunity segment, the survey found that participants were also one of the most unhappy.
Scoring an average rating of just 5.3, South Carolina came in at 4th last. In terms of the happiest states, this was split between Georgia and Oregon, who both scored 8.4.
Overall
In order to summarize the results, the GearHungry survey combined each segment of the study to rank overall sentiment. Due to the sheer disparity between each aspect of their lives, the survey found that overall,  millennials are somewhat unimpressed with the current state of play.
Whilst Texas did not yield any overly notable results in the individual segments, they came in at top with a score of 7.22. This also rings true for California and Minnesota, who both scored an overall rating of 7. Right at the bottom of the list for overall sentiment was South Dakota, with participants giving an overall rating of 4.84.