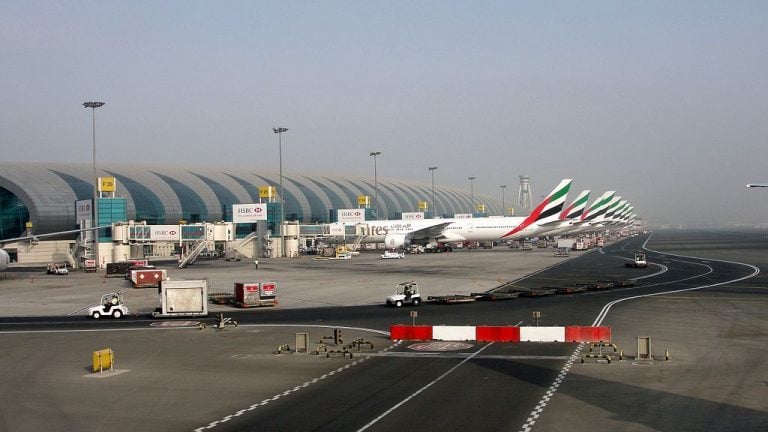 "The UAE's aviation sector continues to scale new heights, with Dubai International maintaining its position as the world's busiest airport for international passengers for the fifth consecutive year while the sector's contribution to the country's economy also grows steadily," commented Khaleej Times based on airline data made available by Airports Council International (ACI).

"Enhancing and controlling our costs are the essential elements which will allow us to grow our business and contribute to Dubai's economy. In 2018, our revenues reached record highs," said CEO of Dubai Airports, Paul Griffiths in a video statement. "We have to raise our game. We have got to find new ways of creating more capacity and better service quality from the limited space we have available in our facilities," he continued.
Numbers Still Short Of Goals
According to CNBC reporting after reviewing the data, Dubai International Airport (DBX) handled approximately 89.1 million passengers last year, but full short of its 90.3 million target number. This was the weakest annual growth the airport has seen in over a decade.
Fund Manager Profile: Zhang Hui Of China's Southern Asset Management
Historically, the Chinese market has been relatively isolated from international investors, but much is changing there now, making China virtually impossible for the diversified investor to ignore. Earlier this year, CNBC pointed to signs that Chinese regulators may start easing up on their scrutiny of companies after months of clamping down on tech firms. That Read More
The CNBC reporting also references a comment Griffiths made to Reuters in February of 2018 where he stated DBX double-digit passenger growth would return in 2019. "We are pretty confident we will return to double-digit growth by 2019/2020," Griffiths said to Reuters at the time. Griffiths would add that double-digit growth isn't a continuous goal long-term due to DBX 'capacity constraints,' yet he did expect it to reach 118 million yearly passengers by 2023.
The Reuters reporting continues:
Dubai is also developing a second airport about 60km (38 miles) to the south. That airport, Al Maktoum International, will see a roughly fivefold increase in annual capacity this year to 26 million passengers. Griffiths said he expects a "major push" from airlines, especially flydubai, to use the new airport from 2019. In the long run Al Maktoum is expected to replace Dubai International completely.
He also believes the Dubai airport can overtake Atlanta and Beijing airports to become the world's busiest overall by 2021.
The Future Of Air Travel
With climate change becoming an increasingly spoken about topic in the United States political discourse, largely thanks to the Social Democratic platform Senator Bernie Sanders championed during the 2016 Democratic primary, along with the widely popular Green New Deal (GND) — air travel could change dramatically in the upcoming decades. Yet, despite an overhaul of how the country would treat the planet, the GND would not stifle neither innovation nor the economy.
An April 2018 report from DW explained the advances happening in green air travel, Planes powered with renewable energy don't produce CO2 or other climate-damaging emissions such as nitrogen oxide and particles. They are smaller, lighter and more efficient than planes powered by kerosene. The Alpha Electro from the Slovenian start-up Pipistrel is already proving this since 2015, when it had its maiden flight."
"Some plane manufacturers don't dare go all-electric just yet. In November 2017, Airbus, Rolls-Royce and Siemens announced they will jointly develop a commercial hybrid-electric prototype. The e-Fan X will be powered by three gas turbines and one electric motor. The companies aim to replace a second gas turbine with another electric motor at a later stage. A prototype is anticipated to fly in 2020," the article continued explaining the innovations in flying technology.
A May 2017 National Geographic piece detailed less environmentally friendly changes to air travel, "With improved airport design and ground-control operations, airports can reduce CO2 emissions. Over 100 airports worldwide have installed solar panels," the article detailed. "Currently in development, a blended wing-body (BWB) could help lower fuel usage and emissions. NASA says the design could have commercial potential around 2035," they explain a future advance. However, significant measures will have to take place prior to 2035 if the planet is to avoid further climate disasters.
With air traffic expected to continue increasing over the upcoming decade, environmentally friendly measures would be able to greatly reduce the CO2 emissions being sent into the atmosphere. Companies on the cutting edge of this 'green wave' will help save the planet and help build wildly successful businesses.
Updated on